Meat Pie Du Jour: Jamaican Beef Patties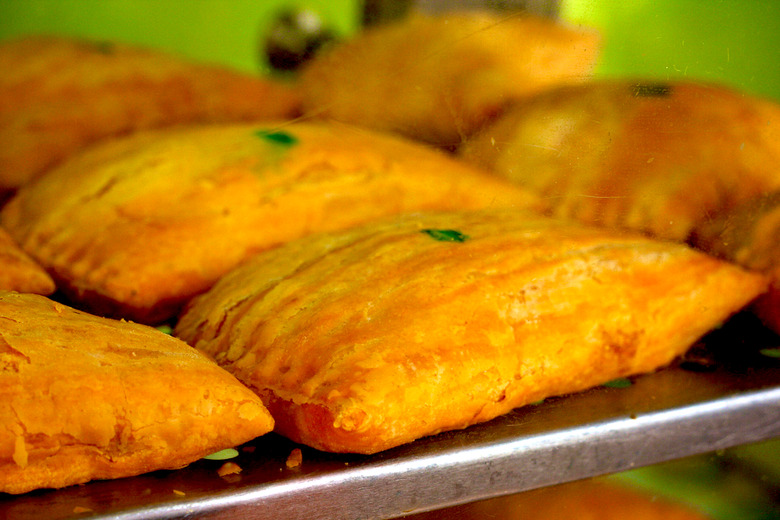 jamaican food
In case you hadn't heard, meat pies are big right now. And why not? The simple but brilliant marriage of meat and pie satisfies two cravings with one pastry. Since the trend struck gold, I've sampled everything from artisan empanadas in Times Square to handheld chicken chile relleno pies, AKA: your new favorite portable lunch. But whenever I pass a place in the city serving Jamaican beef patties, so everywhere from the pizza place slinging Grandma slices to the Halal cart, I really can't help myself.
Anything tinted with turmeric generally catches my eye (I mean, it's really bright shirt-stainey yellow). I'm a fan of most things flavored with habanero peppers, or the closely related Scotch bonnets they use in the Carribbean. Be forewarned: there are fairly innocuous-looking patties out there packing serious heat. I'd also like to bring up the point that sometimes a ground beef craving is mistakenly channeled into the burger kingdom. Think about it: do you really want a burger? Could you maybe want a meatloaf sandwich? Or could you possibly truly yearn for an incarnation (possibly very spicy and turmeric-colored) of the meat pie?
Finally, as I continue my quest for the best of starch-on-starch lunch options, I give recognition to the great beef patty sandwich. Yes, this beef patty encased in dense pastry is loaded into coco bread — a large fluffy roll sweetened with coconut milk — to form the ultimate energy source for all your island exploits. May they be festive and immoderate.
---
More on meat pies at Food Republic: