Los Angeles: Best Buds + Suds At FeBruery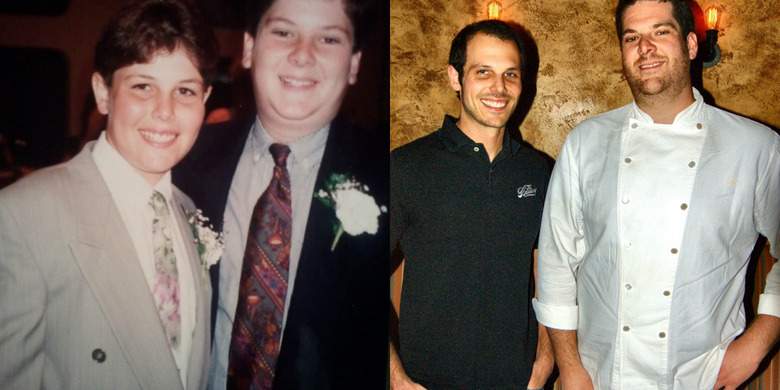 Micah Wexler and Ben Weiss
In 1988, first graders Micah Wexler and Ben Weiss met at a Jewish day school. In 2012, twenty-third graders Micah Wexler and Ben Weiss teamed up to put on "FeBruery," an awesome food-and-beer pairing dinner at Wexler's Eastern Mediterranean restaurant Mezze in Los Angeles. Friends for most of their lives, Wexler and Weiss have both found themselves rising to the top of the Southern California food and beverage world.
Wexler is chef/owner of Mezze and just got nominated as a 2012 James Beard Foundation Rising Star Chef of the Year. Weiss serves as Manager of Sales & Marketing for Orange County's acclaimed and aptly named brewery, The Bruery, generally regarded as one of the leaders of the current SoCal beer renaissance. Both Mezze and The Bruery can't seem to stop winning awards and for good reason – they're both putting out excellent products.
Last Wednesday, Wexler and Weiss got to put their friendship on display at "FeBruery," a four-course beer pairing dinner that featured 14 dishes and four incredibly rare beers from the Bruery's experimental lineup. Food Republic sat down with the two lifelong friends to talk beer, food and the possibility of brewing in tagines.
How long have you guys known each other?
Micah Wexler: Four years old? Five years old? Something like that.
Ben Weiss: Kindergarten-ish? (They argue on the exact date before realizing they met in first grade.)
I know Micah's been into food for a while, but have you always been a beer guy, Ben?
Weiss: Ever since first grade (laughs). And I can vouch that Micah has always wanted to be a food guy. Literally since I've known him. Everyone always knew that Micah wanted to cook. But really, I didn't like beer until after college.
So you weren't brewing in college?
Weiss: No, I was drinking heavily in college.
Wexler: That's one of those things that you have to remember about "beverage people" in general. They all come from the same place: they're strong alcoholics and then they figure out a way to make money at it.
At what point did you guys start thinking you could team up?
Wexler: Well, we kind of fell out of touch for a couple of years there and before we opened here, Ben just hit me up out of the blue one day and said, "Hey, I'm at this company now. It's a brewery and it's also called The Bruery."
Which beers do you think pair best with food— and what food do you think pairs best with beer?
Weiss: Of our beers, I would probably pick Saison Rue. Really, Belgian-style farmhouse ale – saison – in general is a really versatile beer. It's food friendly and has character. It also has a lot of subtlety, so whatever you pair it with, you get different flavors out of it. It can work well with a salad, it can work well with a steak.
Wexler: With beers, it's more difficult to pick out what it's going to go well with. That being said, beer and food is very natural. You'd be hard-pressed to find a piece of food and have a beer with it and say "this is a mess, this doesn't go together." They just kind of work. They go together. With [The Bruery's] beer, it's more of a challenge because that's what they pride themselves on – it's these flavors, right? These different kinds of intense flavors that you get in their beer, so you have to think about it a little more carefully.
Do you ever cook with beer?
Wexler: Yeah, for braises they're really, really good. The other thing I've done before is with sour beer. We've taken that and made a gelée out of it and done that with some crudo or sashimi. You get that same sort of citrusy bite that you'd get with lemon or some other kind of citrus. But yeah, I think beer is pretty nice for food.
Is there anything on the horizon for you guys in terms of collaborating? Is there going to be a Mezze brand beer coming out?
Wexler: Now you just asked the big question.
Weiss: I'm sure Micah wants one, but we just don't have the capacity for that kind of stuff right now.
Wexler: Apparently, I'm #374 on the list.
Weiss: We get requests from restaurants all over the country for this kind of stuff.
What if Micah supplied his own barrels? What if he just gave you a bunch of tagines?
Wexler: (laughing) Yeah! We could do that!
Weiss: That could be interesting... A Moroccan beer thing.
Wexler: (trying to sweeten the deal) Sausages for life?
Weiss: Yes.