Introducing House Band Wines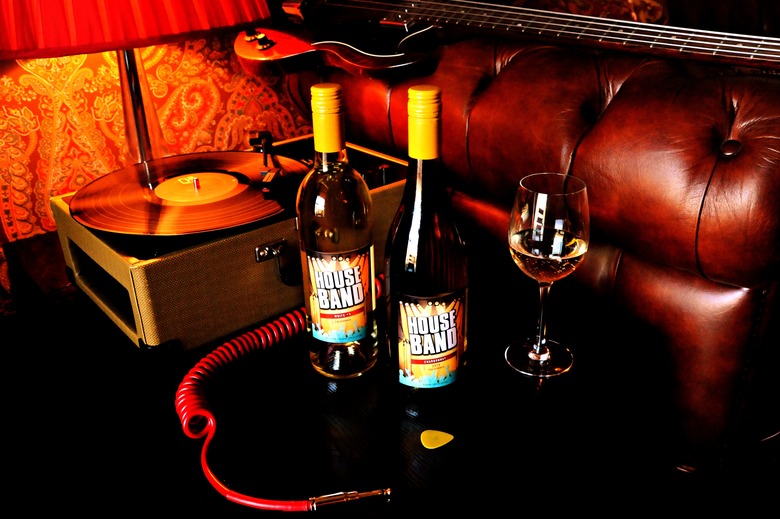 House Band Wines
"When my wife and I would go to a show, she would get a glass of wine and sometimes I would, too," says Patrick Krutz of Sonoma's Krutz Family Cellars in his infectious Mississippi drawl. "And, well, honestly... it would kinda suck."
Amen, brother. How many of us have been tempted at a concert by the lonesome bottle on the back bar and ordered a glass of wine thinking, it won't be that bad — only to remember too late that at music venues the wine is almost always that bad. It's a crying shame. Krutz may have the answer.
House Band Wines was conceived when Krutz was approached by B.B. King Blues Club in New York City and asked to create a house wine for the club. After letting the idea "ferment" (his words) in his mind for awhile, he decided to go for it. But instead of just doing a wine for one music venue, he would launch a brand based on the concept of bridging the gap between wine and music. The idea was to create affordable wines that would appeal to a live music crowd.
"We have a crisp white wine, Sauvignon Blanc-based with some Chardonnay and Muscat blended in. It's perfect for sitting and sipping on the porch on a warm afternoon while listening to feel-good music," says Krutz. "Our red blend is the jammiest of our wines – not jammy as in sweet, just the most fruit forward."
What music genre to pair with a sultry, smoky Cabernet Sauvignon? Rock 'n' roll, maybe some Rolling Stones. For a Chardonnay, think of a drum beat laid down nicely over acoustic guitar. These aren't prescribed pairings, says Krutz. Just a general guide; mixing and matching wine and music is encouraged.
Growing up in Mississippi, both food and music were an important part of life for Krutz, especially the blues and Elvis. When he got into the wine business, he realized his taste in wine was similar to his taste in music – he was attracted to wines that aren't "overdone," he says. He certainly wasn't drawn to the "loudest" wines he tasted.
House Band Wines, unlike his high-end Krutz Family Cellars bottlings, are ideal for places like music venues and festivals. Not only do the bright and colorful labels catch the eye from across a dark and crowded bar, but soon you'll be able to order House Band Wines in convenient 375-ml single-serve pouches for easy portability, especially in a lively and jostling environment. Being fans of alternative wine packaging ourselves, we like the eco-friendly aspect of the pouches, which weigh and cost less to transport, resulting in fewer carbon emissions and less overall waste.
Krutz will be launching the new wine pouches March 13 at SXSW in Austin, TX, which is rather perfect, considering how food-friendly the music fest has become in recent years. Now, festival goers will be able to wash down their taco truck tacos and lamb shwarmas with a fruity, easy-drinking white or red.
---