Henrik Lundqvist: Rising Restaurant Mogul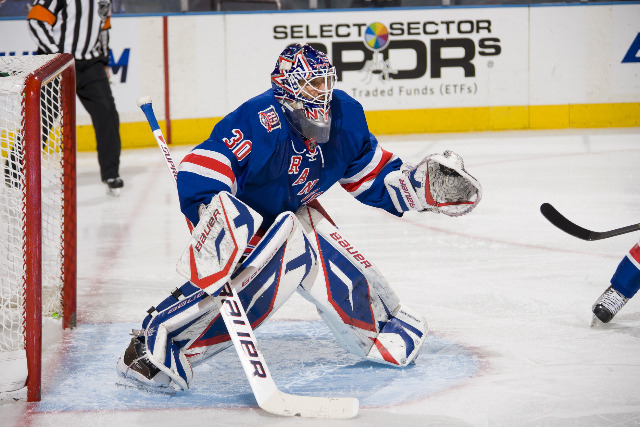 Henrik Lundqvist
Forget Linsanity for just a second. When the Knicks aren't playing at Madison Square Garden, the place is teeming with true blue hockey fans. Check the standings—the New York Rangers have a real shot at the Stanley Cup this year, which would be the first time they win hockey's Holy Grail since 1994. Should they go all the way, it will be thanks in no small part to the one player whose face you barely see on the ice: goaltender Henrik Lundqvist.
Hailing from Sweden, where his twin brother Joel is a hockey star in his own right, Lundqvist is in the midst of a career-definining season. But he isn't just a gifted goalie. He's something of a Renaissance man; the NHL star is also a talented guitar player, budding fashionista and restaurateur to boot. We got him on the boards and sought out some answers about everything from what he eats to who he jams with to whether or not the Rangers can go all the way.
You have a pretty strict pre-game ritual...
I always eat spaghetti and meat sauce on game day. I've been doing that for a lot of years. I love Italian, so I don't mind it. In the afternoon, I always have oatmeal before I go to the rink. We eat lunch around 12:30, then have a little afternoon snack, then we don't eat again till after the game, which could be 11:30 at night. So, you need something to keep you going. A lot of guys have the same routine... always eat the same thing. You know, keep it simple.
Are there any foods that you think make you flexible? You know, for those side-split saves?
No. But if you find one, let me know.
You're always in different cities for games. Do you have a favorite food city?
Montreal has pretty good food. The whole city is a little more European, so it's a bit more what I'm used to. But it doesn't matter where we are – on game day, we always have the same food. Whether we're playing in Philly or Boston or Montreal, the hotel will have a list of foods for us. So, you always know what to expect. When it comes to meals, at least.
Last year, you opened a restaurant called Tiny's in New York with your then-teammate Sean Avery. Had you always wanted to get into the restaurant business?
No, it just happened. A couple friends approached me and I was just excited to do it with them and Sean. It's been great; it's a place I love to bring friends and hang out. I love the food and atmosphere there. It's a pretty simple menu. I would say it's American comfort food. The sandwiches are my favorite. Obviously, we need some meatballs on the menu to keep the Swedish flag flying.
Are there any foods from Sweden that you miss?
I don't really miss anything in particular. I guess it's just the way the food is cooked there; you can just tell it was cooked in Sweden. The food there just feels healthier.
You sometimes jam with John McEnroe and recently played a gig with him for charity. When did you start playing guitar?
I started young, when I was eight or nine years old, playing guitar with my brother. It's always been there, but I don't think I play enough to take it to the next level. But I'm having fun with it. It helps me relax and get away from the game a little bit. We focus so much on hockey that to do something completely different is refreshing.
You're also known for being a stylish dresser. Quite a change from the old hockey-hair image of NHL players, no?
When I first started playing pro back in Sweden, you could tell that the older players didn't really care how they dressed. I think it's changing a bit. Maybe it was unusual for hockey players to care about fashion in the past, but I think more and more players are picking it up and caring more about how they dress. I use a lot of different designers – some Swedish, like Tiger of Sweden. I like a pretty clean look, but with a little edge.
Do you get recognized as much here as you do in Sweden?
In New York, you can kind of disappear from it a little. There's just so much else going on. It makes people care about the team a little more, but it also means you can live a life that's pretty normal.
The Rangers have been having a great season. Think you could be champions this year?
It's been a great year. It's fun to win; you get confident. I've been pushing myself to have a really good year and the team has, as well. Now, it comes down to improving our game in the stretch before the playoffs. We can have a good run in the playoffs, but we need to keep pushing ourselves. But it's definitely been a really fun season so far. I always say, it's all about winning. Because when you win, you build confidence and have more fun.
---