Buzzed At A Coffee And Tea Festival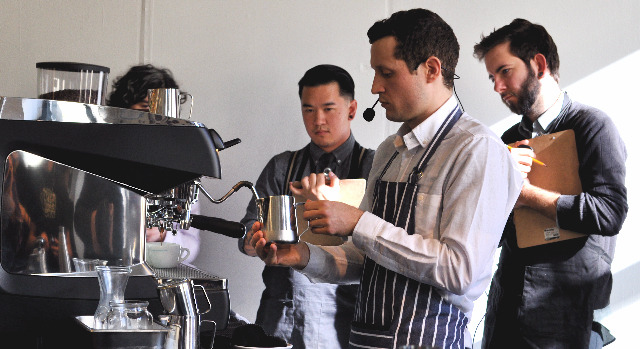 Pro tip: If you're planning on attending an eat/drink event like this past weekend's Coffee and Tea Festival in New York City, it's probably best to skip your morning cup of joe. Otherwise, with all the complimentary sips being passed out, you could end up a jittery mess by mid-afternoon. Of course, most of the java heads in attendance at the seventh annual caffeine fest did not heed this advice. This is New York, after all, which more than Seattle and Portland and all the rest of them, runs on cawffee.
The intoxicating smell of freshly brewed joe filled the room as attendees entered the Midtown Manhattan exhibition space, where several dozen coffee, tea and other caffeine-related businesses tempted ticket holders with free samples of their wares. In addition to craft roasted beans and artisanal tea blends, there were coffee cakes, cookies, handmade cups and even bean-based beauty products to be had. The main stage featured seminars on green tea, kombucha, cupping basics, brewing basics and how to make tea-based cocktails. But the main events, to be sure, were the Northeast Regional Barista Competition and Brewer's Cup.
The two simultaneous competitions pitted the region's top baristas against each other. On one side of the crowded room the mission was to brew the perfect pour-over cup of coffee before three judges. The winner would go on to the national competition in Houston for a chance to represent the U.S. at the world championship in the Netherlands. On the other side of the room, baristas were asked to prepare an espresso, a cappuccino and a signature drink for each of four judges. Six of the 28 competitors moved on to the final round and were judged not only on technique (including the cleanup of their respective stations) and the results of their efforts, but also on performance, which in the best cases demonstrated a deep passion and geek-level knowledge of coffee.
And the winners were...
Hands shook, surely due to the pressure and, at least in part, to the copious amounts of caffeine being consumed, as craft roasted beans were ground, brewed and poured out for expert palates to taste and judge. Jordan Barber of Third Rail Coffee in New York competed on both sides of the room, placing second in the barista competition and taking top honors in the Brewers Cup. And the barista who will be headed to Portland to compete for the opportunity to represent our nation at the World Barista Championship in Vienna this June? Drum roll...heavily favored Katie Carguilo of Counter Culture Coffee captivated judges with her poetic delivery and intricate knowledge of the Ethiopian coffee she served.
Congratulations to all the baristas who competed; you are the veritable crema of the crop! May you never come down from your caffeine highs.
---
More Coffee Coverage On Food Republic: