Los Angeles: Bourride And Beer Pong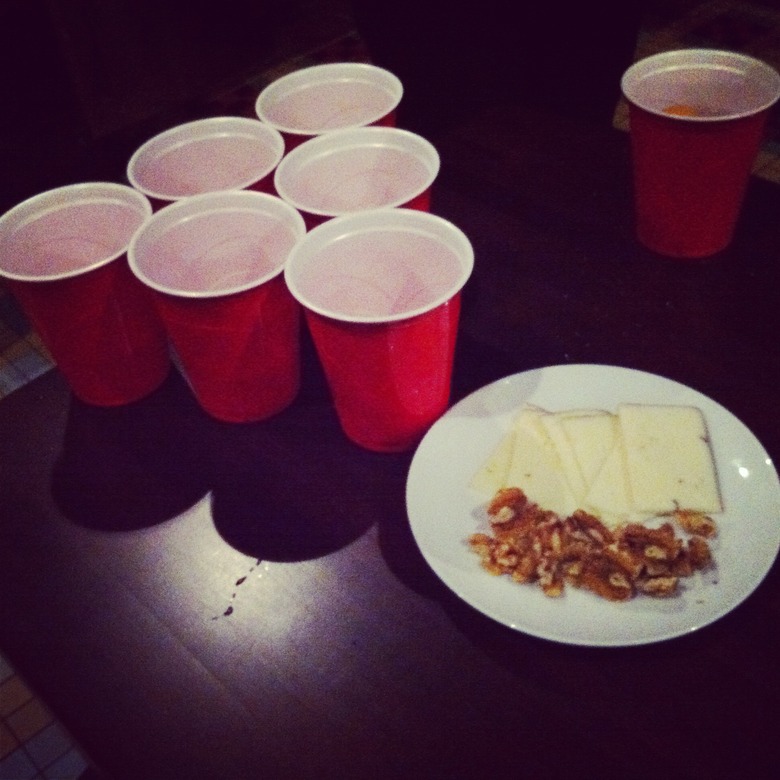 I never expected to like Papilles. Tucked away in a strip mall in Hollywood (the dirty, real Hollywood, not the glamorous dreamy one), it doesn't look like much. The format's a little tough to deal with, too. Three courses, two options per course and that's it. There's no appetizer list, no ordering off the menu, no salad. You either like what they're serving for the night or you can go to the Thai takeout spot next door. If you want to bring in your own bottle of wine, you can go screw yourself. There's no corkage here.
Despite the format and location flaws, though, Papilles pulls everything off beautifully. This place exudes charm. The food is really good, thanks to chef Tim Carey, and the wine selection is interesting at worst and stellar at best — the mark of owner Santos Uy.
I'm sure I could go on to describe my dinner (a fantastic bourride, cured and smoked ruby trout, a chocolate pot de crème that clearly had a magnet in it because my spoon couldn't stay away), but that's not when I decided that I really liked Papilles. That decision happened on my return visit a few days later for a late night bout of beer pong. Yep. The French bistro doubled as a frat house basement for a night (and probably will for many more).
After fist-pumping my way through an ultra-douchey club where DJ Pauly D was "spinning" (read: pressing play on his gaudy MacBook), a lady pal and I decided to pop in on the Papilles boys. A few things you should know: 1) I'm friends with the restaurant's publicist, which is how I ended up there after hours; 2) I was so drunk by the time we showed up; 3) Santos only drinks Natural Light. Let the games begin.
We played two games, neither of which were regulation. Only six cups to a side and the playing surface was three tables pushed together. I won't bore you with the details, but we split the games one and one with the rubber-match game being cancelled on account of dogs waiting at home to be taken out. In between games, a plate of truffled sottocenere came out. I believe that's the very definition of high brow-low brow. For the record, Santos has pretty decent beer pong skills. Tim does not. He makes up for it in the kitchen, though, so it's totally okay.
It's a strange feeling to be in a restaurant after it's closed. It's a little like being friends with a celebrity. Their name may pop up in the press all the time, but behind closed doors they really feel like they belong to you. On that night, Papilles felt like it was mine. Oddly enough, Papilles has that vibe during business hours, too. It feels like a secret bistro haven. The location, the funky format, all of it – it feels like you're eating at a friend's house but your friend happens to be a lovable goofy dude who can cook his ass off. The fascinating part in all of this is that Uy and Carey were waiting on their review to come out in the LA Times. The critic had been in the requisite three times and now it was just a matter of waiting. Talk about tense. That's where the beer pong comes in, though. It makes for an excellent stress reliever.
The LA Times review came out today. Two stars. Heaps of praise. Papilles is going to get very busy very soon. I'm glad I was there before all the hype that will surely follow. The best part, though, in all of this is that there's talk of starting an LA Culinary Beer Pong League. The only stipulation: you have to like Natty Light.
6221 Franklin Ave. Los Angeles, CA 90028
Phone: 323.871.2026