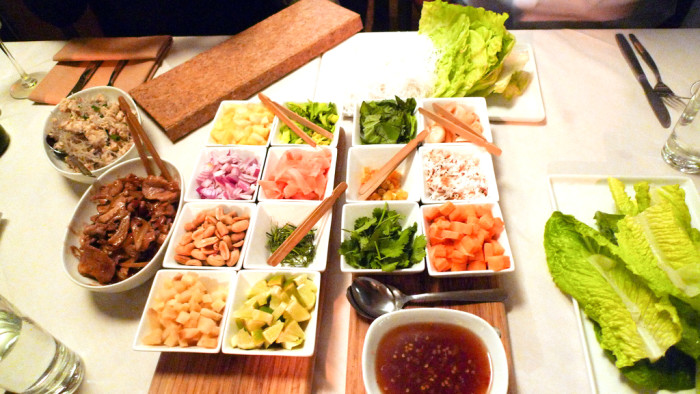 Top Chef Season 7 competitor Arnold Myint didn't have to look far for his culinary inspiration. His white-hot Nashville restaurant Cha Chah is right across Belmont Boulevard from the International Market, a neighborhood favorite since it opened in 1975 serving cafeteria-style Thai specialties among grocery shelves overflowing with imported specialty food products.
The proprietress of International Market is none other than Myint's mother, Patti, who has been feeding generations of Vanderbilt and Belmont University students hearty Asian dishes from her steam table, which operates seven days a week.
Since most diners order straight from the buffet (a selection of curried chicken, egg rolls and fried noodles) they often miss out on Mama Myint's most intriguing offering, a "House Salad." This meal requires a minimum of four diners and 24 hours notice for the kitchen. It's worth it — the do-it-yourself lettuce wrap presentation is truly a sight to behold. With 20+ ramekins of chopped and pickled ingredients like basil, mint, chili padi, carrots, pineapple, toasted coconut shreds, kaffir lime leaves, pickled ginger, garlic and cilantro arranged around the crowded table for diners to stuff into lettuce leaves, this incarnation of a house salad is a mise en place enthusiast's fantasy come true.
For a recent special, Arnold decided to put his own spin on his mother's signature dish. His version is trimmed down a bit, with only fourteen small dishes of exotic ingredients presented to accompany the rice noodles, chicken and pork which provided a little protein. But it was no less of a flavor explosion, especially when diners followed Mama Myint's instructions to place exactly one morsel of each ingredient in our first lettuce wrap, top it with sweet chili sauce and eat the whole package in one glorious bite.
On a recent visit, Patti stopped by our table to make sure that we were following her procedures, leading to some nervous chopstick-wielding as diners manipulated the precisely cut ingredients from across the table onto their plates. The initial bitterness from the tart lime complete with peel was immediately tempered by the sweet heat of the chilis, and each discrete flavor of the many ingredients melded into a wonderful mélange of flavor. After the first pass around the table, we were free to mix and match at will; often choosing geographically to avoid overextending our boarding house reaches.
The entire experience was delightfully interactive as diners shared their favorite flavors and assisted in reaching for the more distant plates. What looked like a relatively small amount of food at first glance was more than filling for the five of us around the table, and we only asked for more lettuce wraps twice to provide more pallets for our culinary creations.
Last year, fellow Top Chef cheftestant and Season 7 "fan favorite" winner Tiffany Derry came to visit Arnold and cook with him for a benefit dinner. While she was in town, he took her to his mother's restaurant for the full House Salad experience. Derry was so taken by Patti and her elaborate presentation, that when she returned to Texas, Derry added "Mamma Myint Thai Salad Rolls" to the menu at her new restaurant, Private Social. So now whether you're in Nashville or Dallas, you can experience this wonderfully over-the-top meal for yourself. T for Texas, T for Tennessee. T for Thai.
---
More about Thai Food on Food Republic.