Alex Carleton Shares His Dress Code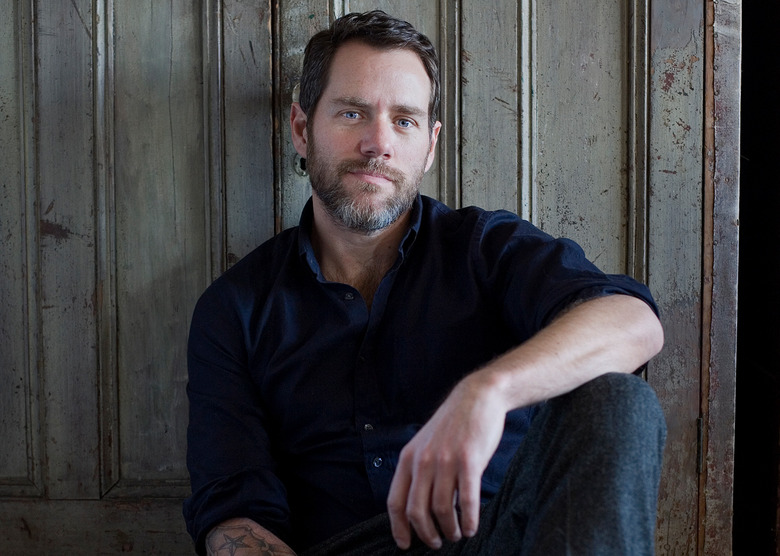 Alex Carlton of L.L.Bean Signature
Growing up, most of us either owned one of L.L.Bean's hallmark backpacks, or knew someone who did. And while you have to hand it to the classic brand for enduring the test of time and continuing to do what it does so well (outdoor basics, backpacks, camping gear), the 100-year old company adopted a new look, so to speak, when it tapped designer and Rogues Gallery founder Alex Carleton to oversee the launch of its spin-off line L.L.Bean Signature. The label, which debuted nearly two years ago, offers the kind of effortless, everyday styles that guys can wear to meetings in the city as well as weekend jaunts out of town.
Carleton, a Cape Cod native with previous design stints at Abercrombie & Fitch and Ralph Lauren, is a natural fit for the job. He definitely knows a thing or two about all-American dressing — and some rules to live by. Currently based in Portland, Maine, Carleton takes every chance he gets to pounce on the area's local produce and fresh seafood offerings. Clean living is something he constantly strives for, at home and afar (although he does come cop to a soft spot for gourmet marshmallows).
Do you travel for work?
I do — sometimes more, and sometimes less. Today in the fashion business, most production and sourcing happens internationally. It's also important to be aware of what's happening in the world. Global trends and cultural nuances can help feed the creative process.
What was your last great memorable meal?
There are so many! Food quality is really important to my lifestyle, so I seek out great restaurants and fresh ingredients with a passion. Last night I baked some fresh, local flounder with organic panko breadcrumbs. It was delicious.
Perfect timing for that question!
I confess that my memorable meals are almost a daily occurrence. Food is such a priority in my life.
So you do cook a lot, then. Do you have a favorite kitchen tool or gadget?
A wooden spoon! For chili, eggs, oatmeal, sauces, soups, salads, roasted vegetables...I use my great big spoon every day.
What are some of your, ahem, signature dishes?
Years ago I bought an outdoor grill from L.L.Bean and used it almost daily. Grilled swordfish with roasted eggplant and garlic was an obsession. I love the drama of the open flame, and various textures and flavors you can achieve with varying grilling time and temperatures.
What about in colder months?
I also love cooking ad hoc winter stews. Anything that's akin to a bouillabaisse. Fish broth in a large pot with canned tomatoes and garlic makes a great base. I add whatever is fresh and local — clams, lobster, cod — and serve it with a warmed baguette.
Would you say you're a very nutrition or label-conscious eater?
I'm very aware of food quality. I'd rather starve myself with a mini fast when I'm traveling than rip open a cellophane-wrapped baked good from a vending machine. I seek out health food stores in every town I find myself in. It's not that I'm scared of fats and sugars — it has more to do with what's natural versus what's unnatural. Not only do I feel better when I eat food that's simple, it usually tastes better too.
It really does start from the ground up.
The food purity laws in Japan and western Europe are very strict. It's why things often taste better there. I think we're catching up, though. Maine in particular has MOFGA, there are more farmers markets now, and there are so many restaurants here that offer fresh, local and organic food choices.
What does the inside of your fridge look like?
Condiments. I love Stonewall Kitchen. Mustards, relishes, chutneys. For a quick meal, I'll cook a protein, and then compliment it with a condiment. There's also rice, almond or soy milk. I eat cereal and granola most rushed mornings, and I like non-dairy milk alternatives. Local milk — I love unpasteurized local milk. It's like dessert: rich, sweet and creamy. Oranges, pomegranates, berries...I crave fruit, especially in winter. It's a mouthful of sunshine!
Duckhorn Vineyard merlot. A glass after a busy day with a dish of buttery, baked mussels is perfect. In summertime, a homemade pitcher of Dark & Stormies in summertime — I have a secret recipe. And fresh-squeezed orange juice every day.
Any guilty pleasures?
The list is too long. Recently a friend sent me a box of gourmet caramel and peppermint marshmallows. I ended up making s'mores in my fireplace with the caramel ones, and then dissolved the peppermint ones in a mug of hot chocolate. But seriously, I could write a book on guilty pleasures...
How would you describe your daily uniform? Do you wear mostly L.L.Bean?

Tellason jeans, an L.L.Bean Signature button down shirt, a conservative gray or navy sweater from Bergdorf Goodman, a down parka in winter or field coat in transitional weather, smart-wool socks, one of over 200 vintage belts I collect — I change them almost daily — Alden boots, my Seamaster Omega watch, and one of the hundreds of tote bags I collect — the more beat-up and quirky, the better.
Love how you casually drop in those bits about owning over 200 belts and hundreds of totes, no big deal. Can you tell us a little bit about the tattoo on your arm?
It's a reminder to not take myself so seriously! I also love history and narratives, so it's about those ideas too.
What's your stance on neckwear? Scarves? Ties? Bow-ties?
I don't wear bow ties. They look too costumey on me. I do like neckties but don't really wear them that often — we are really casual here in Maine. I love a good motif tie or an unexpected tweedy one, though, and I like lightweight scarves in Scottish tartans in wool or wool-cashmere blends. I usually do a double wrap. I always travel with one for napping in airplanes, even if I'm headed somewhere warm.
Do you roll your jeans?
Never. I always let them scrunch at the ankle. A rolled up jean looks great on James Dean or on the set of West Side Story. The whole men-showing-their-ankles thing, I absolutely DO NOT GET.
Let's end with your sartorial rules for the modern-day man...
Be natural: fitted, but not tight; clean, but not polished.
Avoid being overly trendy.
If you have to ask, then it's not for you. If it makes you feel self-conscious, then it's not for you. If your wife or girlfriend LOVES it but you do not, then do not do it.
NEVER, ever wear square toed shoes, sandals or shorts that go below your knees.
T-shirts cannot be "dressed up."
Be discreet with your gadgets.
Manners are always important.
Most important, trust your gut and be yourself. Your beaming personality is far more interesting than the clothes you wear.
---