Los Angeles: Bite Into The Hudson Burger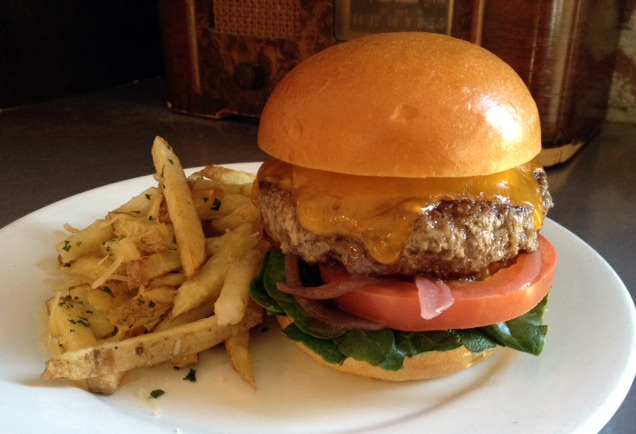 Hudson Burger
Fancy burgers have been popping up all over the country at big name restaurants that are happy to charge you $20 for the pleasure of eating their overwrought creations. The problem is, burgers are food for the people, by the people. There's nothing wrong with a fancy burger, though, as long as it's not too fancy. The same goes for bars. I don't mind a bar with a sense of style, as long as it doesn't shove that style in your face. That brings us to The Hudson in West Hollywood, CA. It's a fancy bar that offers a fancy burger and, luckily, neither crosses the line into pretension.
There's nothing too ambitious going on here — the burger is dressed simply with aged cheddar, a little heirloom tomato, and some roasted garlic aioli. Without too much to distract you, this burger is begging you to just focus on the beef. And for good reason. It comes from Meyer Natural Angus, which means it's hormone-free, certified humane, and corn-finished. To me, it tastes like beef is supposed to taste. The biggest thing that sets this burger apart, though, is the meat-to-fat ratio. Your average burger is a mixture of 80% beef and 20% fat. Not at The Hudson. Here they use the elusive 75/25. That means that a full quarter of that burger is pure, sinful fat. You can really taste the difference. Basically, the more fat a burger has, the tastier it's going to be. This burger has a melt-in-your-mouth richness that you just don't get from a leaner blend.
Since it's beautifully seared on a flat top grill, this burger does more than just lock in the ample juices — it holds on to them for dear life. That means that you need a napkin close at hand to make sure you're not developing a grease beard. It also means that your bun gets soaked with flavor after every bite. This thing is a dripping, succulent mess (in the best sense of the word) and at just $11 — which includes fries or salad — this is one high-end burger that won't break the bank. So forget about that foie gras truffle burger at the brasserie downtown, because this is an upscale burger in an upscale bar that doesn't make you think you're eating anything but a classic.
The Hudson

1114 North Crescent Heights Boulevard
West Hollywood, CA 323-654-6686 ‎
---
More Burgers of the Week from Food Republic: