Hong Thaimee Knows Where To Get Good Thai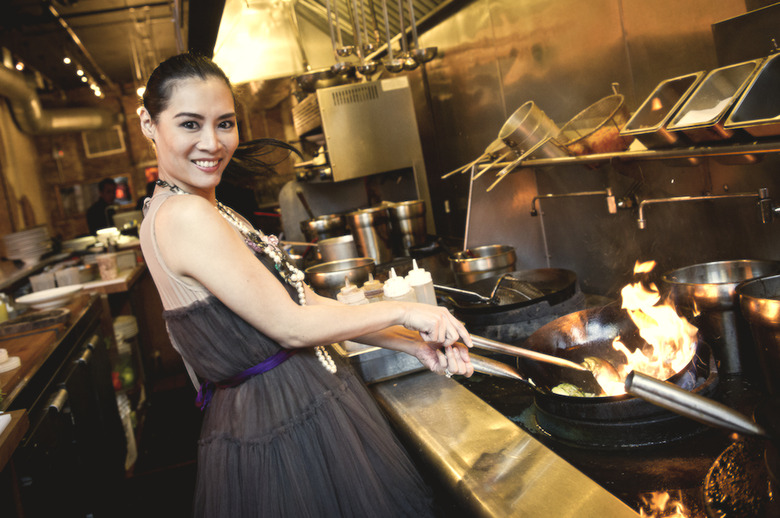 What's sexier, a woman who can literally fire up a wok (see photo) or a professional model? Thanks to Hong Thaimee, you no longer have to choose. Currently the Executive Chef at Ngam, a modern Thai comfort food joint in NYC, Thaimee was a model and television personality who decided food was more important than...well, not food. Once the face of Nescafé and Pantene, Thaimee turned her sights on training with M.L. Sirichalerm Savsti, arguably Thailand's most famous chef. She then moved on to work in some of New York's most prestigious Thai kitchens — Kittichai, Spice Market and Perry St.
If Thailand made a dish of brains and beauty, you're looking at it. We caught up with her recently.
What is the best meal a man has cooked for you?
A good meal is not always about flavors, but the love and care behind it. One time I was sick and couldn't get out of bed, so my husband woke up early and made me breakfast in bed. The fact that he took the time out of his day for me and made sure I was taken care of made the food taste all the better.
Does your man need to have culinary skills?
Yes! Knowing your way around a kitchen is an important life skill that everyone should have. They don't have to be a 3-star chef, but they should know the basics such as peeling an apple and making rice. And if they really want to win my heart, they have to be able to keep me well-fed. So if they can't cook, at least know where the best place to order from is.
What would be the most romantic dinner?
I would say a quiet moonlight picnic would be a truly romantic dinner setting. It's different, unpredictable, and allows two people to really focus on each other. As far as the food, I'd have oysters on the half shell and sashimi slices, and wash it down with a nice Champagne cocktail. For dessert, anything with chocolate would be perfect.
Any celebrity chef crushes we should know about?
Hmm...well I was really hooked on the season of Top Chef with the Voltaggio brothers and loved watching those episodes. The talent was so good and I thought Michael Voltaggio was awesome and was very glad he won...so I'd really blush at an opportunity to work with him.
Any pointers for a guy trying to make a romantic dinner—which will lead (hopefully) to a romantic evening?
Don't try too hard! Being confident is the best way to get a woman's attention. But not too much.
---
More Women We'd Cook For on Food Republic: