Food Republic Coffee Power Rankings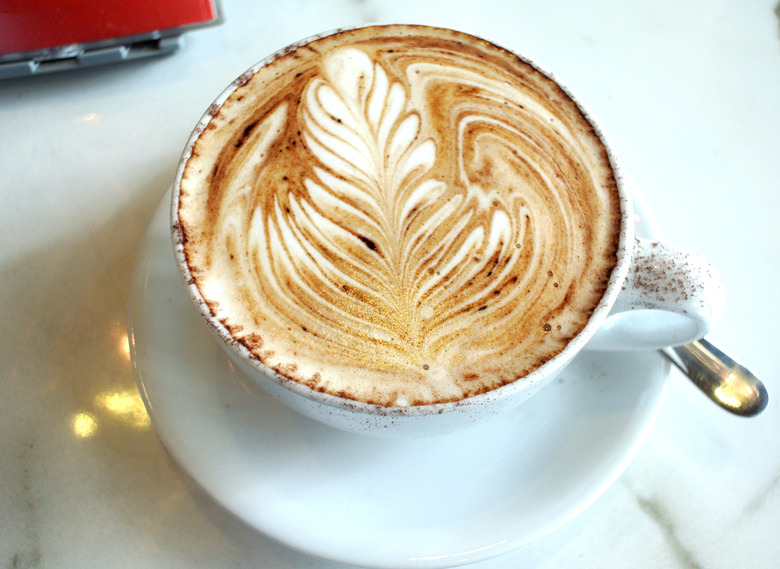 If you're the type of coffee geek who can't go to Starbucks, lives within stalking distance of your local craft roaster, or whose regular barista has some sort of espresso paraphernalia tattooed on her body, then you're probably aware of the key players driving the current wave of coffee culture.
At the forefront of the wave are coffee obsessives focused on bean origins and low-tech brewing techniques that preserve the integrity of those beans. So, who are these rock stars of caffeination? Here is our updated list of the most influential people in the world of coffee today.
KEY:
( ) Notes previous ranking from our December 2012 rankings
* New addition
10. Phil Robertson & Sebastian Sztabzyb | Phil & Sebastian*
As pioneers of third-wave coffee culture in Canada, these two thirty-something coffee geeks left their jobs as engineers to open their first café and roastery (15 Kilo Coffee) in Calgary back in 2007. Since then, they've added a couple more locations and started providing craft-roasted beans to savvy coffee bars across the country. Like the American counterparts, they travel the world forging relationships with the best coffee growers they can find.
9. Pete Licata | Champion Barista (#10)
In most cases, Americans don't have access to "local" coffee. Pete Licata, however, a barista from the mainland who relocated to Hawaii, gets to work with beans grown and roasted right here on U.S. soil. This year, he won the United States Barista Championship, the first time ever that a barista won using U.S.-grown coffee. He went on to place second in the World Barista Championship.
8. Toby Smith | Toby's Estate Coffee*
Canadians aren't the only one who have adopted third-wave coffee culture. Toby's Estate Coffee has been craft roasting beans since 1998. The company just recently opened its first American outpost in the Brooklyn neighborhood of Williamsburg. It specializes in exclusive cuppings, outstanding direct-trade beans fine roasted on the premises, advanced latte art classes and beautifully built flat whites, which is sort of like an Australian latte, but better.
7. Tom Owen | Sweet Maria's*
Wondering what the next wave of coffee culture might be? Rebel home roasters in places like San Francisco and Portland can tell: it's buying green coffee beans and roasting them yourself. The home roasting megastore Sweet Maria's not only has a massive selection of green beans, as well as roasting equipment, plus tried-and-tested advice from owner Tom Owen, a major advocate of home roasting. It also sells a limited selection of roasted coffee, available both in the Oakland, Calif. shop and online.
6. Matt Higgins and Keith Gehrke | Founders of Coava (#8)
Sure, Coava is known for fine roasting excellent single-origin coffees. But, if you live outside Portland, Ore., and happen to favor pour-over drip to brew your morning joe, it's more likely that you know it as the creator of the Kone. This American-made stainless-steel brew filter works with Chemex and other pour-over carafes for a clean, precise cup of coffee, minus the waste of paper filters.
5. Todd Carmichael | Co-Owner of La Colombe Torréfaction (#9)
The outspoken figurehead of this Philadelphia-based roaster is more than just a purist and peddler of beautifully roasted beans. He is also a fierce environmental and social activist—earlier this month he formed a charitable alliance with Leonardo DiCaprio. Carmichael has been publicly critical of Stumptown for "selling out" when it took on a majority investor and himself refused an offer from the same firm. Through his coffee company, he raises money to build wells and fund charitable organizations benefiting children in Africa.
4. The Peterson Family | Hacienda La Esmeralda*
Price Peterson and his wife, Susan, inherited the Panama property from his father in 1973 and began planting coffee trees there in 1987, but it would be another decade before the family discovered the Esmerelda Special trees that would make them famous. Since then, the cultish Geisha varietal has become the most coveted coffee in the world. In 2004, it sold at auction for $21 per pound; in 2006, it went for $50; and in 2010, it sold for $170 per pound. Think of it as the coffee geek's Holy Grail.
3. Duane Sorenson | Founder of Stumptown (#2)
It comes as no surprise that gastro-progressive Portland, Ore., would also have its own rock-star boutique roaster. What may come as a surprise is how big the little coffee house from Portland has grown. Duane Sorenson founded Stumptown back in 1999 after spending the '90s working as a barista in Seattle and a roaster in San Diego. This year, he partnered with a private equity firm in order to expand Stumptown's operations with new cafés and roasters in New York, Chicago and San Francisco.
2. Peter Giuliano | Director and co-owner of Counter Culture (#4)
Durham, N.C., might not exactly leap to mind as one of the great coffee cities. But it's where Counter Culture is based, a roaster that doesn't have retail locations, but opens its training centers in Asheville, Atlanta, Charlotte, New York and D.C. to the public for weekly cuppings. As an advocate of direct-trade, single-origin coffee, Peter Giuliano takes baristas from around the country to coffee-producing regions so that they can see what really goes into farming coffee.
1. James Freeman | Founder and CEO of Blue Bottle (#3)
A self-proclaimed "coffee lunatic," James Freeman launched his Bay Area coffee company with the mission to never sell beans more than 48 hours after roasting them. In fact, if they don't sell within a week, the beans get trashed. Blue Bottle now has cafés around San Francisco and New York, and is responsible for super-slow-drip cold brewing kettles from Japan catching on in serious coffee bars around the country.