Celebrate Mardi Gras With A Po' Boy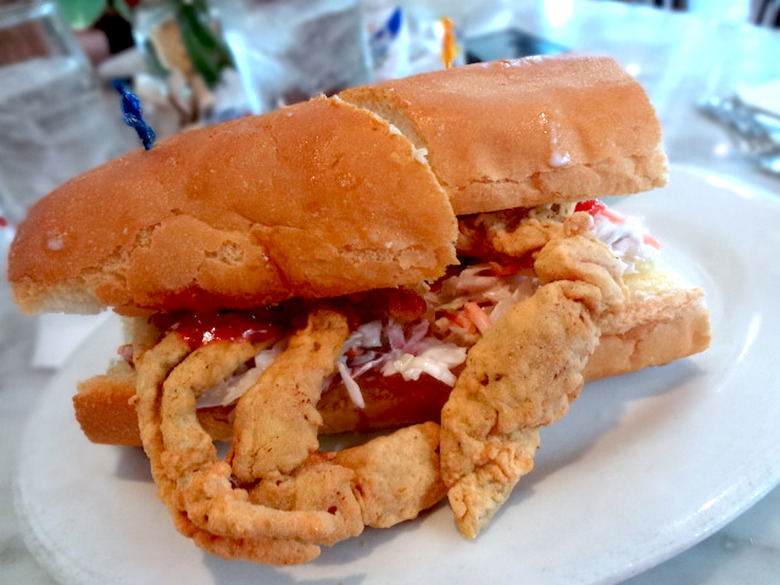 po boy sandwich
Welcome to one of the happiest days of the year, if you live in a city with outrageous Mardi Gras happy hours like we do. I'm not going to provide you with a history of the po' boy (streetcar workers went on strike, sympathetic sandwich shop owners plied the po' boys with free food, the legend was born), but why they're awesome. Not that you need to be informed, that is — if you've ever had the pleasure.
Rarely do you encounter the combination of fat, acid and crunch that makes for a legendary sandwich. Between the crunchy fried seafood and tangy mayo and hot sauce lies that balance. The fried seafood po' boy is usually topped with lettuce, tomato and onion. But as a born-and-bred Yank, I like coleslaw on mine (catfish, preferably). If fried shrimp's more your thing, Guy's Po-Boys on New Orleans' Magazine Street genererously loaned us their recipe. If you're a fan of flavor, you want it "dressed."
Roast beef and other cold cut-based po' boys are not uncommon, but since it's Mardi Gras I recommend you find the nearest reliable place selling a sandwich filled with something fried (chicken is fine), pad out that stomach and celebrate this Fat Tuesday right. You may notice I haven't mentioned any religious significance. Fried seafood. There. Religious.