Gluten-Free Pizza Is Not OK, Except...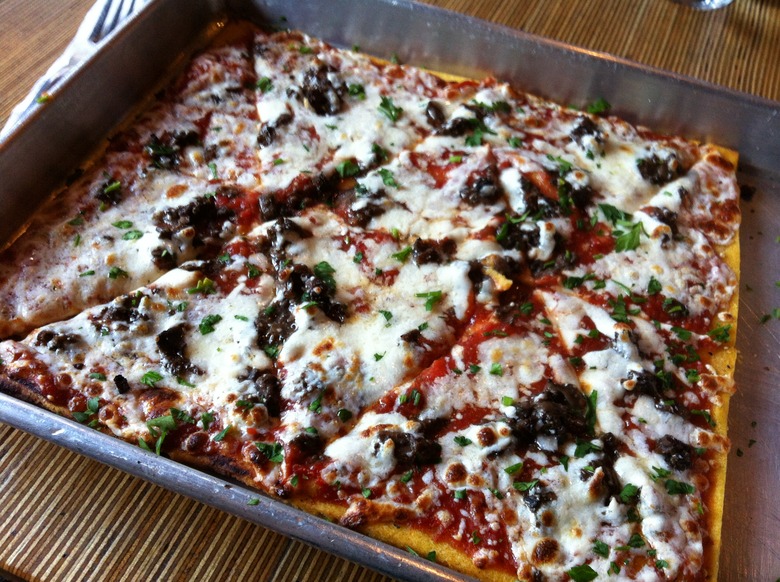 I fully sympathize with those whose stomachs go south when they try to digest gluten—and it makes me happy knowing that they can enjoy gluten-free cupcakes, cookies and even a soufflé. In some cases, these are made so well that I myself, a carb-addicted omnivore, will go for the gluten-free option. But when it comes to pizza, well, that's another story. Gluten-free pizza dough is just wrong. Whether made with rice flour or some other gluten-free mixture of sorghum and quinoa, it never turns out quite right – dry and tough and bland, as opposed to chewy and crisp, with that salty, yeasty tang to die for. But there is one exception to the rule — polenta-crust pizza.
Pizza made with a polenta crust is almost no longer pizza, but rather a cousin of the thing. You would be hard-pressed to find it in Naples, Italy, but in America's pizza mecca, New York City, every dietary need is catered to. In the running for best polenta crust here is Slice, a "healthy" pizza purveyor in the West Village that recently switched from a rice-flour crust to polenta. Slice allows you to replace the wheat dough in any of its pizzas with the new polenta crust; I went for the Advanced Mushroom, topped with marinara, locally made fresh mozzarella and various sautéed fungi, including shiitake, crimini and button mushrooms.
To reinforce the idea that this is no traditional pizza, the pie arrives as a square, though still sliced into the usual triangle shapes. The golden butter-yellow crust peeks out at the edges from underneath the toppings, bright as sunshine. It's a thin crust, as it should be, crispy at the edges and with more of a pressed-cake texture at the core. (It's made with egg to bind it; so, vegan celiac sufferers are out of luck.)
It's corny, all right, as in prepared a touch sweet, like grilled maize. The marinara has a slightly spicy kick to it, so a mouthful is reminiscent of tortilla chips and salsa. The mushrooms and mozzarella are kept on the sparse side, so as not to weigh the crust down. Too many toppings and the base would get soggy, which of course happens with wheat dough, but with polenta that could cause some serious breakage.
Perhaps the most important pizza test: I took half the pie home in a box to have later (breakfast of champions). It stood up to the ride home and warmed up in the oven rather nicely. Whether polenta crust still qualifies as pizza is something we could debate till the bufala come home. Instead, better to just surrender to the corniness of it all.
---