Sex And Nordic Bites At NY Fashion Week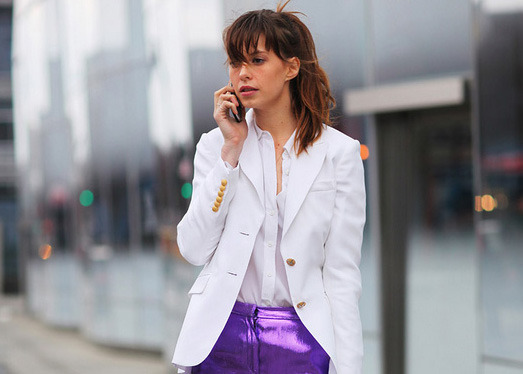 Elettra Wiedemann
Stumbling into the office on Thursday morning after a week-long, fashion-fueled extravaganza isn't as easy as it sounds. I know, I know, there are probably a lot more critical things to have to worry about, but when the models strut down runways all over Manhattan and the after-parties pop up all over town — as was the case during the just-concluded (finally!) Mercedez-Benz Fashion Week — somebody's gotta fill those seats and squeeze past the bouncers with a wink, and that somebody is me.
In case you're not in the loop, it's not exactly about the clothes Marc Jacobs decides to throw onto two 14-year-old models as they sashay down the runway, but it's about what happens after the lights go out. Here are some of the highlights from this season's Fashion Week parties in NYC:
Thursday, February 9th
Wu-Tang Clan at Milk Studios
Fashion Week kicked off with an unusual and unexpected performance, with musicians from a borough not normally represented at Fashion Week, Staten Island. Method Man, Ghostface Killah and Raekwon took the stage at Milk Studios on Manhattan's west side, in a spot that's usually reserved for art shows, fashion shoots and designer presentations.
Saturday, February 12
Purple Magazine and Black DNM Anniversary at The Standard
Trying to get past the bouncers at the Standard Hotel on Saturday night during Fashion Week is about as easy as teaching a legless man how to tap dance. Throw Purple magazine into the equation, and you'll have everybody from Lindsay Lohan (yes, she's still alive) to Sofia Vergara grooving to Whitney Houston's I Will Always Love You at both Le Bain and the Boom Boom Room (the two venues are adjacent.) Our tip: Next time you hit up the Standard, get your drinks from Le Bain and not the Boom Boom Room: Both have the classic whiskey sour down to a tee, but Le Bain's glasses are double the size for the same price! Oh and don't give your name to New York magazine's photographer who snaps your photo as you walk in. He will put it online, and you will regret it.
Sunday, February 13
CoSTUME NATIONAL Celebrate Tim Hailand's One Day in the Life of Robert Wilson's The Life and Death of Marina Abramovic
Exhausted from the weekend's debauchery, I thought Sunday would be a good day to lay low and hit up CoSTUME NATIONAL's event to honor Marina Abramovic at a stunning, recently renovated West Village town house. Little did I know this would be a full-on fête involving an overflowing fountain of elderflower cocktails courtesy of St Germain. A signature cocktail appropriately named L'Artiste featured St Germain, Champagne, and vodka. Read: recipe for disaster.
Tuesday, February 15

Colette Sex Party at Le Baron NYC
The famed and much-anticipated Parisian club Le Baron finally opened its New York outpost just ahead of Fashion Week. This whipped every nightlife-crazed New Yorker into an absolute frenzy. Now, add chic Parisian boutique Colette into the mix and the result is a night involving Jared Leto tossing crinkled hundred dollar bills at lingerie-clad Brazilian go-go dancers, amongst other debauchery. Our tip: Find Alex the bartender. His robust drinks alone are enough to come back to Le Baron for. If you manage to get in, that is.
Wednesday, February 16
Acme
By the time this past Wednesday — the last day of Fashion Week — rolled around, I was in serious need of a decent meal. And it seemed like every model in town agreed with me. After all, they have been starving for months in preparation for Fashion Week. The venue of choice? Acme, of course. The newly renovated restuarant on Great Jones and Lafayette has Mads Refslund (co-founder of famed Copenhagen restaurant Noma) in the kitchen cooking some of his signature New Nordic specialities. With a fare that ranges from sweet shrimp and bison to bread and beer porridge, there are no wrong choices here. Our tip: Do not leave without trying the Farmer's Eggs, a heavenly cauliflower soufflé with smoky aged parmesan served inside a hollowed-out egg shell. That dish alone has me going back again and again.
Surviving Fashion Week was no easy task. With plenty of delicious things to eat and drink, I managed to power stumble through New York Fashion Week this time around. Stay tuned for Fall/Winter!