We're All Obsessed With That Korean Place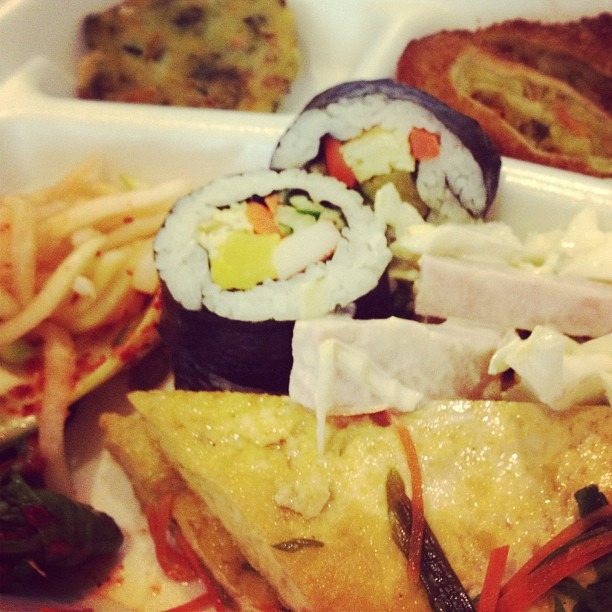 For the longest time, I thought I was the only one who knew about Woorijip, a self-serve restaurant and buffet in New York City's Koreatown so inconspicous-looking that one could easily pass by it on their way to the Korean Citibank without a second thought. I discovered it one day as an intern at a nearby food magazine (yup, the shiny paper thing). To my great delight, the food was delicious, fast to grab, super-varied and best of all, impossibly inexpensive.
For the next five months I subsisted on Woorijip's spicy pork stew, packs of eel kimbap and containers of veggie jap chae, never spending more than six bucks at a time and always feeling full and satisfied enough afterward to research all the histories of iceburg lettuce in the world in the magazine archives of the New York Historical Society. Kimchi gives you that kind of strength. Now, I send our interns there when they ask what's good for lunch in our neighborhood, and delight in the scents of kimchi, garlic and stir-fried bok choy (so...garbage and farts, I guess) when they bring back their haul.
You see, Woorijip's buffet is not to be challenged. You want noodles, you got 'em. Ditto bulgogi, silken tofu stew, barbecued squid legs and five kinds of rice porridge. I recommend the pumpkin. Furthermore, you can get just about any kind of moderately lunch-appropriate booze you can imagine. Mini-bottles of Pinot Grigio or Cabernet, Hite (official skunk beer of Korea) and soju will set you back no more than $3.50. Yes, I thought this was my secret spot that only I knew about. Then I discovered absolutely everybody who has ever worked in Midtown knows about this spot. And it made me love 32nd St. even more.
Great, now I have to decide between Woorijip and Minar for lunch.