Cate Le Bon Loves Homemade Curries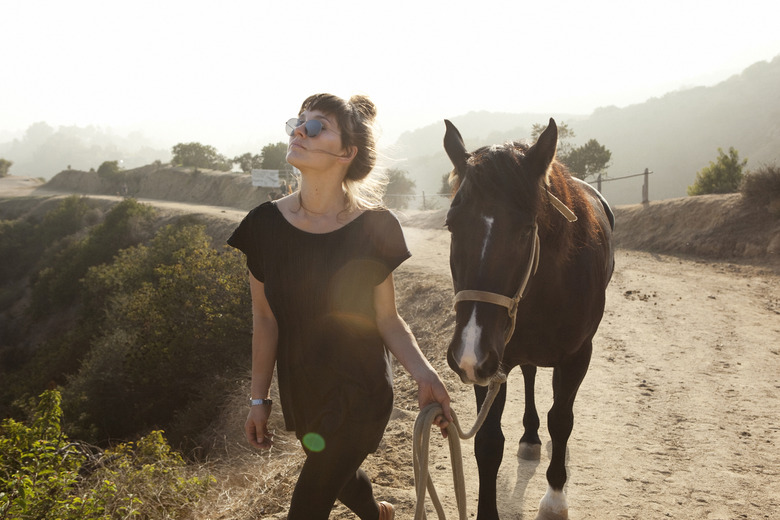 Cate Le Bon
Cate Le Bon's new album is named after a Polish art movement from the 1960s, hence the title CYRK (on The Control Group label). For certain indie-rock lovers, especially those with a fondness for lilting British accents, Le Bon is something of a dream girl. The Cardiff, Wales-based singer-songwriter is also a big fan of eating as she tours around the world, both with her own band and in the recent past with Neon Neon.
Le Bon passed through NYC recently while touring the US with her band — which includes her boyfriend Hugh MacDonald — and they sound even better live than on the enchanting and highly recommended CYRK. (Go see 'em if they're coming to your town.) She managed to break away from her pizza-shoveling bandmates to chat about her love of steak, and the best meal a man has made for her.
It seems like you've been on a lot of tours with dudes. How is that for a gal like yourself?
It's been fine. I'm pretty much open to eating anything. Recently, I was on tour with St. Vincent and the drummer, Matt Johnson, is a healthy eater. I went on a healthy eating binge and a lot of the time I was fighting [with Johnson], who was telling me off. I tried to order avocado tempura, and he looked at me and went, "what, you want to eat fat that's been fried in fat?"
How about on the current US tour with the three guys in your band?
I went to get my hair cut the other day and they went to a bar where every beer you order gets you a massive pizza if you so wish. I think three of them had two pizzas and Hugh, who is also my boyfriend, had three or four massive, massive pizzas. We tried to eat healthy last night and ended up going for a burger, so we'll see.
Back home in Wales, what's a typical meal for you?
There are some great places. My favorite is called Le Monde. I'm a massive steak lover and they do an incredible steak. I've gotten into cooking curries lately from scratch. In Cardiff, there's a wonderful social group of people that we tend to go round each other's houses and cook and have dinner parties.
Is it ever the guys cooking, or only girls?
No, guys! My friend was living with me for a while and he would make this curry for me every night.
What's the key to your own curry?
You don't cut corners when you make a curry. It's such an enjoyable process: grinding the spices and making your own curry paste. It's just taking the time to cook something knowing that if you take the time it's going to tasted incredible.
Does your boyfriend cook?
Yes, but he's a bit mental when it comes to cooking. He thinks more is better. So if I'm cooking a meal and I turn my back he'll be chucking god knows what in there. So I try to keep him out of the kitchen.
Do you cook steaks at home?
Yes, on a griddle pan.
Favorite cut?
I like a sirloin myself.
You've gotten to tour the world—what are your favorite cuisines?
My two favorite places for food are Thailand and Greece. Greek food's simplicity is incredible. The food in Thailand is just phenomenal on every level. We had some great food in Brazil with Neon Neon.
Ok, best meal a man has made you?
Can it be my father?
Sure, why not.
My dad doesn't do it often, but he makes two dishes extremely well. He's very good at cooking poached eggs and he makes the most incredible sausage pie. It's the most delicious thing with really good sausages and tomatoes, and he simmers it all down, and there's beans in there as well. It varies from time to time but he takes so much care over it.
He also does this incredible thing with the sausage pie where he'll choose a corner and will fill that corner with more sausage than the rest of the pie and he'll cover it in mashed potato so he has a reference point — the mapping of the pie. Then he'll get a fork and he'll write "Dad" on the pie massively. Which we think, oh that's so sweet, until you realize it's so he knows where the pocket of sausages is for himself!
---
More Women We'd Cook For on Food Republic: