Top 5 Barley Wines For Winter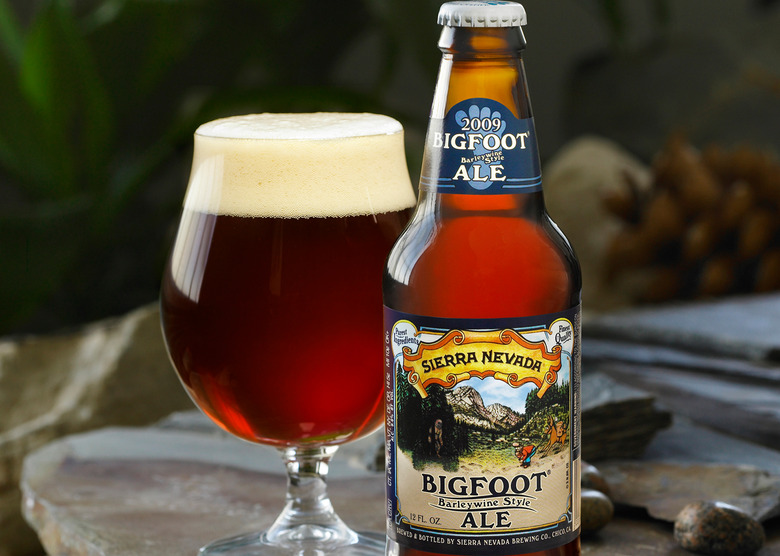 Bigfoot Barleywine
In these dark, frigid depths of winter, piney IPAs just don't cut it. Neither do prickly pilsners or even an inky stout. When the mercury dips low and the heater is cranked high, there's one style of beer that's guaranteed to stoke your stomach furnace: barley wine.
Consider this a most delicious oxymoron. The British-born barley wine contains no grapes. In fact, the beer style has nothing in common with Chardonnay or Merlot — save for an alcohol percentage that often tops double digits. Perhaps that explains why the thick, sometimes fruity, sometimes hoppy, always strong ale has become one of wintertime's signature belly-warming brews, providing the liquid courage to shovel out the driveway yet again.
Broadly speaking, barley wines are broken down into several camps. British barley wines, like J.W. Lees & Co.'s Vintage Harvest Ale, are typically less brawny and more rounded. On the flip side, American brewers have a heavy hand with bitterness and booze. Case in point: Great Divide Brewing's Old Ruffian packs more than 85 international bittering units (IBUs) and 10 percent ABV, while Rogue Ales' XS Old Crustacean boasts more than 100 IBUs and an 11.5 percent ABV. Drink two, and it's good night for you.
Here are five of our favorite barley wines for surviving winter's chill. What are your favorites? Hit us up on Twitter: @FoodRepublic.
1. Sierra Nevada Brewing: Bigfoot Barleywine
Unlike its namesake, Sierra's Bigfoot is a common, elegant creature. The rust-tinged brew presents a fruity perfume and malt sweetness that's kept in check by a decidedly bitter streak. When aged, the beer grows more balanced as the hops slink into the background.
2. Schlafly Oak-Aged Barleywine
The copper-toned barley wine spends several months aging on fresh oak chips, which impart smooth, mellow notes of vanilla. There's plenty of malt on the palate, too, with flavors of dark fruit and oak.
3. Anchor Old Foghorn Barleywine
In 1975, the San Francisco brewery helped revive barley wine in America by releasing Old Foghorn. It's substantially hopped with flowery Cascade hops and tastes of biscuity malts, caramel and a tidbit of toffee.
4. Great Divide Brewing Co. Old Ruffian
The ruby-brown Ruffian presents an aroma of caramel, cherries, plums and pine. The barley wine drinks caramel-sweet, with notes of dark fruit and a huge hit of hoppy bitterness. Be careful: The 10.2 percent ABV will quickly wallop you.
5. Nils Oscar Barley Wine
Hailing from Sweden, the ale verges toward the sweet side. Flavor-wise, it offers loads of dark fruit and a light bitterness, instead of off-the-charts IBUs. It'd be divine for dessert.
---