Haven Gastropub's Burger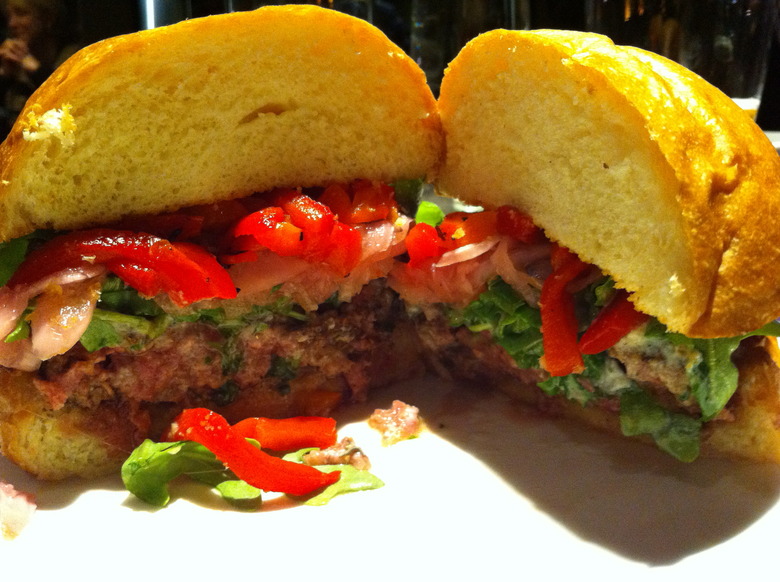 haven burger
Life is a game of percentages. I don't know who said that, it was probably an actuary or someone who did really well on the math section of the SATs. Either way, the Haven Burger is part of that game, too. Found at the brand new Haven Gastropub in Pasadena, CA (as well as their original location in Orange County), this burger is a lesson in the mathematics of meat.
The 9-ounce patty is hand-formed and custom ground to the exact specifications of Chef Greg Daniels. That means you're getting a blend that's 65% chuck, 15% short rib, and 20% pork fat. Why pork fat? First, it makes the burger taste damn good. More importantly, though, it gives the meat some added moisture so even if you order it *gasp* well-done, it's still going to be a juicy burger. But please, don't order it well-done. Respect your meats, people.
The appeal of the Haven Burger doesn't just end with a well-proportioned patty, however. The toppings make this an equation I'd be happy to complete any time and they're selected specifically to appeal to all five tastes. St. Agur bleu cheese gives you salty + umami, jay leaf wild arugula kicks in with pleasant bitterness, bell peppers balance it out with a little sweetness, and a mound of pickled red onions contribute the requisite sourness. Everything gets piled on top of a brioche bun smeared with garlic aioli and when you add it all together, you get a burger that's greater than the sum of its parts.
To make your meal complete, order some of Haven's truly awesome pomme frites, then spend some time figuring how you're going to conquer their massive beer list. With 40 brews on tap selected by beverage director Wil Dee (no relation to Sandra), you'll probably have to divide and conquer (math pun). When you're all done, I'd say there's a pretty good chance you'll be 100% satisfied.
---
More Burgers of the Week from Food Republic: