Amsterdam: 5 Restaurants To Visit Now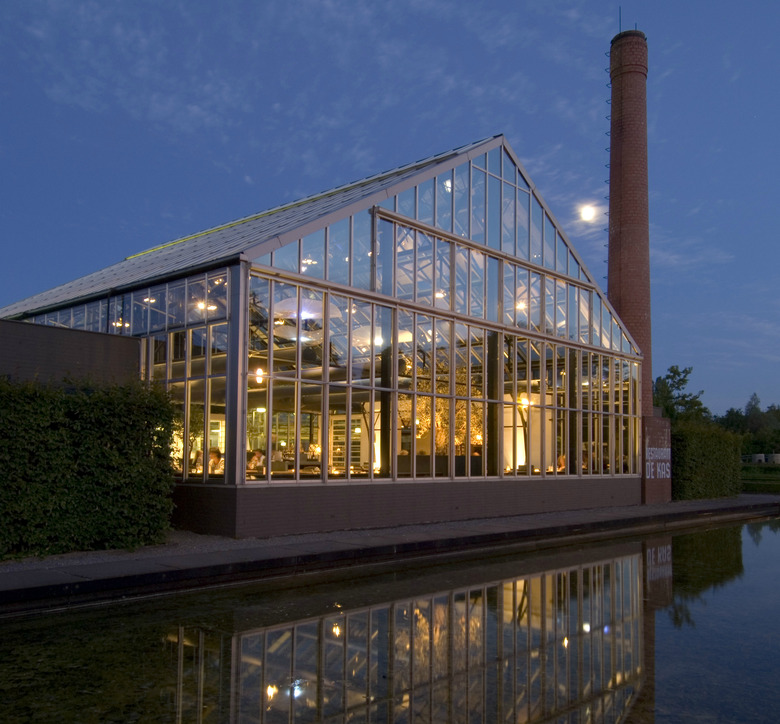 De Kas Amsterdam
No one comes to Amsterdam to eat. After all, this is a place where it's common practice to put sugar sprinkles on your morning toast – no lie – and the best frites are the ones you can barely taste through all the mayonnaise. Claiming to visit Amsterdam for the food is a bit like reading Playboy and saying "I read it for the articles."
But the city's notoriously inelegant dining landscape is becoming increasingly sophisticated as of late with its mayo-stained culinary crest elevated by local produce, fresh seafood and raw milk cheeses. If you know where to look, you can eat as well in Amsterdam as you would any other European metropolis. Don't feel obliged to part the red sea of AFC Ajax jerseys awaiting tables at mediocre Argentinean steakhouses. The next time you find yourself in the Dutch capital jonesing for a culinary hit, try these five spots.
We didn't all grow up eating bacon-wrapped monkfish and homemade apple sauce with fresh cinnamon. Fortunately, Réné Loven did, and his Restaurant Greetje transforms traditional comfort foods from across the Netherlands into the sort of no-pretense fine dining experience that would turn Mario Batali orange with envy. Named for Loven's own mother, Greetje is packed nightly – advance reservations necessary – with the sort of blond, stylishly bespectacled locals that make you want to buy a bicycle.
Greetje's Great Start, the chef's selection of hot and cold appetizers, is served on a tiered china platter and is the best imaginable introduction to elevated Dutch classics – think organic pork sausage with apple compote, a silky veal broth with tomatoes and beef marrow, and elegantly spiced pickled yellow beets. The wood-floored, wallpapered dining room will make you feel like you're eating with Vermeer, and the convivial, impossibly warm service will have you raising a glass of genever to the new wave of Dutch masters. Peperstraat 23, 1011 TJ Amsterdam
2. De Kas
Arguably Amsterdam's most scenic – and sceney—restaurant, De Kas is the sort of place you go when you want to eat carefully prepared, thoughtfully sourced cuisine while impressing your dining companion with your similarly impeccable taste. Located in a renovated early 20th C nursery in Frankendael Park, De Kas' striking, glass paneled dining room is adjacent to a working greenhouse. The latter can be credited not only with keeping the spirit of the original structure alive but also helping populate your dinner plate.
The hyper-seasonal menu changes daily, and combines a Mediterranean mentality (fresh ingredients, prepared simply) with local herbs grown on-site, produce sourced from local farmers, and seafood from the nearby North and Wadden Seas. The five-course, 49.50 EUR prix fixe dinner might include the likes of seared butter lettuce topped with lobster claw or smoked halibut with sweet pea sprouts, and you might enjoy them all the more if you nab one of the coveted spots at the knockout, four-seat chef's table within the kitchen. Kamerlingh Onneslaan 3, 1097 DE Amsterdam
3. De Cantine
Okay. You've done the high-end. You've given copious thought to Holland's culinary traditions. Now you want some honest, Amsterdamche pub grub. De Cantine, located on the waterfront in the Eastern Docklands (look for the illuminated rooftop sign of its neighbor, the trippy Lloyd Hotel) is where Amsterdammers go before – or after – a night on the town. The warm, narrow space is occupied by a large bar and two-tops with bench seating. Attractive, artfully disheveled servers are more than happy to recommend items on and off the menu, while a soundtrack of Dutch rock and the occasional Houses of the Holy track gets the Led out of your evening meal.
While the burger is a crowd-pleaser, try bitterballen: tiny fried croquettes with minced beef and mashed potatoes. And if you really want to go Dutch, order them with a kopstoot – a shot of chilled Dutch gin served alongside a fresh pour of local Heineken. The name loosely translates to "kick in the head." Yes, please. Rietlandpark 373, 1019 EM Amsterdam
Due to a seafaring colonial past, the Netherlands is today home to some knockout Asian-Pacific fare. (Not to mention excellent coffee – Sumatra and Java were part of the Dutch East Indies until Indonesia declared independence in 1945.) Counter service Indonesian joints now dot Amsterdam's city center, but bypass them as you would a Starbucks. Head instead to Restaurant Blauw, a chic spot in Oud-Zuid where the vibe –sleek and stylish, with enough red and black to inspire an Amsterdammer White Stripes tribute band– lives up to the food.
Indonesian delicacies like spicy Sumatran beef and delicate goat satay are best consumed as part of a rijsttafel, in which nearly 20 small bowls of consecutively spicier dishes are served with an increasingly necessary spread of fluffy white rice. A culinary colonial invention à la banh mi or chicken tikka masala, rijsttafels were born in Indonesia under Dutch rule, but have made a lasting impression on the Dutch palate. When you sample Blauw's impossibly tender roast lamb in a spicy curry-coconut sauce spiked with fresh cinnamon, you'll understand why. Amstelveenseweg 158-160, 1075 XN Amsterdam
5. De Kaaskamer
Less a restaurant than the cheese shop of your dreams, think of De Kaaskamer as the dairy-driven, Dutch version of Zingerman's Deli in Ann Arbor. Like a Manhattan studio apartment, the slim store utilizes every inch of its space, with ceiling-high wooden shelves cataloging endless wheels of raw cow and sheep's milk Dutch cheeses like Geitenkaas, parsley- and caraway-spiced Griene Tsiis, and, yes, traditional Gouda.
If you head to the rear, you'll see a hand-written sign listing that day's specialty broodje (open-faced sandwiches served on thick slabs of nutty, homemade bread). Order one. It doesn't matter which. De Kaaskamer is in Amsterdam's 9 Straatjes neighborhood, filled with leafy streets, independent boutiques and cobblestone squares with benches perfectly situated for taking down that take-away broodje minutes after purchase.
If you want a more lasting De Kaaskamer experience, you can also ship many of their cheeses home. The staff, while occasionally brusque, is well-versed in the art of mailing perishables abroad. Don't let a few blank stares stand between you and a long-term commitment to artisanal Edam. Runstraat 7,1016 GJ Amsterdam
---