Nashville: Farm Burger At Pharmacy Parlor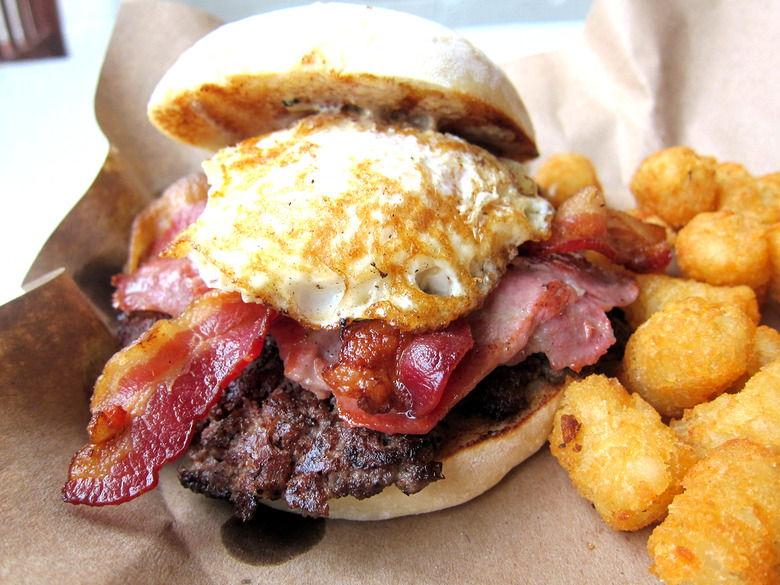 When brothers Terrell and Trent Raley decided to open The Pharmacy Burger Parlor and Beer Garden in a converted childcare building in hip East Nashville, they didn't expect developing a menu to be much of a problem. They already had experience from their popular Holland House Bar and Refuge next door, which has been immediately accepted as one of the best places in town to enjoy classic craft cocktails and intriguing seasonal cuisine.
The Raleys knew that they wanted to recreate an old timey soda fountain feel and installed a real soda rail to feature authentic phosphate sodas and homemade milk shakes. Keeping with the biergarten tradition, they developed an impressive selection of würstchen and a great offering of German beers and American craft brews for patrons to enjoy at picnic tables in the lovely terraced back yard.
But when it came time to decide on a limited menu of burgers, they were stumped.
There were already plenty of upscale burger bars offering their take on fancy regional burgers. What they needed was to stand out. Drawing from their diverse culinary backgrounds, the San Antonio natives topped their Mission Burger with black beans, guacamole, pico de gallo, and horchata crema fresca. The cliché mushroom Swiss burger became a Stroganoff spin topped with an ultra-rich mushroom béchamel sauce, Swiss cheese and sour cream.
Knowing that no ordinary bun could stand up to these sorts of creamy toppings, the Raleys turned to Nashville's most popular bakery, Provence, to develop a special dense bun which is lightly toasted to serve as a palette for their creations.
But their most popular offering thus far has been the Farm Burger, a Tennessee beef patty topped with Tripp Farms country ham, Glen Farm bacon, a Willow Farm fried egg and house-made maple mustard. Yes, three farms are represented here. That's locavore to the core. On a recent visit, a crew of 11 firemen sat down to order and seven Farm Burgers were served to the table. Only open for a few months, Pharmacy is already serving 100-150 each day.
"It was really the easiest one to develop," recounts Terrell. "We knew we wanted to showcase our local farms, plus we wanted some sort of breakfast-type burger on the menu." Brother Trent continues, "It almost requires a nap." Barely manageable in size, but not too messy thanks to that Provence bun, the golden yolk becomes a mop sauce for dipping. Served with a side of perfectly fried tots or house-cut fries, the Farm Burger is a man-sized meal.
Plus it was designed to be an excellent hangover cure, if not the healthiest item on the menu. The Raleys playfully poke fun at the notion that everyone is trying to find healthier ways to do everything. "We sort of expect to serve a lot of East Nashvillians their last meal," he says. At least they'll die happy.
The Pharmacy Burger Parlor and Beer Garden
731 McFerrin Ave.
Nashville, TN 37206
615-712-9517
---