A Beef Jerky To Change The Food System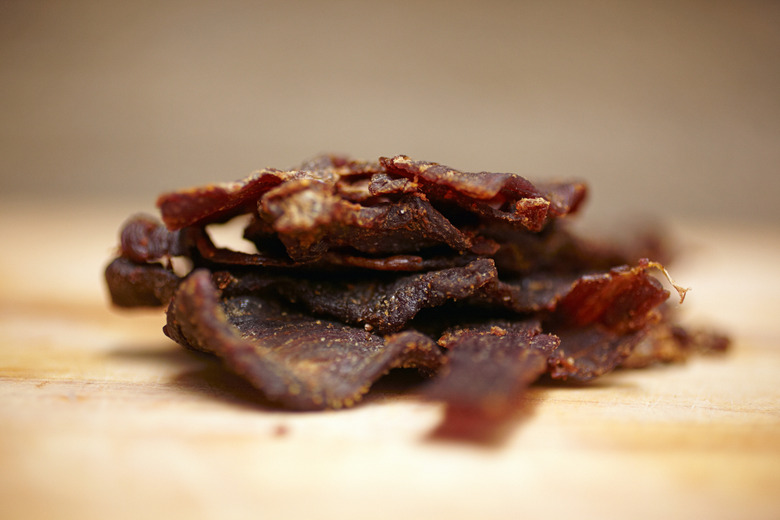 artisanal beef jerky from Slantshack
Attempt to make DIY jerky and you may just wake up in a blindingly dense haze that makes your eyes water. At least that's what happened to SlantShack's COO David Koretz and his roommate when they forgot about the ultra-spicy jerky dehydrating overnight in their oven. Since then, Koretz has ceased burning meat in his oven and has joined the jerky business professionally, with a twist — SlantShack's jerky has ambitions to help change the food system.
Founded three years ago by Koretz's friend Joshua Kace in his Jersey City, NJ apartment, SlantShack Jerky (named for the apartment's less-than-even flooring) sells to over 40 stores, restaurants and bars in New York alone and is soon to launch a gluten-free line of jerky sold exclusively at Whole Foods and on SlantShack's website. The company is comprised of nine friends, all of whom have full-time jobs outside SlantShack (read: software developers and investment bankers), except for Koretz, who left his job as a research associate to focus all of his energy on growing the company.
And grow it has. After peddling their homemade jerky at Greenpoint Farmers Market in Brooklyn, their product became so popular that they found themselves unable to keep up with the demand even with someone cranking out jerky from Kace's apartment oven all day long. So the SlantShack team moved their flavor testing operations to a commercial kitchen space in New York and joined forces with a farm in Vermont for production.
Koretz says SlantShack differentiates itself from competitors by placing an emphasis on the quality of the ingredients and the distinctiveness of their marinades. The company's signature Jerk McGurk rub is based on Kace's mother's chicken recipe and they are looking to collaborate with the Bronx Brewery on a beer marinade in the future. Customers who want more control over their jerky can use the website's "Build-a-Jerky" feature to customize the marinade exactly to their taste. Whereas mass-produced jerky may come in banal "honey barbeque," SlantShack's marinades, rubs and glazes have layers of flavor that enhance rather than mask the taste of the meat.
Which brings us to the real issue with artisanal jerky — the meat. Is it grain-fed or grass-fed? Organic or industrial? Local or imported?
With rising consumer awareness about practices like raising animals in CAFOs, being in the meat product business demands lengthy explanations about where and how your meat is raised and produced (hence SlantShack has an entire section of their website entitled "Meet our Meat").
SlantShack offers both grain-fed and grass-fed beef and Koretz reports that sales are split evenly between the two options. "There's a reason why we have the two options — we're trying to put a quality product out their in front of as many people as possible and doing grain and grass lets us do that," says Koretz. He explains that SlantShack is more focused on working with small farmers who treat their animals well, rather than demanding that all of the meat is labeled 100% grass-fed. Koretz points to many responsible local farmers who sprinkle grain on the ground to entice livestock to move from one field to another and thus don't meet the criteria for the grass-fed label. Quality meat without a grass-fed label also sells at a lower price point, allowing more consumers access to SlantShack's jerky.
The type of feed not only influences price, but also the cut. When working with leaner, grass-fed beef SlantShack plays around with lesser-used cuts like eye round and knuckle that may be too fatty on grain-fed animals. With the grain-fed beef they stick to the go-to lean jerky cut — top round.
SlantShack looks beyond jerky's position as the perfect compliment to beer to its role in food accessibility. They are working to make their quality meat available outside of specialty cheese shops and high-end restaurants.
Koretz comments, "It's important to figure out how to create sustainable business without subsidies and to find the right balance between being a profitable company and doing what you believe in. It's a hard balance."
---
Make your own jerky using SlantShack's recipe on Food Republic.