10 Finger Lakes Wines To Drink Right Now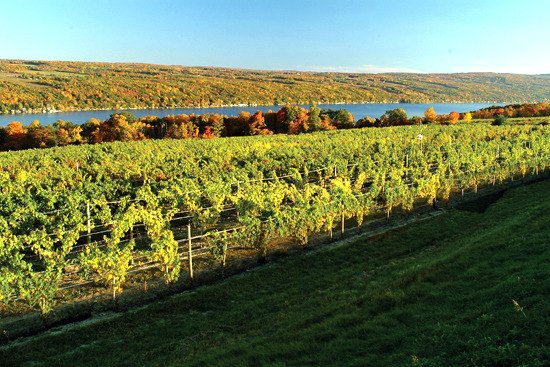 Dr. Konstantin Frank
If you've ever wondered where the Finger Lakes get their name, all you have to do is consult a map: Eleven long, narrow parallel bodies of water scratched into the expanse of land stretching from Rochester to Syracuse look very much like they were clawed there by a sharp-taloned hand. That of a divine creator, according to native legend. New York is the third largest wine-producing state in the country and the Finger Lakes, with its 106 wineries, represents one of its most prolific regions.
Of course, you may have heard this already. Every year, someone somewhere publishes an ode to Riesling (like here), promising that this will be the year that wine geeks everywhere are finally vindicated because Riesling will prevail as the latest trendy varietal. In these hopeful forecasts, the Finger Lakes inevitably come up; the region is ideally situated for growing the cool-weather grape and indeed makes numerous great examples of Riesling. But, on a recent visit, we found that Riesling is not the only thing the region does well. For a number of reasons – a main one being the sadly fast-warming climate – other varietals are beginning to thrive, namely reds.
Driving from one end to the other (the region itself is a five-hour drive from New York City), you can see why a world-class wine industry has sprouted here: pristine land sloping gently from each lake; frothing waterfalls flowing down over ancient, jagged shale; warm summers, crisp winters. Whether you're visiting the area or just browsing the New York section of your local wine shop, here are 10 wines to look out for:
1. Dr. Konstantin Frank Rkatsiteli 2009 ($15)
As one of the oldest wine grape varieties on earth, Rkatsiteli has an ethereal quality. This one boasts hay and wildflower notes, a good level of acidity and savory minerality.
2. Anthony Road Cabernet Franc-Lemberger 2010 ($20)
This blend of two of the region's most successful red grapes boasts the pretty floral characteristics of Cab Franc, plus the pepper and dark fruit typical of Lemberger.
3. Dr. Konstantin Frank Lemberger 2009 ($20)
Also known as Blaufränkisch, this red grape does especially well in cool climates, but can err on the tart side. Dr. Frank's can only be characterized as pretty, filled with wild, forest fruit and just a hint of tar, for depth.
4. Lakewood Vineyards Cabernet Franc 2008 ($16)
The "other" Cabernet – Franc, not Sauvignon – is another grape that does exceptionally well in the Finger Lakes' cool climate. A brick color and dried fruit aromas here are reminiscent of Amarone.
5. Wagner Vineyards Semi-Dry Gewurztraminer 2009 ($13)
This lush, fruity wine is made from the family vineyard's oldest block of Gewurztraminer. Pair it with spicy foods, briny shellfish or just a good book (read: it drinks beautifully on its own).
6. Eagle Crest Unoaked Chardonnay 2010 ($16)
This Chardonnay for the ABC (that's Anything But Chardonnay) drinker is crisp and aromatic, tasting of bright green apple and a hint of nuttiness.
7. Red Newt Riesling Sawmill Creek Vineyards 2009 ($20)
It's no coincidence that Red Newt started doing single-vineyard Rieslings in 2009; the year was a good one for the grape. This dry Riesling is rich and peachy, with bright lime and soft white flower notes.
8. Lamoreaux Landing '76 West 2007 ($25)
This meritage – the name given to the Bordeaux-style blends of Cabernet Franc, Merlot and Cabernet Sauvignon – is full of ripe fruit, light spice and the tangy essence of forest floor.
9. Anthony Road Martini-Reinhardt Riesling 2009 ($22)
Not made every year, this low-alcohol off-dry Riesling is bursting with aromatics, including orange blossom, white peach and citrus, with a whiff of the grape's signature petrol note.
10. Sheldrake Point Pinot Gris 2010 ($16)
Forget what you know about Pinot Grigio. This lean, mineral Pinot Gris is a different animal. Fleshy pear and citrus shine through, but are kept in check by a slate backbone.
---
More about Wine on Food Republic.