They Call Her The Egyptian Rachael Ray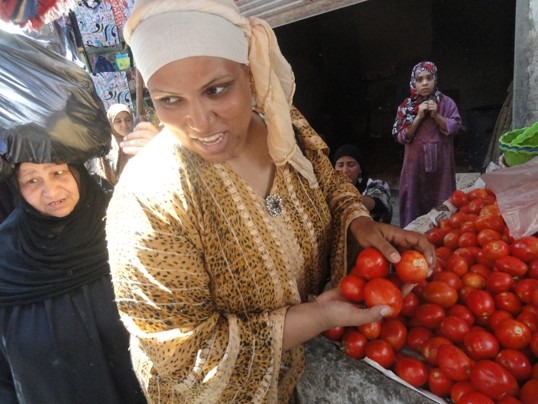 Read: Ghalia Mahmoud offers a step-by-step guide to how to make koshary.
Ghalia Mahmoud, by many accounts Egypt's first celebrity chef, came from humble beginnings. She started her career in the kitchen as a housemaid and cooked in one of Cairo's wealthy suburbs. Today, she's a superstar chef in Post-Revolutionary Egypt.
"They call me the cook of the revolution," Mahmoud tells me via email from Cairo. "But I'm just doing the same thing I've done my whole life. The only different thing is that I'm doing it in front of a camera."
Before Mahmoud, chefs were not really considered celebrities in the Egypt. Although some cooking shows were popular, most feautured non-Egyptian hosts and programming translated to Arabic. This all changed when Mahmoud came along.
Mahmoud shot to fame after Mohamed Gohar, a television executive (but first and foremost, my father) hired her to cook on 25 TV, a television network he launched in the wake of Egypt's historic January 25 revolution; her story became well known in the west after reports about her surfaced late last year in the American and British press. Gohar's mission at 25 TV was to create a new network based on freedom, democracy and social justice, one that encouraged transparency and interactivity. Mahmoud, he believes, brings him closer to this goal. "I see Ghalia as another medium to reach and connect to and with people. Unlike a news hour or political talk show, a cooking show has the ability to unite people from all walks of life," he says.
The weekly cooking show, El Set Ghalia (which translates as "Mrs. Ghalia"), revolves around the host cooking traditional Egyptian dishes on a budget — in a kitchen made to replicate Mahmoud's kitchen at home. The small space houses a modest stove, mismatched pots and pans, and minimal electronic equipment. "I don't think you need gadgets and all this new technology to cook tasty food," explains Mahmoud from Cairo. "To me, food is about fresh ingredients that are simply enhanced. I cook simple, delicious food that is accessible to all, as a way to connect with people." And connect she does — Mahmoud's rags-to-riches story has intrigued and inspired Egyptians, garnering her a massive following throughout Egypt and the Middle East.
"For just 10 Egyptian pounds (~$1.60) you can make a meal like a tray of potatoes and rice," Mahmoud says. "All you need is half a kilo each of potatoes and tomatoes, a quarter kilo of onions and rice." The result is a rustic potatoe casserole in a silky tomato sauce and layer of rice. In each show she features an authentic recipe that costs less than $4 to make. Whether it's potatoes and rice, or the all-time favorite fava bean dish, ful, Mahmoud's recipes evoke a sense of nostalgia for many Egyptians who, like me, were raised with classic Egyptian comfort food.
---
"They call me the cook of the revolution."—Ghalia Mahmoud
Today, Egypt faces increased challenges as a country gripped with poverty and corruption due to 30 years of (now ousted) President Mubarak's iron fist. With high levels of income inequality, and brewing tension between religious groups and political parties, there seems to be little to unite Egyptians.
Mahmoud has become one personality to help represent a "new Egypt," as Gohar likes to refer to the post-revolutionary state of the country. In turbulent times, her meals and recipes are warmly received by people from every background. "I try to cook food that is suitable for many different people," she says. No matter what is going on in our country politically, no one is excluded from my kitchen."
Mahmoud's energy and optimism in a turbulent time has made her an unlikely symbol of success in a new era. "The reason Ghalia has resonated with so many people is because her audience really see themselves in her," adds Gohar. "She is proof that no matter what your background, you can still make a positive change in your life, community and country."