Behold Portland's Natural Selection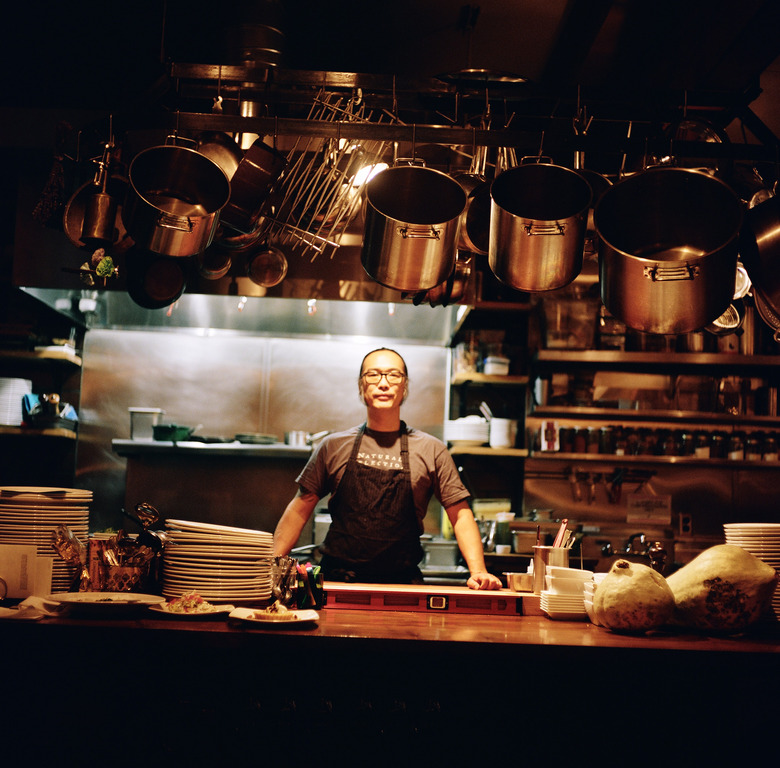 Below is an excerpt from the Winter 2012 edition of Wilder Quarterly, a publication for nature enthusiasts that bills itself as "a growing magazine for contemporary cultivators, foodies and design junkies." Which we think is cool. AND, for the first 100 readers who use the discount code FR0212, the Wilder Quarterly is offering 15% off the purchase of a single issue or subscription, so click here and buy!
"Don't call us a vegetarian restaurant." This might sound strange coming from Aaron Woo, the chef and owner of Natural Selection, a small farm-to-table restaurant in Portland, Ore., offering a weekly menu that is entirely vegetarian and largely vegan. But Woo insists that being pigeonholed as vegetarian misses the fundamental point of his cooking: to make amazing food.
Natural Selection is foremost a fine dining establishment. From the outset, Woo was motivated to bring that level of quality and care to a wider Portland audience. In less than a year, Natural Selection has risen from nonexistence to Runner-Up Restaurant of the Year in Portland's influential Willamette Week. Woo's gamble on local, sustainably sourced ingredients in an upscale setting has apparently paid off.
In a recent interview, Woo spoke about the culinary logic behind Natural Selection, why he doesn't like the term "molecular gastronomy" and the triumph of cooking vegetables — and only vegetables — for herbivores and omnivores alike.
No one, in their coverage of Natural Selection, seems able to resist the "vegetarian restaurant that's not a vegetarian restaurant" angle. Can you tell us about that?
We try our best not to bill ourselves as a vegetarian restaurant. We try to put out there, to the public, that we serve really awesome food that's local and sustainable, farm-to-table style and it just happens to be vegetarian. I know a lot of people who will flat out say, "I'm not into vegetarian food," and I'll say, "Well, why not? You eat vegetables, right?" And they're like, "Yeaaahhhh ... But nah." I think there's this image of vegetarian restaurants in the '80s and '90s, that it's hippies and granola, and rainbows and unicorns on the walls. So, people come in and say, "Wow, it looks like a real restaurant!" and we go, "Yeah, actually, it is a real restaurant."
People definitely have prejudices against vegetarian food. In some cases rightly so, because in the history of what could be called "American vegetarian food" there have been moments when simplicity has been mistaken for banality. Or, worse—blandness.
But you personally are not a vegetarian. How would you say your history as a meat-eater, or your roots in omnivory, frame your cooking at Natural Selection?
One of the things I've learned as a chef is that when you take that piece of meat or fish or protein off the plate, you have to put a lot more thought into everything else you prepare. We joke about how, if you added a piece of protein to this plate of vegetables that we do, it'd be amazing; it'd be ground breaking. Probably 60—70 percent of our customer base is not vegetarian, but people say, "They serve really good food, period." Our most vocal advocates are hardcore vegans and hardcore meat eaters. It's always, "I'm not vegetarian, but that was amazing. I didn't miss the meat."
Try Aaron Woo's Pumpkin Parisian Gnocchi, also excerpted from this article in the Winter 2012 issue of Wilder Quarterly.
---