Strawberries Are In Season! (In Florida)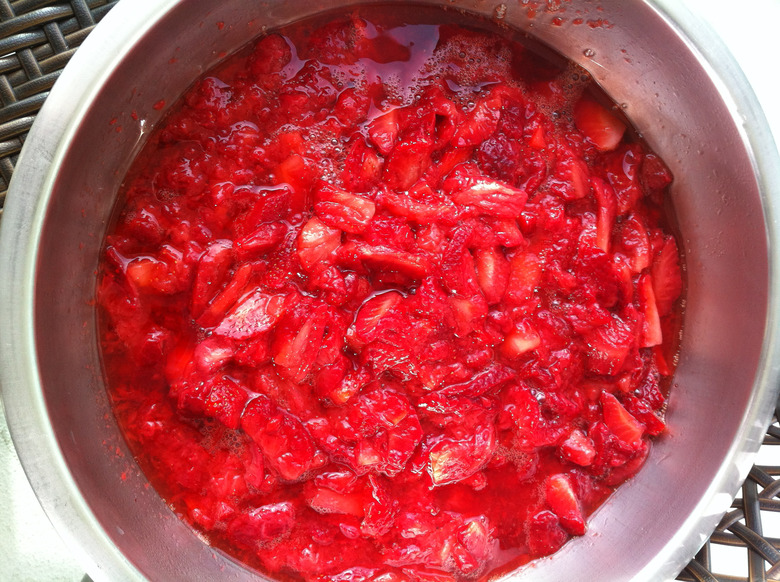 Strawberries
When it comes to Florida cuisine, the conversation starts with Norman Van Aken. The chef and author was among the first to realize the tropical food goldmine of the region, and his restaurants and cookbooks have had a huge influence on chefs in Florida and beyond. Now the chef/owner of Norman's at the Ritz-Carlton, Grande Lakes, Orlando and Director of Restaurants at Miami Culinary Institute, Van Aken is also hard at work on his next book, My Key West Kitchen (Kyle Books), due out in fall 2012. In the meantime, he'll contribute to Food Republic with his "Word On Food."
They're out there! Bursting through the black dirt fields even as I type, with a red-lipped lusciousness that only a woman as brazen as Mother Nature could muster or afford. If you were able to drive south these days (the town of Homestead, Florida specifically is ideal), but truly many places in Florida will work, you will be rewarded with a day where you can possibly re-visit your childhood and pick your own basket of strawberries. I remember my earliest experiences picking our own. Our Mother would drive us to a "U- Pick" farm not very far from our Illinois home and we'd join other "DIY" families of the day in a kind of controlled forage. I also cannot escape the memory of the mosquitoes that came after me those muggy mornings near the Wisconsin border. Do you remember when you were a child and you watched as a mosquito sunk its sticker in you and drew your blood? I remember thinking, "How outrageous!" and smacking that little sucker so dead that re-incarnation would be unlikely! Today, I might find myself confessing to the dead insect drying on my arm: "I try to be Buddhist like when I can...but you crossed a line when you came near my collected strawberries." As a child I suffered few of those moments of introspective evaluations... They hobbled my id.
In the mid 1800's in the United States, there were only about 1,400 acres of cultivated strawberries. That ain't much. Barely a drop in a bucket. The reason for this is they were growing so abundantly in the wild that no one bothered. Strawberries were originally native to the New World (probably Peru). Yet it was after a trip abroad and being handled by some of the greenest thumbs of Europe that the strawberries we know today truly came into the orb of greatness.
There is nothing that can compare with strawberries that are perfectly ripe and still holding the sun's sweetness. I prefer having strawberries that have not been overly refrigerated, only slightly cooled is best. When possible, I love strawberries by themselves, as God intended, probably. But if you must play Creator, one of my favorite combinations is strawberries with a little balsamic vinegar and organic sour cream. You can slice the berries if you like for more exposure to the other two ingredients. Best of all I love my wife's "Strawberry-Lemonade Jam."
In the movie Tess, it's hard to say which was sexier, the nubile actress Nastassja Kinski or the strawberry she bit into.
Perhaps it's the combination that makes it so enticing.
I'm Norman Van Aken and that's my word on food.
---