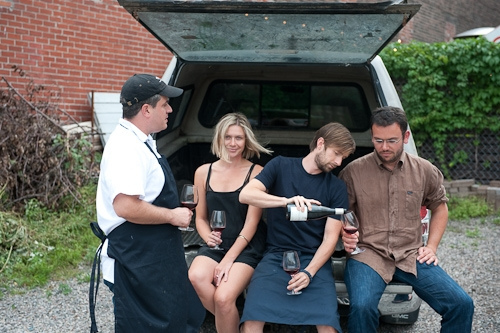 The website Food 52 hosted its third annual cookbook competition over the last couple weeks, The Piglet, and the online face-offs came down to two worthy finalists: Montreal's Joe Beef and Momofuku crack pie dealer Christina Tosi. As in each of the four rounds that pitted the year's flashiest cookbooks against one another, a guest judge of some repute selected a winner. For the finals, it was none other than Alice Waters.
In the end, the famed chef selected The Art of Living According to Joe Beef: A Cookbook of Sorts, which lives up to its title in that it's not just a bunch of ingredients and instructions. It is from a restaurant — Joe Beef has become a major destination on any food fanatic's Montreal itinerary — but it's filled with detours into the city, liquor, even trains. It's whimsical and doesn't take itself too seriously. Which is probably why Ms. Waters selected this lively, freestyle book to win the coveted Piglet title.
Ironically, Momofuku czar David Chang contributed the f-bomb-laced foreword to Joe Beef's book, which beat out his own pastry chef, Christina Tosi. Her Momofuku Milk Bar cookbook is also untraditional, and could be called part-memoir, if that weren't such a trite description.
In the end, Waters admits in her judge's statement, "I am predictable and I always want to celebrate books and cooks that are helping people to fall in love again with fruits and vegetables." So Joe Beef had a distinct advantage over a dessert-themed book. That's one of the complaints we have about the Piglet competition; some great books were thrown overboard when judges' preferences ran counter to the book's premise. But then, we're still kinda mad that our boy Roberto Santibañez got bounced by a New Yorker cartoonist who said she didn't like spicy foods.
Whatever, the Piglet doesn't claim to be fair. And we give thanks to the gals at Food52 for such an entertaining competition. As it turns out, the finalists were faves of Food Republic too. Here's some more swag for the winners:
The Interviews
The Recipes
From Joe Beef:
The Ephemera