Hobart: Eat, Drink And Go To The Museum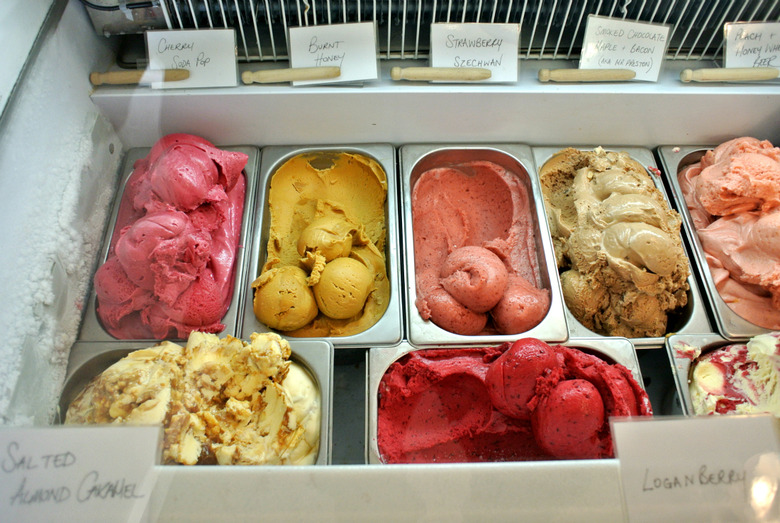 After spending four really packed (fun, exciting, degustation-consuming) days in Melbourne, I can admit that my scheduled visit to Australia's island state Tasmania was setting up to be a bit of a letdown. The urbane Melbournites sort of rolled their eyes at the mention of Tazzy (as Australians call it). And they certainly did not mention Tasmania as a destination for exceptional food. It was more sparkling wines, beautiful vistas and rural living that came up in conversation. And whispers about a really cool and weird art museum founded by a reclusive billionaire.
After spending a few days in the state—which is an easy two hour flight from Sydney and Melbourne and very doable for just the day—it was clear that Tasmania's harbor capitol of Hobart is a local food dream. Like, I've been dreaming about Hobart ice cream since I got back. Here are some highlights.
Salamanca and Farm Gate Markets
Two very large markets operate on Saturday and Sunday throughout the year. On Saturday, the Salamanca Market runs from 8:30 a.m. until 3 p.m. and sells everything from organic vegetables and amazing raw cheese to local seafood (prawns, scallops) and handmade crafts. The Farm Gate Market runs every Sunday morning (9-2) and serves as a meeting point for local farmers, producers and fans of fresh lamb burgers—we spotted them sizzling on the flat-top grill around the time of the market's ceremonial 9 a.m. marking the start of sales. And with it being the middle of summer, the produce was fully on display. Purple carrots and garlic, parsnip, tomatoes and baby broccoli were all in season. Salamanca Place and Salamanca Market, Hobart salamanca.com.au | 181 Elizabeth St, Hobart tasfarmgate.com.au
Sweet Envy
Former Gordon Ramsay pastry charge Alistair Wise opened this eclectic pastry shop and ice cream parlor after running the desserts and bon bon trolley at Ramsey's The London in New York City. The shop and cafe has won a large following in Taz, and all of Australia, with whimsical plays on sticky buns, crepes and Melba. But I was most taken with his ice cream—soft, buttery rich and available in the flavor range that only a great pastry chef could conceive—burnt honey, strawberry Szechuan peppercorn, smoked chocolate maple with bacon. 341 Elizabeth Street, Hobart sweetenvy.com
Lark Distillery
So they make an incredibly complex and drinkable Scotch in Tasmania, a single-malt cask strength product that compared a lot to Glenfarclas. It's crazy when you think about this for a second. Good Scotch is—no, great Scotch, is being made on the other side of the world from Scotland. In talking with owner Bill Lark, it makes some sense. First, peat grows naturally in Tasmania's central highlands—one of the essential ingredients in making whisky. Also, Franklin barley is grown there—a plump grain that is particularly rich in starch and ideal for whisky distillation. Lastly, the water in Tasmania is some of the world's freshest, the result of light industrial activity and the grace of god. Lark has won awards all over the world, on not simply for being a quirky little distillery from a far away place. The stuff kicks serious ass. Lark also makes gin, rum and berry-infused liqueur. 14 Davey Street Hobart larkdistillery.com.au
Grandvewe Cheesery
Less than an hour outside of town sits a sheep farm on winery on some of the most beautiful land you will ever set your eyes on. Financial planner turned farmer and cheesemaker Diane Rae runs the operation with her son Ryan Hartshorn, selling a range of organic products, ice cream and a vanilla whey liqueur. 9 Devlyns Rd, Birchs Bay grandvewe.com.au
MONA
Short for the Museum of Old and New Art, MONA is the brainchild of billionaire gambler, art patron and local boy done good David Walsh. The $200 million museum, winery, world-known restaurant and performance space is entirely self-funded and illustrates Walsh's deep passions for Egyptian antiquities (there's a large collection on-site), tennis (there's a large court on-site) and erotica (there's a large...we'll end there). It's one of the most distinctive museums you will ever visit, and not just for an extensive collection of Cloaca machines.
In 1995, Walsh purchased the museum grounds on the site of well-known local winery, Moorilla Estate, and keep his growing collection housed there private until MONA officially opened to the public in 2011. Tickets are $25 tourists and always free for the Tasmanian population. The wines produced are Moorilla are best on the red side of the coin while the contemporary restaurant, The Source, is run by Michelin-starred Philippe Leban who uses the local produce and seafood in molecular-driven dishes like spanner crab, smoked oyster, pedro ximénez jelly and foie gras cubes. 655 Main Road Berridale, Hobart mona.net.au
Garagistes
It's difficult to articulate how removed the Tasmanian restaurant scene is from its big brothers (or perhaps more accurately, revered grandfathers) in Sydney and Melbourne. Having spent some time in the country talking to chefs, restaurateurs and passionate eaters, it's clear that hopping a plane to eat at a restaurant in Tazzy is as common as...cabbing to LaGuardia to break bread in Des Moines. People just don't do it.
But as it turns out, this is just what Australian celebrity chef Kylie Kwong has been doing for some time at Hobart gem Garagistes. Before visiting the state, I had heard rumors that the Sydney restaurateur and TV personality was a regular at the garage-turned-restaurant. And, sure enough, soon after I took my seat on a recent summer night, she was seated nearby. Dining solo. Ready for the trip. Here's my recap. 103 Murray Street, Hobart garagistes.com.au