Have A Prosciutto-Wrapped Lunch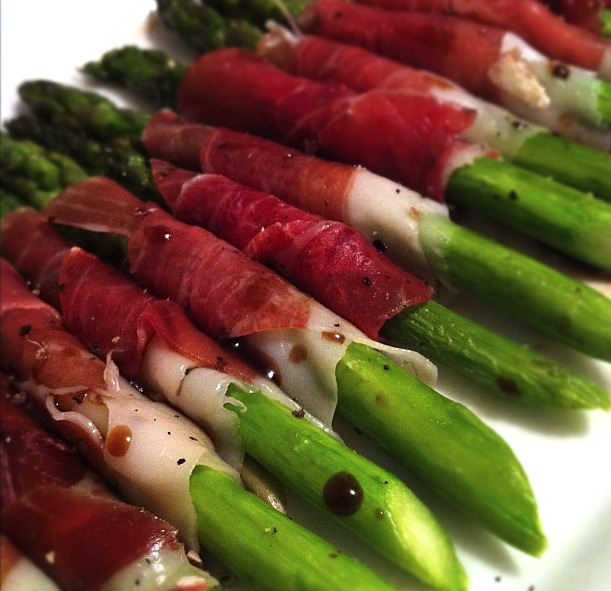 prosciutto wrapped
I'd like to come clean right off the bat and admit some things I've wrapped in prosciutto. These were different days, wild days. Once, I covered a hard-boiled egg with prosciutto, breaded and deep-fried it in attempt to make an Italian Scotch egg. It promptly exploded — prosciutto's like shrink wrap.
Another time I wrapped a friend's face in prosciutto for another friend's art project, "Food as Art Supplies." We attempted to make a "papier mache" cast by layering on prosciutto strips, refrigerating the subject's face, removing the dried prosciutto and baking it into a mask. The subject broke out pretty badly, and the artist only received a B. Wasn't college fun?
Finally, I wrapped prosciutto around white asparagus spears, baked them, topped them with homemade mayo and had myself the greatest sandwich ever. That's not weird, you say? That's my point. There are things that beg to be prosciutto-wrapped and either baked or fried, or eaten straight up. Things beyond melon slices, asparagus spears and the tempermental faces of teenagers. Here are some normal things I've wrapped in prosciutto:
Take along a container of prosciutto-wrapped something, or add your prosciutto-wrapped something to a sandwich or salad — both vastly superior to grilled chicken breast. And if you're watching your carbs (hey, V-day's right around the corner) you shouldn't feel too deprived rolling your sandwich stuff in a few slices of sandwich stuff as long as it's in the spirit of "chiseled abs."
Got something you like wrapping in the good stuff? I'd love some new ideas.