Variations On A Steak Sandwich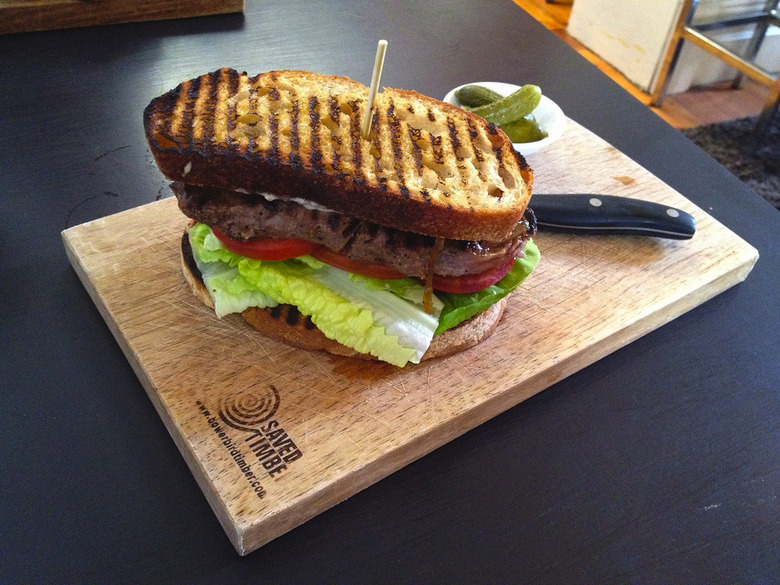 steak sandwich
There's one sandwich you order when you're really not messing around. You're hangry — the often-deadly mix of hungry and angry. But a steak sandwich will fix that. When one's carnivorous needs are met, all others suddenly seem attainable.
Because steak gets along with so much of the topping and condiment world, it presents itself as an attractive blank canvas. Let's take something that could be predictable and make it not so.
Steak Dinner Sandwich: You're allowed to, nay, encouraged to do it with Thanksgiving leftovers. Why not with regular old dinner leftovers? Pile reheated mashed potatoes, sliced steak and leftover asparagus on sturdy bread and enjoy second dinner for lunch.
Chicken Fried Steak Sandwich: Topped with cream gravy and braised collards, like nature intended. I mean, if nature endorsed "chicken-frying" steak. Or anything, really.
Surf 'n Turf Sandwich: Top your steak with shrimp or crabmeat and drizzle with your favorite sauce. Bearnaise would go nicely, but it's a pain to make. Try this ancho olive aïoli instead.
Pickled Steak Sandwich: Nope, you don't have to pickle your steak (unless you really want to). Take a normal steak sandwich topping and replace it with the pickled version — mushrooms, onions, peppers (pepperoncini are well-utilized here) and the like. A sour, crunchy element complements the steak's richness and miraculously enables you to eat more than you thought. The science behind this is fuzzy.
The "Stick It To The Vegan": Find every steak-friendly animal product in your fridge — butter, cheese, bacon, ranch dressing, eggs, more cheese, then top it with the slightest drizzle of honey to add insult to injury. While this may not taste as good as, say, the sandwich below, standing your ground is most admirable.
Carne Asada Nachos Sandwich: A respectable length of Italian bread is your plate of tortilla chips. Pile on chopped steak, shredded cheddar, salsa, pickled jalapenos, sliced olives, guacamole and sour cream, then settle yourself on the couch for a respectable length of football watching. This weekend, perhaps?