The James Beard And Super Bowl Brothers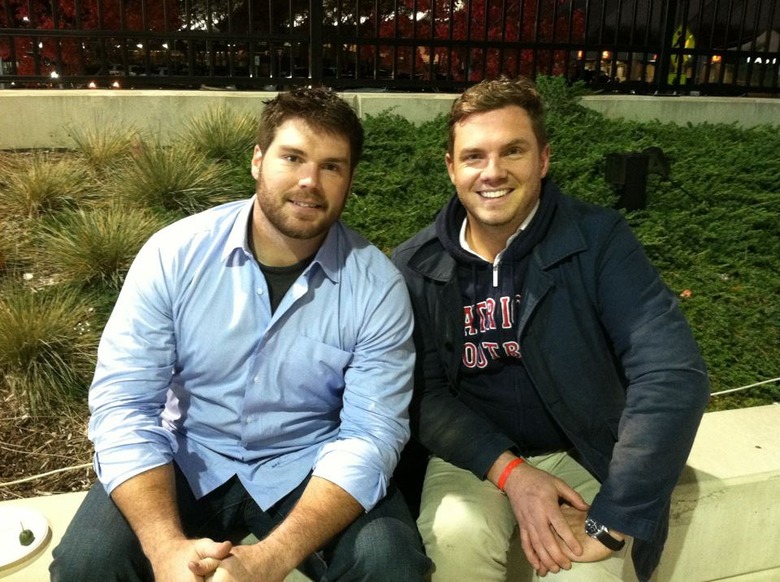 It seems like every restaurant in the world is offering Super Bowl specials this weekend, but just how many chefs actually have a brother playing in the big game? Probably none? Well, one does. His name is Patrick Connolly, the James Beard Award-winning chef at the The Kitchen NYC — a massive culinary event space that plays host to interactive product launches, private dinners and a whole lot more. Patrick's brother Dan is the starting center for the New England Patriots (you might remember him as the 313 lb. beast who had a huge kickoff return against the Packers last year).
And it's safe to say that Patrick has a unique perspective on food when it comes to the Super Bowl. While you might be interested in the big money feast that the Kitchen NYC is offering this year for you and 50 of your pals, we were more curious to learn what it's like to have such a vested interest in Super Bowl Sunday.
Is it weird to be a New York chef with your brother on the rival team?
It might be weird if New York was a smaller city, but no. What I mean by that is if you live in a town like Boston during a sports championship, you can't get around it. It takes over the whole place. In New York, it could be the World Series and you wouldn't know it if you were downtown. That said, I've gotten some dirty looks this year—mostly from Jets fans during the regular season and now obviously from Giants fans.
What's your absolute, hands-down, favorite thing to eat on Super Bowl Sunday?
Without a doubt a big Italian sub. The standard for me is Amighetti's in my hometown of St. Louis, so I generally aspire to recreate that sandwich every time.
Do you ever wish your brother played a more glamorous position?
What position could possibly be more glamorous than an offensive lineman? Besides, last season he had his big moment of glamour when he returned a kickoff 71 yards against Green Bay.
What's the food equivalent of being a center on a football team?
Butter. It generally isn't a very visible part of a finished plate, but it is often the start of a dish and just makes it taste better. All the glam players are like curly parsley.
If you could feed the entire Patriots team the night before the big game, what's on the menu?
Dry aged ribeyes, potatoes several ways, fresh pasta Bolognese, lots of vegetable sides. Basically a carbo load disguised as a steak dinner.
Three dishes no Super Bowl party can be without...
Along with the sub, chicken wings and nachos.
How many calories do you have to cook for your brother before he says he's full?
Historically, it's in the 2500-2800 range.
What will mean more to your mom: Your James Beard Award or your brother winning the Super Bowl?
Getting the whole family in one place is all Mom really cares about. This weekend she'll get all three sons and our families together in Indianapolis. Based on that, I'd have to say the Super Bowl.
---