Tailgate Toe-To-Toe: Super Bowl XLVI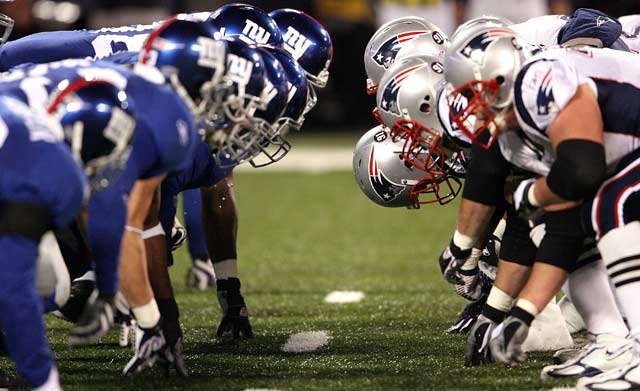 I finished the regular season with a pick 'em record of 13-4.
As far as the playoffs go – I'm 8-2...go ahead and check my math, haters.
My food picks were 17-0 and 10-0 respectively.
Do I use a hot plate? Sure – if the mood strikes. Am I on the hot seat? Absolutely not. And neither are the two Bill Parcells disciples that face off in Super Bowl XLVI – that's 46 for those of us who don't speak like a Little Caesar's delivery guy.
The New York Giants are the visiting team – so clearly Indianapolis is an honorary part of New England's collection of U.S. States. But back to New York – what aren't they good at making? Bagels? Pizza? Chicken lo mein? I don't see Michelin handing out stars to restaurants in New Hampshire or Rhode Island. Mario Batali, Michael White, Danny Meyer, Daniel Boulud, Eric Ripert, Thomas Keller, Jean-Georges Vongerichten....they'll all be pulling for the Big Blue come Sunday.
You want to counter with some wicked good eats just a tad North? In Maine the lobster flows like wine (SIDE NOTE: $1 million dollar idea – Lobster Wine.) In Vermont, maple syrup also flows...like wine. Much, much slower and stickier, though. In New Haven, Connecticut Sally's and Frank Pepe vie for thin-crust pizza supremacy. Hell – Beantown has got the musical fruit don't they?
Manhattan has a red clam chowder to rival New England's white. Massachusetts challenge the NY Strip Steak with a Baked Boston Schro, a codfish filet of sorts. Cheesecake is rich and cholesterol heavy while Ben & Jerry make ice cream as smooth as the Grateful Dead jams that inspire them. It's easy to create a three course Chopped-esque throw down that would pit one state (plus our ugly kid sister, New Jersey) versus an entire region. Almost equally as interesting as what we'll see on the field....
Let's forget all the numbers from the year. There's one game left – and the winner takes all. Passer ratings, defensive stats, dropped passes and turnovers aside...intangibles are just as important in the Super Bowl. Eli Manning and Tom Brady might as well be the two intangible captains for their respective teams. Eli has been doing it all year with six 4th quarter comebacks, uncanny poise in the pocket and oh yeah...there was this once upon a time. On the flip side, Tom Brady is THE Quarterback: 3 Championship rings, good looks and the belief that whenever the ball is in his hands with the game on the line he's going to pull it out.
Moving on to the weapons they surround themselves with...Eli knows how to find the hot hand – be it Hakeem Nicks, Victor Cruz or Mario Manningham. If the holes are open, he'll happily feed Ahmad Bradshaw the rock. Manning has the seemingly innate ability to turn a forgettable name like Bear Pascoe or Henry Hynoski into a playoff hero. Brady has arguably the best NFL route runner in Wes Welker, a player who always finds a way to get open. Then there's the 2-headed tight end attack of Aaron Hernandez and the less-than-healthy Rob Gronkowski – a position that the G-Men have historically had trouble covering (See: Davis, Vernon).
How much emphasis should be put on the Giants' D? All of it. New England has been piss poor this season in stopping the pass or the run, so let's imagine that trend will continue. That leaves the Pats' offense with the task of running up the score. So will Matt Light and Nate Solder – the tackles on an O-Line that allowed their captain to be hit only three times back on November 6 – be able to manage the much-heralded front 4 of NY? Will Brady have enough time to find his two favorite, hefty football magnets over the middle? Will the often-criticized LBs anchoring Perry Fewell's platoon be able to stay on their speedy assignments?
Eli is going to get his. So will Brady. In this chess match – can one game plan make an opposing quarterback look human? That's what this game comes down to. Neither will waver or sway in the bright spotlight. There's a better chance Kelly Clarkson botches the National Anthem or Madonna chokes during her halftime performance.
I am unashamed to pick with my heart. Again.
GAME PICK: Giants 24, Patriots 21
FOOD PICK: New York, 44 New England 30 (closer than I anticipated).