Super Bowl Party Etiquette Tips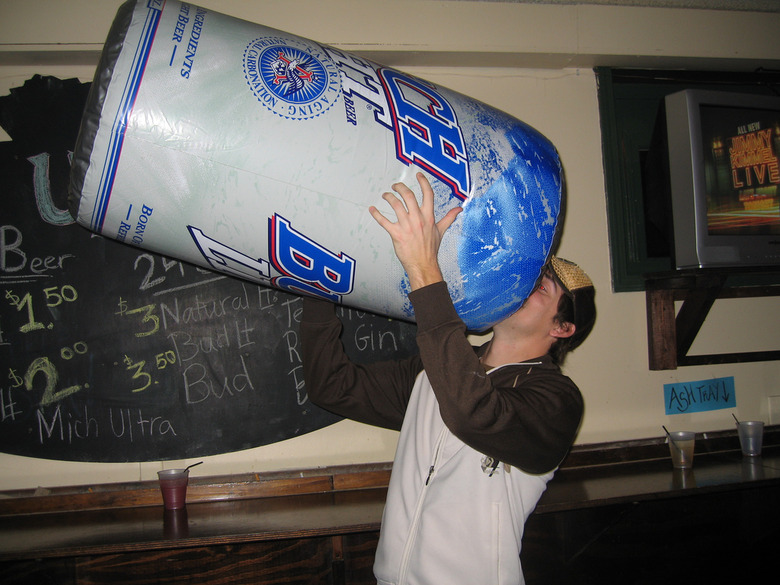 Note: We have enlisted Laura House, whose entertaining blog, GoodHouseGuest.com recently launched, to offer up some etiquette tips for guys. You know, so you or someone you know doesn't eat an entire bag of corn chips, drink a case of beer, scream on Tom Brady or Eli Manning, start knocking things over, call for tequila shots, and, well, you can guess what would happen next...
At every Super Bowl party there is, without fail, that guy. You know the one. He's managed to knock over a plate of nachos, punch something (or someone) and is so tipsy before the half that you wonder where he hid the beer bong that he's obviously swapped out for his pint glass.
If you've been that guy, here's your chance to redeem yourself. Truth be told, your friends who hosted last year still haven't totally forgiven you for toppling over their new stereo system during your flailing touchdown dance. Make good with a new game day strategy this year. Follow these helpful tips:
If bringing a date or friend, just give your hosts the heads up so they can plan accordingly. Always make sure to ask what you can bring or pick up; the hosts might have a specific request.
If not, you still shouldn't show up empty handed. The way to everyone's heart Super Bowl Sunday is through hot wings. So try out this recipe for Jackson Street Baked Wings with a spicy Asian kick. Or, impress with this remarkably simple queso dip. Whatever you make will surely step up your game after last year's crushed bag of stale chips offering.
If you plan to drink beer, contribute to the cause. Add some interest by grabbing a local brew or seasonal ale — or maybe even region-specific beers for Giants or Pats fans. Oh, and share your beer! This is not a frat party where you need to hang around the fridge guarding your stash. Also, don't overindulge (again: disastrous touchdown dance).
During game time, avoid channeling your inner John Madden. Keep the running commentary to a minimum. It's cool to get into the game, but don't appoint yourself as the expert on all things football.
When it's been determined which players are going to Disneyworld, don't leave the proverbial Cinderella to deal with all the dishes. Pick up plates littered around the living room, or at least offer to help. A little consideration goes a long way.
Finally, don't linger. Help tidy up and be on your way. Trust us, you'll thank us Monday morning.
Stick with these simple, common sense rules and you'll avoid Super Bowl party fouls this year.