John DeLucie: Defending The Crown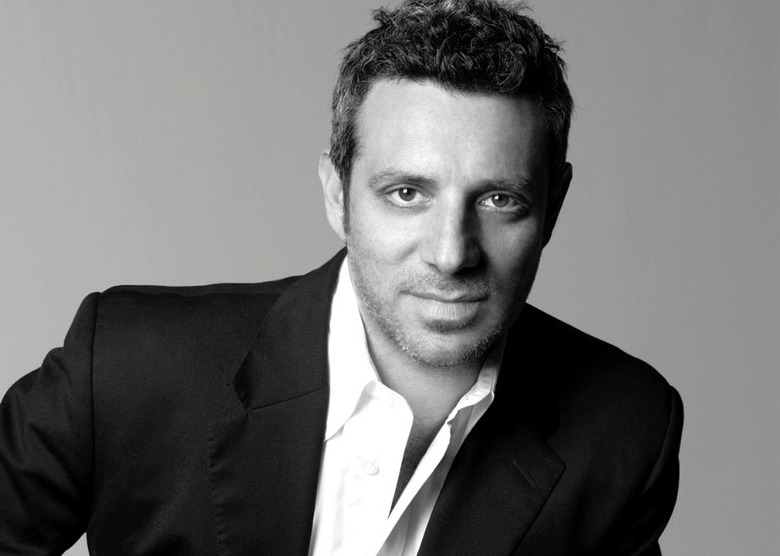 It's hard to say why John DeLucie is such a polarizing figure in NYC's dining community. His restaurants have never really hidden what they're trying to be: scene-y spots with high-end food, served at appropriately lavish prices, and a better-than-average shot at celeb-spotting. He himself has been dubbed a celebrity chef by no less an authority than the MTV Movie Awards, and his $55 truffled mac and cheese caused quite a stir back at his old gig as Executive Chef and Partner at The Waverly Inn. But since striking out on his own in 2010 with The Lion, and more recently with The Crown, DeLucie has proven a particularly juicy target for critics.
Which is why, seated in the 1930s-era dining room at his uptown spot The Crown, on the day he has received a not extremely generous one-star review from Pete Wells, the newly installed dining critic at The New York Times, DeLucie is a bit on the defensive. (Wells' predecessor, Sam Sifton, awarded The Lion one star as well, in 2010.) Not that you'd know it from his demeanor. Fresh from a tennis lesson, the native New Yorker is dressed in dark jeans and a striped button-down shirt; when he speaks, he has a carefree, almost defiant timbre that could be mistaken for George Clooney's.
Most restaurateurs and chefs would be happy just to get reviewed by the paper of record, but DeLucie isn't most chefs. His story is well-told; he quit a 9-to-5 job as a recruiter to try cooking school, and it took. He worked a series of kitchen jobs — including stints at three restaurants that earned three stars in the NY Times — then did a stint at the Hamptons power haunt Nick and Toni's before partnering with Vanity Fair editor Graydon Carter and hotel mogul Sean MacPherson on Waverly Inn—home to the pricey mac and cheese and the curated seating list.
Then, he set out on his own, and ever since it's been packed houses, fashionable crowds, good food — and one-star reviews. "I mean, whatever," DeLucie says, winding up a discussion — in more detail below — about the slight. "I walk around, I see it, I live it, I breathe it. It's here. It's better than that."
Okay we'll get to the scene and celebrities, but first let's talk about the cooking. What's been the progression for you as a chef?
I entered the business late in life. I was like a cooking fanatic as a hobby. I was cooking for my buddies during the Bernard King/Patrick Ewing Knick days, when we had something to celebrate. They'd come over and we would be all pumped up about watching the games, and I was living in Brooklyn in those days, and I would just cook the dishes that my mother made me: the pasta fagioli, rigotini with broccoli, all this good stuff. And I was just in a regular job in those days—until I couldn't do it anymore, and I enrolled in the New School's Master Chef's Class.
So for you, was culinary school worth it?
It was worth it for me because it was a short, inexpensive program, where right away you could figure out if you had an aptitude to cook. Cooking at home for your friends and cooking for 180 people at a restaurant is not in the same universe.
Were your friends telling you that you should open a restaurant?
Yes, but you should never listen to your friends when they tell you to open a restaurant. But it was coming from a different place. I was interpreting my mother's and grandmother's recipes.
So at the New School was there a teacher who said: "Yeah, John, you've got it"...?
Yeah, a teacher named Karen. She took an interest in me. I was dicking around; I didn't know what I wanted to do. And I entered that class like everything else I did in my life up to that point in my life, halfheartedly, and she's like: Listen, you wanna do this, you better get real.... I just really dug in.
After working in kitchens in New York City and rising through the ranks, you then landed a job at Nick and Toni's in the Hamptons. What was that like?
Nick and Toni's was a whole different experience because there was a garden in the back, it was really rural, the fish was coming right out of the ocean to our back door. It was a real farm-to-table experience long before farm to table became in vogue. And you had every major wealthy celebrity. It's interesting to cook for people like that, who have been all over the world. These people get a bad rap: These are people who eat all over the world, who can have whatever they want, and sometimes the press thinks that they don't know what good food is. I think it's quite the opposite. They do know what good food is. And they can have it whenever they want.
Like your $55 mac and cheese. What's the back story with that?
I never really set out to serve truffles. It was not the protocol when we designed that menu. I was eating at Da Silvano or some place right around there and I had white truffles with pappardelle, and I thought it'd be really cool to serve truffles. So I thought, we've got [macaroni and cheese], let's scale the dish up to cover the price of the truffles, so it becomes a very expensive dish — and people went berserk. There was no master plan. It was just an interesting idea. And it really just caught on.
"Blake Lively isn't getting better food than you or I are getting."
You've often worked in restaurants with celebrities and power players as clients, so there's a lot of distraction in the dining room: How do you stay grounded in the kitchen when that's happening?
I don't really think about who's in the dining room. We do a menu, we make it the best we can and we use the best techniques we can. You guys are all paying attention to that. I'm just doing what I do the best that I can do it.
But that's not true! I've been around chefs where somebody's coming up and telling you that we've got Blake Lively coming in tonight, we've got this person coming in tonight. Are you just thinking: I'm a professional, I have to do my job?
Pretty much, yeah. Blake Lively isn't getting better food than you or I are getting. It's just important to know who's in the dining room from a communication standpoint. We try to make sure everyone is having a great time, whether it's a big celebrity or my landlord. The fact that I somehow started cooking for all these famous people is sort of a fluke.... I'm grateful and I love it, but it's not something I set out to do.
What was it like when you left the Waverly Inn to start The Lion? How was the breakup?
It was hard emotionally because I like all those guys, but I wanted to do my own thing. As difficult as it was to break away, I think everyone understood.
At what point with The Lion did you feel ready to do another restaurant? Not many people expected you to come up here...
Least of all me. What happens is that you have success, and people reach out to you. So you have all these cool inquiries. This woman said I know this guy who has this building on 81st and Madison, and I've always loved Madison Ave., so I said, hey let's see if this could work. And we were blown away by the space. I'm nostalgic by nature.
To me old New York is really romantic. I like Woody Allen movies for that reason. I'm interested in the way people spoke and dressed at the turn of the century. I'm fascinated by how my grandparents came here with very little and built a family and a business. It's an incredible American story. New York to me is such a romantic place and I love it so much. When I saw this it brings you back to that time, a time before Facebook.
It's been a weird thing about New York because it's no secret that it's expensive to live here, but if you make a restaurant that's expensive you get raked through the coals. What can you do?
What a restaurant really has to have is value, perceived value. Value doesn't mean that the prices are cheap. What you need to do is find out what the thing is [for the neighborhood]—up here, people want service. They don't want to wait. The thing is as a restaurateur and chef is to identify those things. And deliver them. We're serving Elysian [Fields] lamb. To put the thing on the plate is already a crazy number, but we want to serve that product, so we've got to charge for it.
Like you said, these people have elevated tastes. So you have to give them elevated products.
That's what I think.
Your trajectory—starting out in 3-star kitchens and then with your first two restaurants out of the gate you get reviewed by The New York Times, which most people would kill for. Are you happy with getting that one star, or do you feel you deserve better?
I think we deserve better. I think we do. It's not like I don't know what it is to work at a three-star place. I've worked at three at least. So I know what it is. And I've hired [Executive Chef] Jason Hall and Ted Rozzi and [Pastry Chef] Heather Bertinetti to carry out that job, and to me, they've done their job. They're here working tirelessly and with passion. We're here busting our asses trying to make this the best restaurant it can be. The review is quite disappointing. But it is what it is. It's a snapshot. Maybe we didn't look our best that day. But I think we're a better restaurant than the review. To get one star, I mean, whatever. But I walk around, I see it, I live it, I breathe it. I'm here. It's better than that.
Do you think the critics are trying to prove themselves to be good wordsmiths, because you've inspired some pointed potshots?
I'm an easy target. I cook for celebrities. I didn't ask for this. I'm so lucky, and if the payment for that is to walk around with a target on my back to the critics then that's what it is.
Let's end with a typical day in the life of John DeLucie...
Some kind of physical activity, whether a workout at the gym or tennis. Then to the office, where we crunch numbers and look at spreadsheets hour after hour. Then I'll go home for an hour and try to wind down, and then I'll go to work for the whole night. Six nights a week pretty much. But it keeps me young. I never really feel like I'm going to work. I'm really fortunate.