NBA Rankings: Cheesecake Factory Edition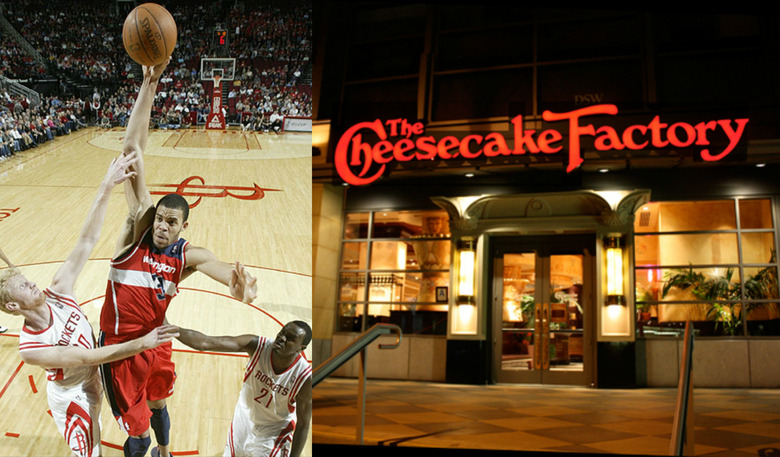 You may not believe it, but while you were still getting used to the idea of watching NBA basketball again, a quarter of the season has already disappeared. The good news is, the 2011-2012 season is shaping up quite nicely. As predicted, the Bulls, Heat and Thunder are dominating. As not predicted, the Sixers, Nuggets and Pacers are also doing really well. Apparently, good coaching/teamwork actually count for something. Just don't tell Philly fans what happens in year three of the Doug Collins system. Let them enjoy it while it lasts.
There have been some disappointments, too. The Knicks are flat out not working. Who knew Melo liked to iso so much? Oh, right, everyone. Dallas and Boston have fallen into the clutches of Father Time and no amount of Metamucil will save them. The biggest concern of the lockout-shortened season is the presence of that pesky Injury Bug, who seems intent on derailing the year for just about everyone. Steph Curry, Al Horford, Manu, Poor Andrew Bogut – all extended casualties of the hardwood war this season. Not to worry, though. There's a ton of basketball left and every team has more than enough time to turn things around and enter the playoff picture saying "cheeeeeese."
In our very first NBA Power Rankings, we compared each team to a sandwich at Langer's Deli in LA. This month, we're paying tribute to that nationwide bastion of book-sized menus and 1,500 calorie salads: The Cheesecake Factory. NBA players love The Cheesecake Factory. This fact has been well-documented on ESPN.com's True Hoop blog which led to reports all over the NBA Blogosphere. It makes sense. Huge portions + Consistency + Locations in Every NBA City = Appealing Dinner to the always-traveling giant. You know what else makes sense? Comparing NBA teams to items on The Cheesecake Factory menu. Here we go!
( ) = previous position [ ] = record as of 1/30/12
#1 (2) Chicago Bulls [17-5]
Cajun Chicken "Littles"

Boneless Breast of Chicken Pieces, Spiced, Breaded and Fried Crisp. Served with Mashed Potatoes and Fresh Corn Succotash.
The best team in the league deserves the best item on the menu and fourteen pounds of chicken fingers definitely qualifies as tops at The Cheesecake Factory. One chicken stub alone wouldn't cut it, but a whole army of chicken littles is the perfect metaphor for Tom Thibodeau's hard-charging defensive brigade where no man is more important than the next (except for Derrick Rose, the biggest little on the team). Throw in some mashed spuds and that crisp corn succotash and you'll see how everything on the plate meshes together like a team in perfect sync – even with injuries popping up all over the place.
#2 (4) Oklahoma City Thunder [16-3]
Cajun Jambalaya Pasta

Shrimp and Chicken Sautéed with Onions, Tomato and Peppers in a Very Spicy Cajun Sauce. All on Top of Fresh Linguini. Also available over Rice.
The Cheesecake Factory touts this as "Our most popular pasta dish!" and the Thunder may be the most popular team in the NBA to people who actually watch the games. Anchored by Durant and Westbrook, the chicken and shrimp of the team, the rest of the crew provides a spicy punch to their opponent on any given night. Throw in the interchangeable carb – linguini for rice, Sefolosha for Harden – and you've got yourself a match. Some people may dock OKC for recently losing to Washington, but when it's just one of three losses, I think the Thunder deserves some slack.
#3 (1) Miami Heat [15-5]
Buffalo Blasts®

Chicken, Cheese and Our Spicy Buffalo Sauce all Stuffed in a Spiced Wrapper and Fried until Crisp. Served with Celery Sticks and Blue Cheese Dressing.
Just like the Heat, these Buffalo Blasts® are annoyingly good. I hate liking them because of the stupid name, but they're really so tasty. Same with the Heat. I want to dislike them so much, but then they go and show me how much fun it is to be awesome at basketball and I realize I can't fault them for swagger. I fault Bosh though. Swag undeserved.
#4 (17) Denver Nuggets [14-5]
Seared Tuna Tataki Salad

Fresh Ahi Lightly Seared and Served Rare with Avocado, Tomato and Mixed Greens Tossed with Wasabi Vinaigrette.
This is a team of firsts. First in Points Per Game. First in Assists Per Game. First team in the Power Rankings that you never saw coming. They're like that time you accidentally ordered the Seared Tuna Tataki Salad and didn't want to bother sending it back, so you took a bite and now you're really into seared tuna tataki salads. Who would have thought Gallinari would be the crown jewel of last year's Knicks-Nuggets trade?
#5 (18) Philadelphia 76ers [14-6]
Factory Create an Omelette

Select Any Four of the Following: Bacon, Ham, Sausage, Cheddar, Jack, Swiss, Fontina, Goat Cheese, Avocado, Roasted Peppers, Fresh Mushrooms, Asparagus, Spinach, Bell Peppers, Fresh Tomato, Red or Green Onions.
The second major surprise of the year, the Sixers are mix-and-match deep. Pick any of their ingredients players, put them on the court together and watch the buckets add up. Philly's scoring, they're rebounding, and they're playing lockdown defense. I pity the suckers who draw them in the first round of the playoffs.
#6 (13) Indiana Pacers [13-6]
Famous Factory Meatloaf

Served with Mashed Potatoes, Gravy, Grilled Onions and Corn Succotash.
Definitely meatloaf for the most blue-collar team in basketball. Big win against the Bulls last week but a loss to Boston and a tough schedule on the horizon means the Pacers are really going to be tested for the next two weeks. If Granger's Gang can rise to the challenge, they'll probably be locked into the Top Ten for the rest of the season.
#7 (9) San Antonio Spurs [12-9]
Renee's Special

One-Half of a Fresh Turkey or Chicken Salad Sandwich, a Cup of Our Soup and a Small Green Salad.
The Spurs aren't the most consistent team in the league right now. They're also not the most exciting. That's why they're the Lunch Special of the league. But even with their wily Argentine sidelined for a huge chunk of the season, they're still getting the job done. Popovich!!!
#8 (21) Utah Jazz [11-7]
Herb Crusted Filet of Salmon

Fresh Salmon with a Delicious Lemon Sauce, Asparagus and Mashed Potatoes.
Last time, I called the Jazz the most boring team in the league. That wasn't exactly fair. They may not be wowing crowds every night, but they're in the toughest division in the NBA and they're still holding their own. Good on you, Jazz. You're the herb-crusted salmon of the Western Conference. Always reliable, never worse than I think you'll be.
#9 (14) Atlanta Hawks [15-6]
Sunrise Fiesta Burrito

Stuffed with Scrambled Eggs, Chicken Chorizo, Potatoes, Peppers and Onions. Topped with Melted Cheese, Salsa, Cilantro, Tomatillo and Avocado Cream Sauce. Served with Black Beans.
Hard to believe the Hawks are only one game behind the Heat without the services of Al Horford, but they're playing their brains out. I want to apologize to my cousin Barry for comparing them to egg salad in my initial rankings. They are so not egg salad. They're the best egg dish on the menu: the Sunrise Fiesta Burrito!
#10 (6) Memphis Grizzlies [10-9]
Tex-Mex Eggrolls

Spicy Chicken, Corn, Black Beans, Peppers, Onions and Melted Cheese. Served with Avocado Cream and Salsa.
The Grizz may be the streakiest team in the league. I just don't know what to make of these guys – just like I don't know what to make of Tex Mex Eggrolls. After a so-so start that saw them losing Z-Bo, they promptly put together seven wins in a row and looked like they were rolling along. The fun seems to have stopped and now it's hard to know what's going to happen next. Only time (and Marc Gasol) will tell.
#11 (10) Los Angeles Clippers [10-6]
Spicy Ahi Tempura Roll

Fresh Raw Ahi Tuna with Green Onion, Spicy Soy Sauce, Ginger and Garlic. Wrapped in Nori and Flash Fried Tempura Style.
This ahi roll has so much potential, but there's also so much room for disappointment. The Clippers are in the same position. It's an NBA cliché to say it, but they have tremendous upside. Seriously, they're only going to get better once they figure out how to play together. The question is, when will that happen? If Vinny Del Negro installed any kind of an offense, it might happen sooner rather than later but I'm pretty sure he's not familiar with the concept of "plays" beyond his starring role in Doonesbury the Musical.
#12 (12) Orlando Magic [12-8]
Macaroni and Cheese Burger

Charbroiled and Topped with our Creamy Fried Macaroni and Cheese Balls and Cheddar Cheese Sauce. Served with Lettuce, Tomato, Pickles, Onion and Mayo
Macaroni and Cheese Burger? Seems incredible, right? Sure – on paper. Similarly, the Magic seem like a good team based on their record, but that record is deceiving. If you look at their schedule, they're really only beating inferior teams. That said, they're still beating those inferior teams and we're only evaluating them based on how they've done so far. Even with the Dwight Howard trade rumors still circling, the Magic are winning games. It'll be interesting to see how long they can keep that going.
#13 (11) Houston Rockets
Sautéed Spinach

Our fresh spinach is sautéed to order.
Healthy. That's the best adjective to describe the Houston Rockets right now (knock on wood). Scola's numbers are down, Kevin Martin's numbers are down, and they can't seem to find anyone to play consistently at SF, but Dalembert is swatting balls at better than two blocks per game and Kyle Lowry is having a career year. The Rockets are a force to be reckoned with – as long as they stay healthy. I'm giving them some spinach to keep their strength up Popeye-style.
#14 (3) Dallas Mavericks [13-8]
Beets with Goat Cheese

Fresh Beets, Apples, Baby Arugula & Pecans.
Were Tyson Chandler and J.J. Barea really the backbone of this team? Jason Kidd's stats are down in most categories, 6'2" Roddy Beaubois is the team's best shot blocker, and Dirk just took four games off to work on conditioning issues a quarter way through the season. Defending champs? Doesn't count for much when you're the ghost of the team that won the trophy. The beet and goat cheese salad craze has come and gone. It looks like the days of Dallas championships have, too.
#15 (8) Los Angeles Lakers [12-9]
Kobe Burger

American Kobe Beef with Sautéed Mushrooms and Onions on a Toasted Brioche Bun. Served with French Fries or Green Salad.
This was too easy. Kobe Burger? Come on. To make it even better, it's on the list of Glamburgers®. I can't think of a better label for the Lakers, can you? The 2012 version has proved to be a knock-off of past Lakers teams. Kobe's still trying to dominate, even on a balky wrist; Pau is the best Spanish big man west of the Mississippi; Bynum is still struggling to reach his full potential while staying healthy. Like the "American Kobe" used in this burger, there's a good chance the Lakers are past their prime. Ladies and Gentlemen, your 2012 Los Angeles Glamburgers®!
#16 (5) Boston Celtics [9-10]
Fried Calamari

Fried Light and Crisp. Served with Garlic Dip and Cocktail Sauce.
The Celtics move up and down the Power Rankings more than Eddy Curry's weight? Rasheed Wallace's hairline? Charles Oakley's chip stack at Michael Jordan's underground poker game? No matter which outdated NBA reference you choose, this team is operating in spurts. First they seem too old, then they win a bunch and show a glimmer of their glory days. They're almost as mercurial as the Grizzlies. Like fried calamari, when they're good, they're really good and when they're bad, they're really bad. Let's just hope they're not completely fried by the end of the season.
#17 (15) Portland Trailblazers [12-8]
Chicken Marsala and Mushrooms

Chicken Breast Sautéed with Fresh Mushrooms in a Rich Marsala Wine Sauce. Served over Bow Tie Pasta.
Pretty good!
#18 (27) Minnesota Timberwolves [9-11]
Chicken Croquettes

Filled with Creamy Fontina and Fried Crisp.
The T-Wolves somehow seem much better than their record. This sentence may sound strange and I promise it's not Opposite Day, but... Minnesota is exciting to watch. Much of that is thanks to Spanish wunderkind Ricky Rubio and his floppy hair. In honor of Sr. Rubio, I chose the only traditional Spanish tapa on the menu.
#19 (19) Milwaukee Bucks [8-11]
Reese's® Peanut Butter Chocolate Cake Cheesecake

Chunks of Reese's® Peanut Butter Cups in our Original Cheesecake with Layers of Delicious Fudge Cake and Caramel.
I'm so sorry, Andrew Bogut. It's not your fault. It's never your fault. Unfortunately, you're still hurt, which means the Bucks are struggling as usual. One man doesn't make a team, but when that man is the focal point of your defense on a defensive-minded squad, things are going to be pretty tough. Get well soon, Andrew. I hope the cheesecake cheers you up. It really sounds incredible.
#20 (7) New York Knicks [7-13]
Filet Mignon

Our Most Tender Steak. Served with French Fries and Onion Strings.
Ordering the filet at The Cheesecake Factory is so unnecessary. It's expensive and seems entirely out-of-place. Sound like a certain team playing in the #1 market in America? The Knicks are in major trouble and they don't know what to do. They have no point guard, a center that has no offense, and two "superstars" who don't know how to "share." If Mike D'Antoni can't get his guys playing like a team in the very near future, the Knicks aren't even going to make the playoffs. Ouch.
#21 (30) Cleveland Cavaliers [8-11]
The Incredible Grilled Eggplant Sandwich

Grilled Japanese Eggplant, Roasted Red Peppers, Red Onion, Melted Mozzarella and Garlic Aioli on Our Toasted Bun. Served with French Fries or Green Salad.
With the Cavs, it's all about the small victories. Among those small victories: They've only won seven games, but six of those seven were double-digit wins; Kyrie Irving is actually getting the playing time he needs to develop; and Anderson Varejao has been healthy the entire season and averages a whopping 11 rebounds per game. They're not great, but they're honestly doing the best they can with what they have right now. That's why they're the Incredible Grilled Eggplant Sandwich.
#22 (16) Golden State Warriors [6-12]
Shrimp Scampi and Steak Diane

Our famous Shrimp Scampi sautéed with whole cloves of garlic, white wine, fresh basil and tomato. Served with medallions of Certified Angus Beef Steak covered with black peppercorns, a rich mushroom wine sauce, & mashed potatoes.
Please note: Steak Diane is not available tonight due to ankle issues. Golden State has one of the best backcourt duos in the league but they rarely see the court together thanks to Steph Curry's injury issues. It seems like the Warriors whole season thus far has hinged on Stephen Curry's ankle. Unfortunately, the ankle is winning. The good news is that Dorell Wright seems to have woken up. My fantasy team thanks you, Dorell.
#23 (20) Phoenix Suns [7-12]
Tossed Green Salad

Enjoy our Tossed Green Salad with chopped greens, shredded carrots, zucchini, and beets. Topped with croutons, tomato wedges and cucumber slices.
I'm honestly at a loss for what to say about the Suns. I watched the whole game when they played the Bulls and I have no recollection of anything that happened. They're as forgettable as the tossed green salad. I like Marcin Gortat, and only partially because he has the best nickname in the league (note: The Polish Hammer sounds like an awful racist parable told by a Borscht Belt comic). What else, what else...? Oh. Phoenix seems like a nice city to play in.
#24 (23) Sacramento Kings [6-14]
Caramel Chicken

Crispy Battered Pieces of Chicken in a Spicy Vietnamese Caramel Sauce with Mushrooms, Green Beans, Onions, Red Chile Peppers, Garlic and Ginger. Served with Rice
"Kings" is a little generous, don't you think? Maybe they'd be more comfortable as Princes. Or Dukes. Or Federal Judges. No matter how you slice it, the Kings are as royal as Caramel Chicken is Vietnamese. Sacramento is exactly where we expected they'd be at this point in the season, except they're one Westphal lighter. Now they're literally Smarter but still dropping games by huge margins. At least it's fun to watch the DeMarcus Cousins soap opera play out.
#25 (22) New Jersey Nets [7-14]
Orange Chicken

Deep Fried Pieces of Chicken Breast Covered in a Sweet and Spicy Orange Sauce. Served with White Rice and Vegetables.
I assume the orange chicken at The Cheesecake Factory is exactly what I'd imagine it to be: an average rendition of a not-so-great dish that isn't exactly terrible but it definitely makes you feel bad afterwards. I think the Nets fit that description as well. Deron Williams is hanging up a poster of Rita Hayworth in his cell locker and plotting his escape while you read this.
#26 (28) Toronto Raptors [7-14]
White Chicken Chili

A Generous Bowl of Chicken, White Beans, Roasted Green Chiles, Onions and Garlic, Spices and a Touch of Cream. Garnished with Steamed White Rice and Fresh Salsa.
You know what you can't afford in a 66-game season? An eight-game losing streak. I guess that's what happens when you lose your best player and your next best player would be every other team's fifth best player (no offense, Jose Calderon). Andrea Bargnani has missed a bunch of games and he's about to miss a bunch more with a calf injury. It's too bad. He's my favorite non-lady named Andrea. Have some White Chicken Chili, Raptors. It'll keep you warm up there in Toronto while you lose most of the rest of your games.
#27 (26) Detroit Pistons [4-17]
Factory Burrito Grande

A Monster Burrito with Chicken, Cheese, Cilantro Rice, Onions and Peppers. Served with Guacamole, Sour Cream, Salsa and Black Beans.
Can we just start calling them the Detroit Greg Monroes? He's having a killer season. Nobody else is. No one is even averaging more than five assists per game. Share the ball, guys! With this team, you get one big burrito and lot of crap on the side.
#28 (24) New Orleans Hornets [4-16]
New Orleans Shrimp

Shrimp, Andouille Sausage, Tomatoes, Peppers, Mushrooms, Onions and Garlic in a Mildly Spicy Sauce. Served with White Rice
Mildly Spicy Sauce says it all. The first seven guys on the roster have been known to play well – for other teams. When they got to New Orleans, though, they just haven't seemed able to get it going. It's like the Island of Misfit Toys around there. Eric Gordon is their stud, but he also has the knees of a 77-year-old and only played in two games since arriving in the Crescent City. At least there are no open container laws in N.O. so Hornet fans can drink their troubles away. The NBA: Where Ill-Advised Team Ownership Happens.
#29 (29) Charlotte Bobcats [3-18]
Mini Corn Dogs

Four All Beef Mini Hot Dogs
The Bobcats are, by far, the best team in the D-League. Well, best team behind the Austin Toros. But after them, the Bobcats are the best. Except for the Iowa Energy. And the L.A. D-Fenders. The Bobcats are, by far, the fourth best team in the D-League. Maybe fifth. Mini Corn Dogs! Get your Mini Corn Dogs!
#30 (25) Washington Wizards [4-16]
Fresh Broccoli

Enjoy our lightly simmered fresh broccoli florets.
No.