Bocuse USA Winner: We're Gonna Bring It!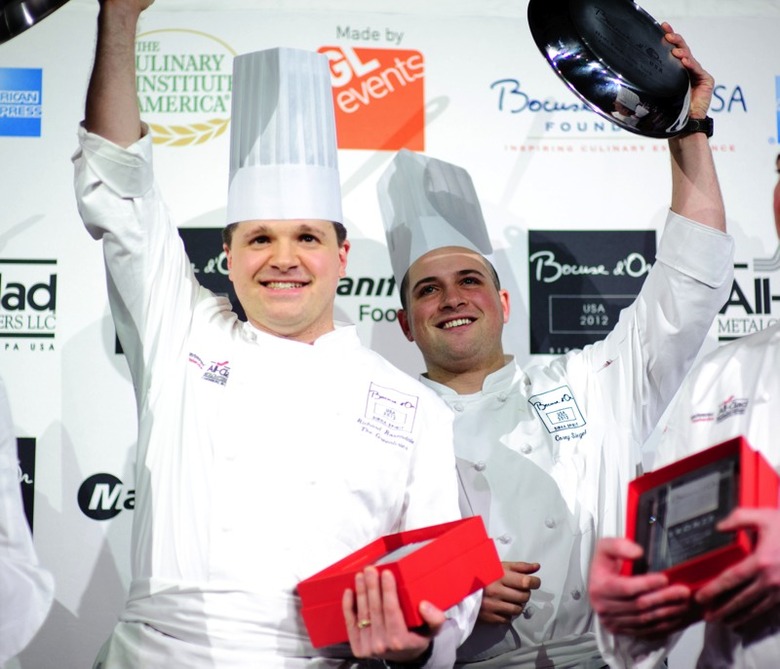 Bocuse D'Or USA winner Richard Rosendale has a few words for his competitors in the 2013 cooking competition in Lyon, France. Standing in a Midtown Manhattan ballroom a day after besting three opponents for the chance to rep the US in what is commonly called the culinary Olympics, Rosendale, with his trusty commis Corey Siegel by his side, talked to Food Republic about what his European competitors should expect when they face off a year from now. "We're gonna bring it," he replied sharply. "We've got an incredible team."
The US team, which has never ranked higher than sixth in a biannual competition usually dominated by France and the Scandinavian countries, does have a new look. Out is the idea of a main chef coming from a famed kitchen — Rosendale is executive chef at West Virginia resort The Greenbrier — and in is a team approach, as described during this morning's press conference. The group is led by Bocuse D'Or USA Foundation heads Thomas Keller, Daniel Boulud and Jerome Bocuse, and Team USA head coach Gavin Kaysen. Joining more recently were Grant Achatz, who will help coach on modernist technique, and Gabriel Kreuther, who will assist with classical technique.
Before the press conference began, Rosendale huddled with Kaysen, already discussing strategy and training for the year ahead. "It's gonna be an attack," Rosendale said.
Asked if he ever had any doubt that he'd win yesterday's competition, which, like the Bocuse D'Or itself, ran 5 hours 35 minutes and had each team prepping a dish based on meat and one on fish, Rosendale admitted that he didn't even read the resumes of the three chefs he was competing against. "I knew I was competing against myself," he said. "I'm a pretty unflappable person—except driving through NYC with a box truck today. That was probably the toughest part of the weekend."
After the press conference, Thomas Keller told Food Republic of his hopes that food fanatics in the US will help support the team's efforts in 2013, even with donations of $1 or $5 at a time. Keller and Boulud have added an extra space on checks at their restaurants Per Se and Café Boulud — both with kitchens helmed by former Bocuse D'Or competitors — to solicit donations for Team USA, and anyone can donate on the foundation's site by clicking here.
For more on yesterday's competition at the Culinary Institute of America, check out Toqueland's detailed account. And check back with Food Republic often for updates on the Bocuse D'Or and Team USA.