Beaver Creek Food & Wine Fest Wrap-Up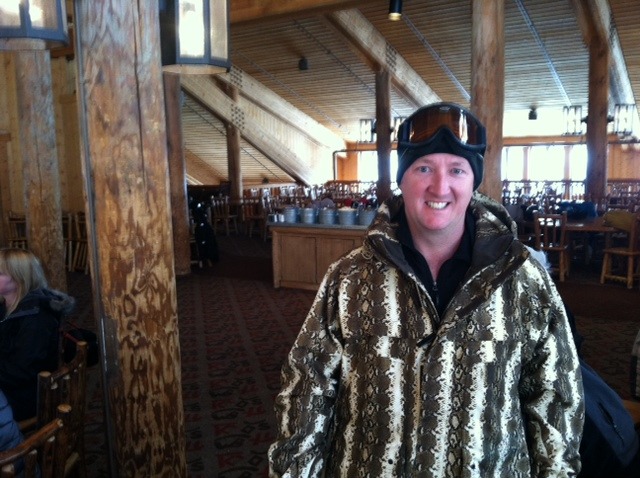 Tim Love photo
There are several hundred people recovering from a weekend of too much booze, rich foods and over-exerted, rarely used, muscles. Actually, there are probably several hundred thousand, if not millions, of people suffering this same plight in America today, for a variety of reasons. But I am referring specifically to the lucky ones who attended the Beaver Creek Food & Wine weekend in Colorado.
For the adventurous, there was crispy pig face (thanks to Top Chef champ Stephanie Izard) or rattle snake and rabbit sausage (thanks to Texas celebrity chef Tim Love); for the more refined, there were exquisite wines from California, including Captûre and Schweiger Vineyards, served at a wine tasting led by expert Anthony Giglio and accompanied by oysters and caviar.
Whether highfalutin or low-brow fare, the point of this weekend was best summarized by Love. "Don't try to overthink or oversell the food," he said, while flipping burgers at an après-ski meal. "Just have fun and enjoy the great stuff around here. People here love food, but it's not too intense. At the end of the day, it's just dinner."
Love, like many of the other chefs, brought his family to enjoy the 5-star-treatment at the Park Hyatt, which couldn't claim credit for the greatest luxury of all: a foot of fresh powder that fell Thursday night. Whether you're a boarder like Love, or a skier such as myself, these were the best conditions imaginable. Or, in the nomenclature reverberating up and down the mountain, the snow was "sick."
But the spotlight was on the food and wine, and the amount and variety of both served in the 48-hour period was dizzying. Here's a quick primer, a mere slice of a multi-layer pie: on Thursday night, you could have had elk carpaccio and moon pies at a large tasting spread; for Friday's après-ski, there were a variety of burgers (pig, buffalo or angus) accompanied by Stella Artois; on Friday night, there were three formal dinners, hosted by Izard (seared scallops with goat sausage croutons), New Orleans' John Besh (Waygu beef short ribs), and New York City's Marc Murphy (lamb chops); on Saturday morning, there was a highly evolved huevos rancheros cooked up by Richard Sandoval; and on Saturday night there was a Grand Tasting that would make Henry VIII blush; it included lobster mac & cheese, tuna poke, whiskey-glazed duck breast and yellowfin tuna wrapped in beef.
As discussed earlier, I don't eat red meat, and I thought I'd wear that special badge with pride in meat country. And yet, I was quickly one-upped by Izard's butcher, Norbert—the dude is a vegetarian. He just chops up the stuff. When he has to, he'll chew on the meat and then spit it out. Now that is badass.
The weekend was filled with such surprises. After confessing my dietary habits to Love, he suggested I at least eat his rattlesnake sausage. I popped a slice in my mouth, and it was indeed fantastic. I asked him what else was in there. "Rabbit," he said. Truth be told, I'd rather eat bunny than cow, and so I didn't begrudge the guy. And, really, that sausage was delicious.
Another fella who messed with my head was wine expert Anthony Giglio. He led a wine tasting seminar — which I was late to, because I figured the event would be stuffy and boring. I couldn't have been more wrong. Giglio has an accessible demeanor, charm and knowledge that had his audience wrapped around his finger. By the end, I would have drunk lighter fluid if he told me I should.
The best food I ate was probably that snake sausage and the poke, which was tuna served with seaweed, rice and sesame. The best dessert was a honey-poached apple with candied walnuts and frozen yogurt, which sounded disgusting to me, as I'm a chocolate man myself, but it had the perfect balance of sweet, salt, cold and crunchy. The poke and dessert were made by Eric McCue and David Walford, respectively, both Beaver Creek local chefs, which is a testament to the burgeoning local food scene.
Food & Wine magazine is proving itself to be a lot more than just a magazine, having branched out as a major partner with Top Chef, and now holding an ever widening array of Food & Wine weekends like this one. They're in their 30th year at Aspen, which takes place in June, and others are coming up in Austin and Mexico.
I can't promise you as great a time as I had at Beaver Creek—my ride was paid for by my hosts, after all, and the snow, well, that can't be guaranteed—but I think very few would ever walk away disappointed. My advice: mark your calendars for next year.