6 Things I Learned About Australian Food*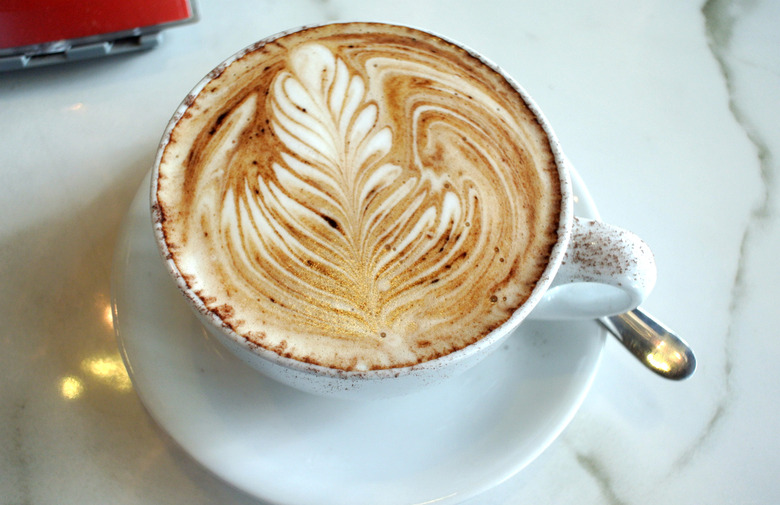 During my two weeks in Australia, I didn't see kangaroo featured on a menu, though I hear it's pretty good. I didn't eat a Chiko Roll, though I hear it's absolutely terrible. I did visit, according to my Riesling-speckled notebook, 46 eating and drinking establishments during my 12 days on the ground, including farms, oyster beds, a real speakeasy and participated in some of the most-exciting dining experiences of my life.
I took some photos and shot some video and look forward to sharing it all with you in the coming weeks. In the meantime, here are the first six things that pop into my head first when people ask me about the trip.
1. Coffee is a national pastime
Toby's Estate may be the hot Australian import of the moment, having introduced America to the flat white and an innovative "cupping" lab. But Toby's is just a drop in the Chemex when you take into account the dozens of boutique coffee sellers in Melbourne alone — many roasting their own beans like at Seven Seeds, De Clieu and Proud Mary, to name a few.
2. Fitzroy is Melbourne's coolest food neighborhood
I met up with the band Architecture in Helsinki at a French brasserie in Fitzroy, a more-shabby-than-chic hood with stretchs of hair salons and industrial warehouses that are rapidly being converted into some of the city's top restaurants, bars and coffee shops. (More from the band later.) A mile radius around Smith and Gertrude Streets includes well-regarded spots including Huxtable, Cutler and Co., Little Creatures, Easy Tiger and The Everleigh.
3. David Chang swings for the fences at a casino food court in Sydney
I still don't know how to properly pronounce Momofuku Seiobo (the restaurant's wildly inventive British chef Ben Greeno was no help when asked). But there is no mistaking that this is a David Chang restaurant—the shiny counter overlooks an even shinier kitchen bankrolled by the massive Star Casino. I'll spill more lines about the 16-course tasting menu, but all I can say is that this is neither Ssäm nor Ko. It's Seiobo. Or however you pronounce it.
4. Tasmania is an island—an island with an incredible local food scene
After spending four really packed (fun, exciting, degustation-consuming) days in Melbourne, I can admit that my scheduled visit to Australia's island state Tasmania was setting up to be a bit of a letdown. The urbane Melbournites rolled their eyes at the mention of Tazzy (as Australians call it).
I—and those precious city kids—had it all wrong. Hobart, the state's harbor capitol, is a local food dream with two large weekend markets operating year-round near a really fine distillery. A former Gordon Ramsey pastry chef is making some of the best ice cream I've ever tasted down the street from one of Australia's top new restaurants, Garagistes. Hobart is like Portland or Vancouver, but "without the annoying foodie hipsters," as an Australian friend living in the States wrote me. And this isn't even mentioning the sprawling land outside the city limits. It's gorgeous. Plus, you can go fishing.
5. Food festivals are BIG TIME events
Each year both Melbourne (March) and Sydney (October) host food festivals that bring some of the world's top chefs to town. How big are these events? They each run for three weeks.
6. Australia has real speakeasies
Out of the two major cities in Australia, Sydney is the one with the nightlife pulse and eye for polished mixology—though Melbourne is getting its act together fast. In both cities I found legitimate speakeasies. You know, the bars serving high-proof spirits that are supposedly hidden from sight.
And, granted, booze is not illegal in the country. But if it were, Sydney's Baxter Inn would be the spot to sip single malt underground—it's located in a grim section of the CBD and found only after darting down an alley and entering through two legitimately unmarked doors. In Melbourne, The Everleigh was recently opened by a veteran of New York's Milk and Honey and is housed on the second floor off Gertrude Street (through an unmarked door layered with graffiti). Again, no sign.