Nuchas Empanadas, Serving Times Square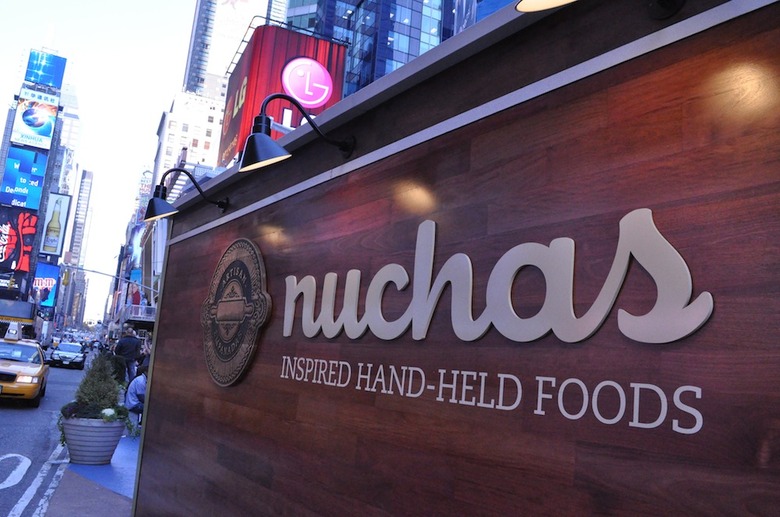 Nuchas empanadas times square
If you find yourself hungry in Times Square, you now have a speedwalking-friendly option...oh wait, you can't speedwalk in Times Square. Well, rather than wandering with outstretched arms as you nibble the piping-hot point of your pizza slice off a paper plate or attempt to mosey while eating halal chicken and rice out of a styrofoam container, hit up Nuchas on Broadway between 44th and 45th. Meat pies are big right now.
A native of Argentina, where empanadas rule over breakfast, lunch, dinner, dessert, comfort food, snacks, street food — you name it, owner Ariel Barbouth is no stranger to the food world. His best-selling line of pasta sauces dominated the Fancy Food Show and are sold in gourmet and specialty stores worldwide. However, you can't walk around with spaghetti. So Barbouth bid on a kiosk through the Times Square Alliance and started serving up freshly-baked empanadas by the hundreds.
"Our whole concept is about handheld foods of the world. Our line was modeled after the Argentine empanada, which is our best-seller, and the rest of the line is fusion," says Barbouth, "We even have an Indian vegan shiitake curry empanada."
Now, you're going to get folks at the window who would love an empanada but really just need directions to Madame Tussaud's (hey, Gwen Stefani just got immortalized). But you're also going to encounter plenty of people who are delighted that all-natural, portable pies filled with Malbec-braised short ribs from Pat LaFrieda, creamy spinach, portobello and mozzarella or spicy chicken are just a stone's throw from the giant Red Lobster.
"While it's not your food destination, per se, people are really starting to come through, people who work in the neighborhood and people visiting the city. We love the location."
And if you absolutely have to have some M&M's after savoring a flaky, hot empanada, you're in luck.