Live From Beaver Creek Food & Wine Fest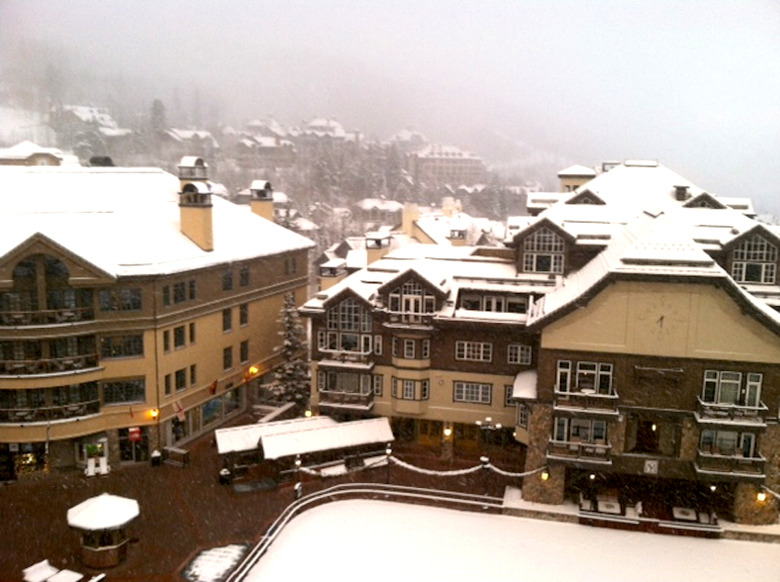 Beaver Creek Ski Resort
Food Republic has had the good fortune to be invited to attend, all expenses paid, a Food & Wine tasting weekend at the Park Hyatt Beaver Creek ski resort in Colorado, which kicked off last night.
Local chefs are mixing it up with out-of-town culinary stars such as Marc Murphy, Tim Love and Richard Sandoval. They're going to be serving intimate dinners, après-ski meals, and a "grand tasting" on Saturday night. There's also wine being trucked in by the crateload, curated by such experts as Anthony Giglio.
I'm already calling this my "what recession?" weekend. Food & Wine is doubling down in these hard times and God bless them for that.
I should first note that this fantasy doesn't come without some unique challenges for me. First, as documented during my juice cleanse earlier this month, I have become acutely aware that we often eat not because we're hungry, but to satisfy an impulse. And when the wine and food are freely flowing, that can be tough on one's monastic tendencies. And then there's the fact that I rarely eat any meat other than seafood. This is the heart of meat country, mind you, as I was visually reminded during the flight over as I watched the urban grid of New York City replaced by the vast cattle feedlots of Nebraska.
Managing one's alcohol intake is especially relevant when you're at 10,000 feet. It just so happens that high altitude and extremely dry air create the perfect simulacrum of a hangover, which means the impact of any drinking is multiplied exponentially. One seasoned food writer whispered to me that one drink equals two at our current altitude.
So much for impulse control — last night I immediately started things off stupidly. In the Mountainside Bar & Grill at the Park Hyatt, where several wineries and various local chefs offered up their wares, my first wine was a high-tannin Cabernet. I proceeded to work my way through four more glasses of wine, a goblet of Stella (it almost killed me to put it down half-finished) and a glass of Mionetto Prosecco.
Luckily, early in the evening, I met Brian Nolan, an owner of several Beaver Creek restaurants, including Fox Nut Sushi, Flying Pig and Chop House. Nolan's been here for over two decades and he's seen the food culture expanding greatly — thanks in part to him. I'm forever in his debt for solemnly reminding me that many a weekend in Beaver Creek had been ruined by too much drinking the first night. I may not have heeded that first bit of advice but I did his second: "You have to drink a lot of water." I was two-fisting with a water chaser all night.
While enjoying a delicious smoked trout and salmon terrine, I got to know one of Nolan's chefs, Jay McCarthy, a bear of a guy with curly hair and humble grin, as well as the Hyatt's chef, Christian Apetz, who moved out from Boston. The difference between eating here and there, Apetz says, is that people like to take their time to indulge in Beaver Creek. Not a shock, right?
What may surprise you is that with stuffed meatballs and elk carpaccio being served, I found total indulgence in the delicious Munson Farm's Roasted Banana Squash Soup, complemented by apple butter and pistachios. David Gutowski, the executive chef of Grouse Mountain Grill, told me that he'd gotten inspired to make the dish after eating a pumpkin soup at French Laundry. Gutowski has been working since September with a local farmer from Boulder who grows the squash. (And, yes, it's called banana squash even though there are no bananas in it).
"People are more and more into food here," says Gutowski. "We're serving specials now, like pork trotters [as in, feet] and sweetbreads, which wouldn't fly a few years ago."
There are plenty of ways to indulge here — the Beaver Creek motto, after all, is "not exactly roughing it" — so one man's culinary bliss need not be another's. But, for now, with a fresh snowfall, the question that distinguishes Food & Wine weekend attendees isn't what's on their plates. It's: do you board or ski?
Check back throughout the weekend for updates from Beaver Creek Food & Wine Festival.