Cult California Wine With A Zen Premise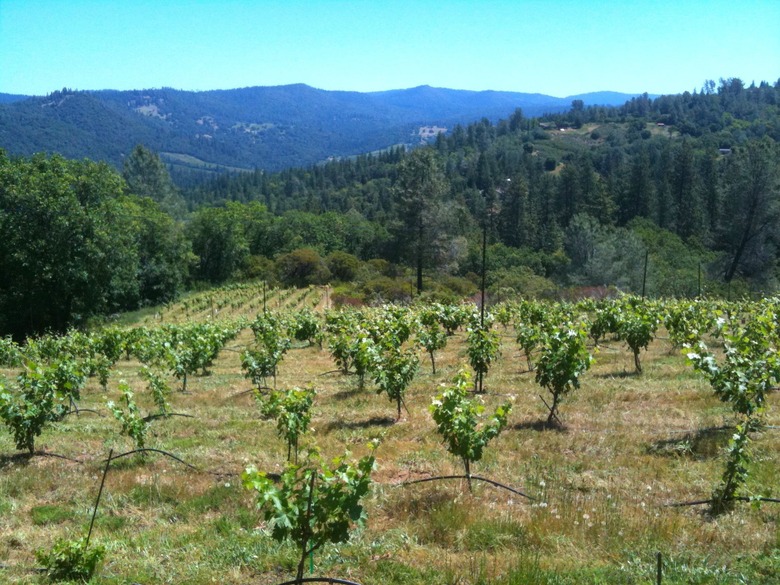 Now that buying organic has become second nature to you and even biodynamic farming, with its mysterious rituals involving animal skulls and bladders, is on your radar, it's time to step things up a notch. Meet Hank Beckmeyer, a cult California winemaker taking organic to the extreme with a Japanese philosophy based on bare-minimum farming.
"I'm interested in doing as little as possible when it comes to grape growing and winemaking," says Beckmeyer, whose winery in the foothills of the Sierra Nevadas, La Clarine Farm, is all-but a one-man operation. "A lot of the things people think they have to do [in the vineyard] may not always be necessary. So, I've been going through a process of whittling things away."
Beckmeyer was inspired by a book called The One-Straw Revolution, written in 1975 by Masanobu Fukuoka, a Japanese rice farmer known for his hands-off approach to raising crops. The book was translated into English in 1978, and Fukuoka's agricultural philosophy came to be known as "do-nothing faming." Beckmeyer is among a handful of wine producers who have adopted the method. He says it's not quite about doing nothing, but rather involves doing only what is needed to keep his vines healthy. Specifically: not using herbicides or pesticides, not tilling the soil, not fertilizing.
"Minimalist is probably the best word for it. Plants pretty much grow on their own, without very much human interaction," Beckmeyer explains. "I see the soil as the skin of the planet and I don't want to mess around with what's going on underneath."
Of course, growing grapes isn't all there is to winemaking. At La Clarine, the hands-off philosophy extends from the vineyard to inside the cellar. Unlike so many wineries that grow organic grapes, then make use of the various commonly used additives – from yeasts to sulfur dioxide – that conventional winemaking calls for, Beckmeyer lets the grapes ferment entirely naturally. If you've never had a wine made this way, you may need to brace yourself for some unusual flavors and textures.
For one, the 2010 Sierra Foothills White Wine ($19), a Rhône blend of Viognier, Roussanne and Marsanne, is straw yellow and cloudy. It smells more like wildflowers than anything and has funky flavors reminiscent of summer peaches and fresh herbs, laced with a yeasty tang. La Clarine's 2010 Piedi Grandi ($22), an unorthodox red blend of mostly Nebbiolo, with Syrah, Mourvèdre, Viognier and Roussanne, was made the I Love Lucy way: with good, old-fashioned foot stomping. It's full of dark fruit and spice, with a distinct characteristic of forest-floor moss.
"There's a lot of technology that's been developed to fix deficient grapes or correct flavors. It's sad because it leads to a standardization of wine," says Beckmeyer. "If you're trying to make something special, that's terroir-driven and unique, I think you need to avoid those things. By not adding anything to the wine, not using any new oak [for aging], you're pretty much getting all that's good out of the grapes into the bottle."
Other vintners who have adopted Fukuoka's do-nothing brand of farming and winemaking include the folks at A Donkey and Goat Winery, in Berkeley, Calif., and Eric Texier, from the Rhône Valley, in France. Still more winemakers adhere to similar farming philosophies, devised by such visionaries as Rudolf Steiner, the Austrian credited with pioneering biodynamics; and Lady Eve Balfour, an early British advocate of organic farming. Neither they nor Masanobu Fukuoka himself, who died in 2008 at the age of 95, intended for their natural farming ways to be applied specifically to wine. But, thankfully, things sort of naturally (ahem) evolved that way.
---
More wine knowledge on Food Republic: