Celeb Chefs Cook At Sundance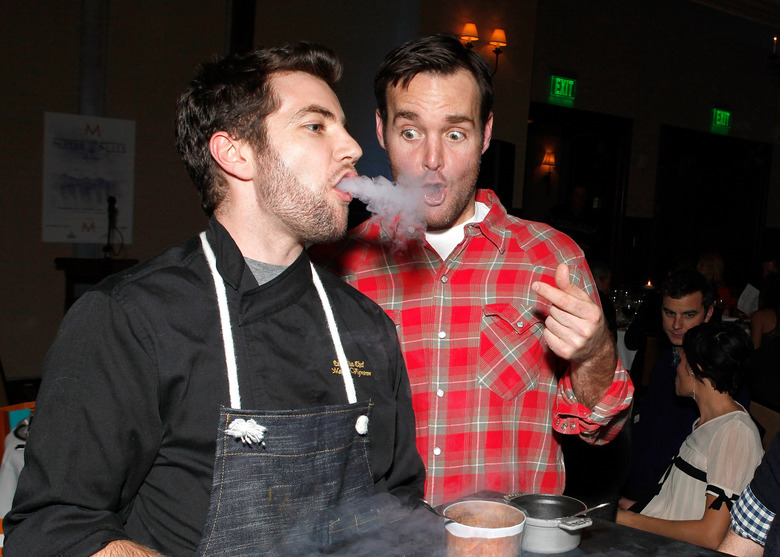 It's a wrap for this year's Sundance Film Festival in Park City, Utah. And while movie deals are still being struck after the hundreds of screenings that took place, attendees to the annual indie-film shindig may be remembering the food as much as the onscreen performances. Big-name chefs like Marcel Vigneron, Todd English, Alex Guarnaschelli, Jon Shook and Vinny Dotolo from Animal, and others cooked up tasty dishes among the screenings, parties and carousing.
Vigneron, the kitchen whiz who's no stranger to the camera himself, held court at something called the Moroccanoil Supper Suite at Montage Deer Valley, where he put together an all-star cast of ingredients including pork belly, poached halibut, couscous and lamb. (Read through to the end for the featured drink recipe from Vigneron's tasty-sounding dinner.)
After the festivities ended, Vigneron checked in with Food Republic to talk about his experiences, including taking in a screening of Timothy Greenfield-Sanders' supermodel documentary About Face, and a run-in with a famous rapper-turned-actor.
What'd you think of Sundance?
I had the most amazing time at Sundance!!! It was an honor to be surrounded by such amazing film makers/actors and all of the Park City locals were very hospitable and a pleasure to be around. I spent a decent amount of time in the kitchen cooking but I did make it out for a few of the incredible parties, which was pretty fun as well.
Did you get to see any movies?
I just saw my first Sundance Film Festival movie, About Face, with a couple local Park City kids who I went high school with in Seattle, and it was a very interesting doc. I feel as though I am now enlightened into the crazy world of being a model and understand the irony of why some of the most beautiful women in the world are the most self-conscious.
What was your best celebrity interaction or sighting?
Bumping into Ice-T on Main Street while sipping iced coffee, next to a golden bear sitting on a bench.
---
Now for that cocktail recipe:
Ruby Negroski recipe
Ingredients:
1 part vodka
1 part campari
3/4 part ruby red grapefruit
1 part sweet vermouth (Carpano Antica)
Directions: Stir in glass, serve with hibiscus ruby ice cube and garnish twist.