Jehangir Mehta's New Global Dining Series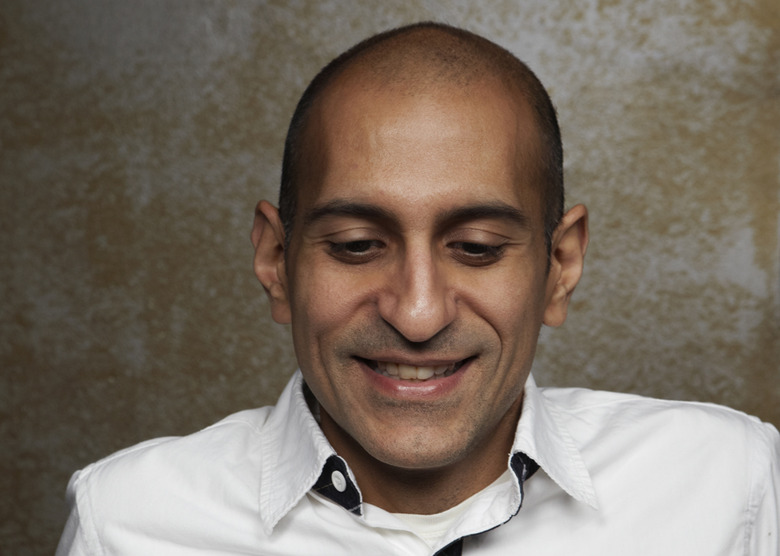 The Zodiac sign of the "Dragon" is classified as "driven, unafraid of challenges, and willing to take risks." This past Monday night at his Tribeca restaurant Mehtaphor, Chef Jehangir Mehta embodied that spirit by creating a Chinese New Year feast for about 100 diners. General Tsao was not in attendance.
This marked the premiere of a Global Dining Series Mehta plans to unleash on New York this year. Originally the plan was to create a Persian New Year's feast. "Then I thought: why not start doing everyone's New Year?" explains Mehta. "Persian, Chinese, Muslim, Jewish, Buddhist..."
Of course, different cultures' calendars match up differently with America's 12-month system, which makes the idea so appealing. Yet it also takes a culinary master out of his comfort zone. "I'm a big risk taker in almost everything," he says. "I like taking risks in life. I just don't jump off buildings or anything."
When it comes to Mehta's chili sauce, it's hard to see any kind of risk. To put it bluntly, it's always awesome, whether it's candied with scallops as found on his menu at his other restaurant Graffiti, or in the Crab Almond Roll on the 6-course Chinese menu he served at Mehtaphor.
"I like to take the traditional recipe — say you're making guacamole — and use a different kind of chili, not a jalapeño. I tried to use four different kinds of chilies, from all different countries, in the crab roll."
That kind of innovative cooking garnered complements from a young Chinese couple at the table to my right. After sampling the Sesame Scallion Shrimp with Chickpea and Bitter Gourd they innocently asked the chef, "How long did you work in Hong Kong?" Quite the complement for a man with a culinary background based in India who has never worked a single day in Hong Kong. The couple continued to gush nonetheless, saying, "Your style is exactly like that – it's Chinese but it's a little bit of a different take. There are so many worldly influences in that city."
I was clearly seated at the most obnoxious table in the restaurant. And I am a guilty contributor to the crime. To be fair, when you're dining with the EateryExpert.com team it's more than likely that you'll take pictures of every course with your iPhone and pick apart the components, texture and aesthetic presentation of each offering. In fact, it was EateryExpert's CEO (Chief Eating Officer) Evan Machowsky that first made me aware of Mehtaphor's "Enter the Dragon" banquet.
"The way I fell in love with food was not because of food itself but because why food was good for you," Mehta later told me. "My grandfather was very into 'why you should eat this why you shouldn't eat that.' Bitter gourd is excellent for purifying your blood. Initially it was a vegetable I couldn't stand because it was something I had to eat."
Obviously that was just the start of Mehta's romance with the ingredient – and he's learned to manipulate its intensity by using it as a fritter to combat the sweet shrimp. "Also the skin is very rough, like dragon skin," he jokes.
The concept itself feels like a "Top Chef" challenge. And Mehta is no stranger to cooking competitions – he was runner-up on the second season of "The Next Iron Chef." Today, he'd prefer to do the judging; he recently guested on an episode of "Master Chef India."
That's not to say he couldn't clean house on that show. Sure the Persimmon Green Chili Duck he served on Monday looked rare enough to satisfy a cowboy at a Texas steakhouse; however, like everything he puts on a plate, the Indian flavors were apparent. Mehta clarifies, "I'm Persian by race." This is why he's licking his chops in anticipation of the Persian New Year on March 20. That menu will surely touch on all aspects of Mehta's life – from a rice and lentil dish that he always ate on the first day of school to a lamb recipe traditionally eaten on the 4th day of mourning a loved one's death. They all lend themselves to reminders of celebration, fitting for his New Year's theme.
As a Jewish New Yorker that was raised far away in the land of Long Island, I am clearly intrigued by his take on a matzo ball. "I haven't even thought of it yet. I hope you'll be very happy with it."
Oh, I will be.