6 Craft Beers For The Super Bowl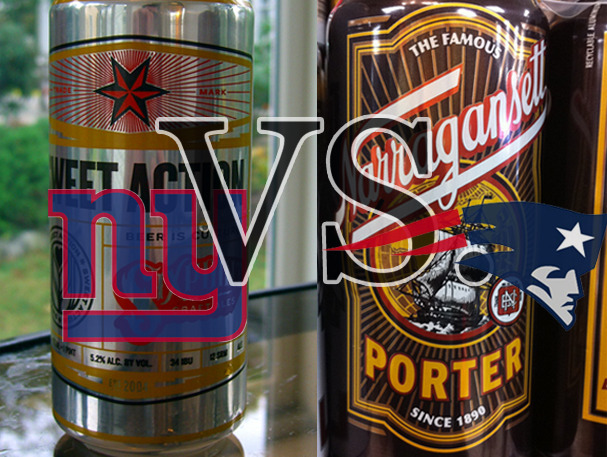 Following Sunday evening's missed field goals, dropped touchdown catches and muffed punts, the slottings are set for a Super Bowl rematch between the New England Patriots and New York Giants — a.k.a., the Super Bowl where no one outside the Northeast will give a damn.
But no matter! Though Eli vs. Tom, Take II may lack the history-setting precedent of the first meeting, wherein David Tyree's once-in-a-lifetime helmet catch helped take down the undefeated GQ QB, the Super Bowl remains an excellent opportunity to get blotto on a Sunday night and gorge on nachos and wings. Instead of relying on the standby suds on February 5, why not cram your coolers with beers that represent each team's region? Here are six beers you'll happily glug between the commercial breaks.
If you're a Giants fan...
Brooklyn Sorachi Ace Hands down, this is my favorite release from Brooklyn Brewery. The namesake Japanese hop gives this hazy, dirty-gold saison the bright bouquet of lemons and a slight but pleasing buttery flavor. Plenty of floral, peppery flavors keep the vigorously carbonated Sorachi grounded, helping it close out crisp.
Sixpoint Sweet Action The Brooklyn-based brewery is acclaimed for its highly hopped creations, but for pure drinkability I like to turn to Sweet Action. Sold in four-packs of 16-ounce cans, the ale presents a cloudy amber hue and a sweet nose with bright, fresh notes of grass and citrus. The beer tastes of toasted bread, with a luscious mouthfeel and a bit of bitterness to boot.
Blue Point RastafaRye Ale This long-running Long Island craft brewery scores a touchdown with this excellent rye-dosed ale. The bronze-red brew presents a scent that mixes citrus with just-clipped grass and rye bread. These soft flavors mostly balance out on the palate, though hoppy bitterness wins out, trailed closely by sweet malt and sharp rye.
If you're a Patriots fan...
Samuel Adams Dark Depths Baltic IPA While Sam Adams may be best known for its Boston Lager, lately the New England brewery has devised the sort of inventive ales typically concocted by craft-brewing upstarts — like this Baltic IPA. A lager yeast strain gives the smooth, roasty, midnight-toned brew a surprising crispness, and hop lovers will relish the citrusy zap.
Harpoon Belgian Pale Though I do adore Harpoon's hefeweizen, February is no month to drink a cloudy wheat beer. Instead, stock up on with this quenching, drink-it-by-the-sixer Belgian-style pale ale. It packs a fruity, spicy profile, with a touch of malt sweetness and heaps of American hops to impart a refreshingly floral nose.
Narragansett Porter Though once close to death, the classic Rhode Island brand has had a revival in recent years thanks to beers like this terrific winter seasonal. The deep-black brew is topped by a luscious tan head and boasts a bouquet of coffee and milk chocolate. The porter drinks crisp and creamy, with a touch of roast and hop bitterness to balance out the cocoa.