Pyknic: The Streetwear Brand For Foodies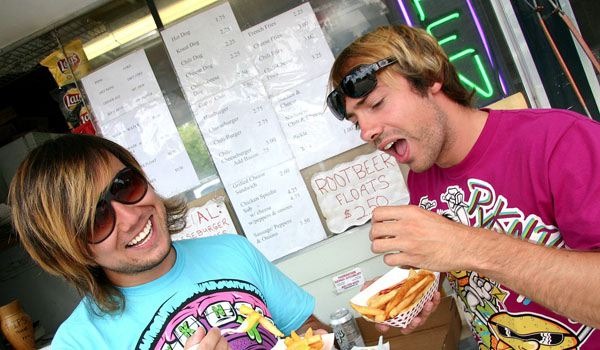 If you had asked Julia Child what she thought of streetwear, she probably would have tried to drown you in butter. That's how Julia reacted to anything she didn't understand. Truth be told, most chefs today probably wouldn't know a thing about streetwear, but there's a growing group that sees their cooking style as the perfect compliment to the skater-inspired clothing movement on the streets. In August, Michael Voltaggio teamed up with street wear superpower The Hundreds to release a limited edition t-shirt for the opening of his ink.sack sandwich shop. Ludo Lefebvre, pop-up chef and star of Sundance's LudoBites America, wears a chef coat on his show that proudly displays the logo of sneaker emporium/street wear brand Undefeated. While more and more chefs get in on the street wear action, there's one clothing brand that's hoping to go the reverse direction and bring food into streetwear.
That's Pyknic, a brand made especially for the food-obsessed. The brainchild of friends Andrew Marshall (The Chef) and Stephen Thompson (The Butcher), Pyknic offers a full line of culinary-themed clothing that features cartoony characters (including Humphrey, a hippo in a chef's toque) and catchy slogans like "Young & Hungry" and "You Are What You Eat." The Chef and The Butcher have no formal culinary training, but after hours spent watching the Food Network, they felt fully qualified to combine their love of food and illustrative art and make some awesome t-shirts. Forcing yourself to watch Guy Fieri on a regular basis can really inspire you to turn off the TV.
I got the low-down on all things Pyknic from Marshall, The Chef, himself. Here's what he had to say:
How did you decide to mix food and streetwear?
We love illustrative (cartoon) art and knew that many people like ourselves were passionate about food. The mix just seemed like a perfect match. Food is also something that always brings people together and creates that feel-good closeness that a lot of friends and families have. Good food makes people happy and that's the message we want portray with our line as well.
Do you start with food and then come up with concepts or do you start with concepts and see how food fits in? What's the Pyknic process?
We usually have a general idea in mind that involves a character or object at first. Then we implement a food aspect that works best with the overall design concept. We do our best to keep things fresh.
What's the deal with the hippo chef?
We wanted to have a logo that represented the food aspect of our brand as well as be distinguishable in the market. The Hungry Hungry Hippos came to mind when we were coming up with logo ideas and once we had it proofed, we fell in love with it. Humphrey stands for the food connoisseur who wants to look young and hip.
Do you make any of your clothes with actual edible ingredients?
If there were a financially feasible way to do this, we most certainly would have a pair of pants made with dark chocolate fibers.
Are you guys working with any chefs right now?
Right now the most notable chefs that we work with on a personal/friendship basis are Michael Voltaggio, Cole Dickinson (INK) and Roblé Ali (Bravo's "Chef Roblé & Co."). These guys have been great supporters of us and we've had a lot of fun creating "synergy" with them. We also work closely with a culinary instructor in Delaware named Jim Berman.
Is Pyknic a streetwear brand that focuses on food or a food brand that focuses on street wear?
It's funny, the majority of the time while I'm at work I get so hungry thinking about food designs and angles to play off of that I want to house an entire pizza by myself. Food is constantly on our brains and it's the lifeblood of our company. We are a streetwear brand that focuses on food, even though at heart we are a food brand that focuses on streetwear.
Do you hear a lot of streetwear people talking about food?
I would venture to say that food is a major player in the streetwear community right now. Food, in general, is much more popular than it ever was. Eating well is hip and people love to know where the best spots are. Streetwear is a lot like food in a way, the best spots are usually "in the know" and if you know about it you don't like to tell too many people.
---