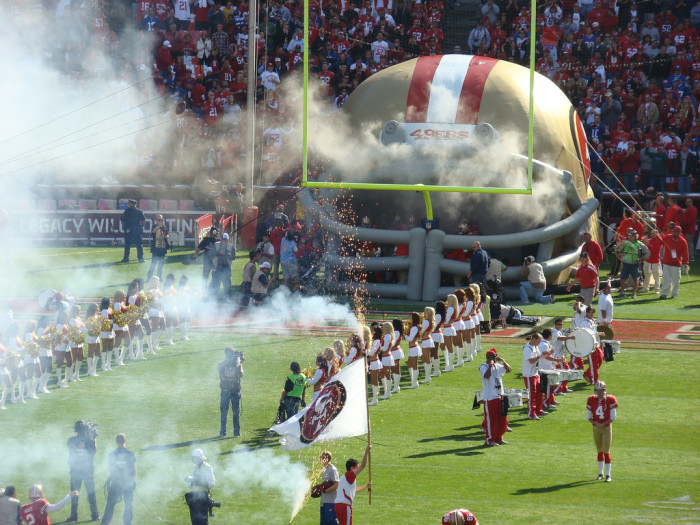 And then there were four. It's as if the NFL willed an AFC seafood match-up and an NFC unhealthy munchies bout. Well, we at Food Republic are happy to go along for the ride –on a fishing boat or in the back of a Volkswagen at the drive-thru. Just as long as we're back in time to eat in front of the TV for the last two games prior to the Super Bowl on February 5.
Ravens vs. Patriots
If a crab and a clam squared off in an octagonal UFC-style smackdown, how could a clam possibly knock out his aquatic rival? The crab has the longer reach, lethal weapons in the form of claws, and a tough outer shell that would provide ample armor. Clams can, by their very nature, close up and take the pacifist approach – but their opponent can certainly shuck and pinch them to death. However, to be fair, we're not talking about the creatures coming to blows when alive – we're talking about killing them at a fishery, sending them off to a kitchen and allowing cooks to manipulate the ingredients into crab cakes and clam chowder for the good of the state of Maryland and…many states that make up the clusterfuck that is New England.
Ray Lewis prides himself on anchoring a perennial defensive powerhouse. This season – the Ravens are holding teams to under 200 passing yards and 93 rushing yards per game. Arian Foster lit them up for 132 this past weekend, but the Texans were still held to only 13 total points. With Ed Reed nursing a banged up knee and, literally adding insult to injury, publicly calling out his QB before the biggest game of the season, Baltimore might be coming undone. You know who always keeps his cool? Tom Brady. Maybe it's the reassurance from his super model wife. Maybe it's the comfort of having thrown 6 touchdowns versus the Broncos – 3 of them to super freak Ron Gronkowski. Or maybe he and coach Bill Belichick have done this dance so many times already that they know how it's going to end. Can the Ravens collapse New England's pocket and force the almost flawless-in-the-playoffs Brady into throwing the ball to purple jerseys? Probably not.
GAME PICK: Ravens, 17 New England, 28
FOOD PICK: Crabcakes, 21 Clam Chowder, 15
Giants vs. 49ers
Two cities – both alike in Michelin Guide dignity – boasting chefs and local favorites that can send a foodie into a full fledged food orgasm. Whether you're talking about NYC's pizza, bagels, or enticing Chinese food, there are plenty of flavors that taste just like a Manhattan subway train – figuratively of course – although I'm sure Giants fan Harold Dieterle could make a subway train simply delicious. The Bay area tastes differently. Contrary to what Pat Healy would have you believe, the Rice-A-Roni people never moved their operation to Miami and remains the San Francisco treat to this day. You can take those delicious grains of rice and shove it….right into a fully-loaded mission burrito – just like a square meal for the prisoners of Alcatraz.
It felt a lot like 2007 when the Giants left Lambeau Field with a victory on Sunday. Eli Manning was the best Quarterback on the field, Hakeem Nicks made a case that he should be more-talked-about than his partner-in-crime Victor Cruz, and the NY secondary, led by Corey Webster and Antrel Rolle, smothered all of Aaron Rogers' targets. The one downside of the game is the G-Men front four didn't rack up the sacks that fans are used to (a mere 4 this time around.) You can expect a lot more blitz packages in San Fran as Perry Fewell will surely focus on forcing Alex Smith into mistakes and containing Frank Gore. The Niners are looking mighty fine themselves. On Saturday, they held New Orleans to 37 rushing yards. Total. Alex Smith had a field day finding Vernon Davis for 2 scores, Crabtree on another, and running in a 4th by himself. They hit Drew Brees 11 times and picked him off twice. If they could do that to the 2-time NFL and Super Bowl XLIV MVP – surely they can bring Eli back to earth, no? No. Tom Coughlin's boys are too hot right now.
GAME PICK: Giants 24, 49ers, 17
FOOD PICK: A 4 AM Snack of NY Pizza, followed by Chicken Lo Mein, 44 Rice-A-Roni Mission Burrito, 33