Benihana's Secret Ingredient: Chef Sakai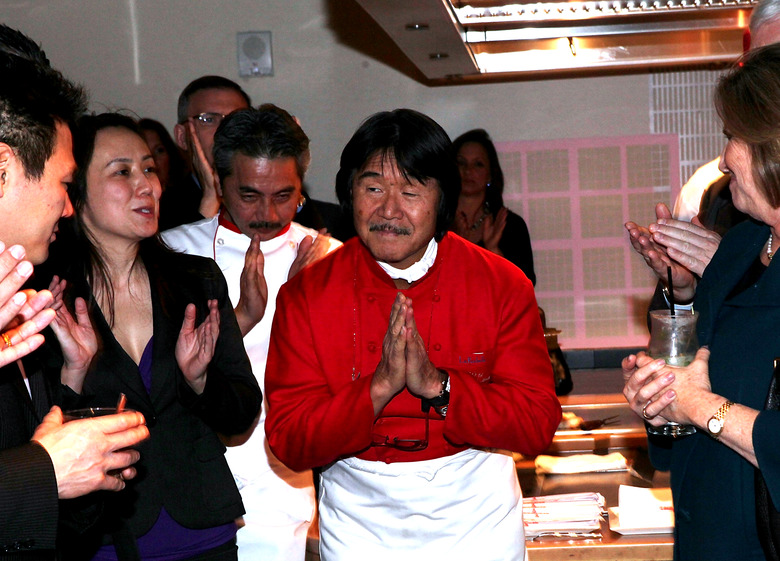 Iron Chef Hiroyuki Sakai
With the triumphant return of Mad Men in sight (it's back March 25), I thought I'd hit Benihana, a spot Don Draper took...some lady in 1964, the year it first opened. Yes, I am indeed rewatching the series on Netflix and hoarding threads from Modcloth. Benihana's flagship New York restaurant re-opened yesterday following a massive redesign — the acquisition and design of the entire first floor of the space, as well as an improved ventilation system (very necessary), updated décor and more private dining areas for your shrimp-flipping pleasure.
In from Tokyo to celebrate the new launch was Iron Chef Hiroyuki Sakai, who has served as Benihana's Executive Culinary Advisor since 2007. That's right, one of the original Iron Chefs gives his blessing to your filet and scallops.
Does your hibachi chef make a beating heart of fried rice by slipping his spatula under it and pulsing? Can he toss a raw egg over his back, catch it with a spatula and launch it into a bowl? Yup. Was I as entertained as I ever could have been? Yes, I actually think the New York chefs are spirited and funny, almost like sweaty, dexterous comedians with ninja-like spatula skills.
Thanks to Sakai's translator, his son Shingo, I was able to toss in a few questions and get some answers that everyone should know about their Iron Chefs.
What are three kitchen tools you can't live without?
A sharp knife, a pan and a spoon.
What's the first dish someone new to Japanese cuisine should master?
Dashi, it's the base of everything umami.
What's one Iron Chef secret ingredient nobody can beat you at?
Any kind of fish, I'm really an expert. (Note: his confidence here was pretty intimidating.)
You've proven that Japanese and French food fuse really well together. What's another cuisine that fuses well with Japanese?
Italian.
What's your favorite thing to order at an itzakaya?
A nice piece of fish and a Coke — I don't drink!
What's your go-to dinner at home?
Soba noodles.
Where would you send someone, other than Benihana, to learn about authentic Japanese food?
Kyoto.