Addi Hou Does Not Starve For Fashion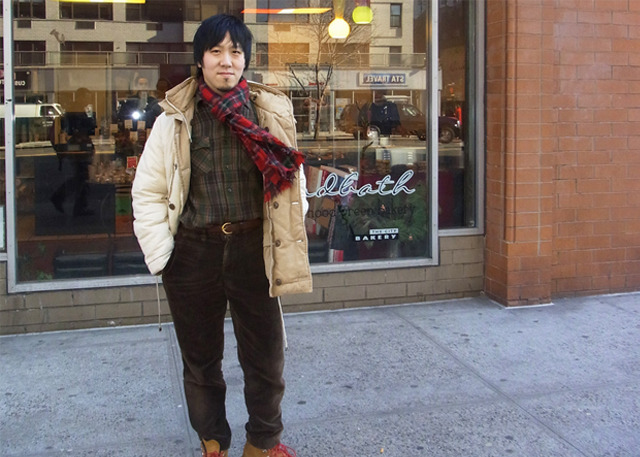 Addi Hou
We may receive a commission on purchases made from links.
As the director of men's accessories at J. Crew, Addi Hou is in the right business. A self-proclaimed junkie for Alden footwear, one of the third-party brands that J. Crew collaborates with (and the namesake of Hou's son), Hou gets to indulge his love of shoes, watches and neckwear on a daily basis. In fact, the only thing that might rival his infatuation with sharp accessories may just be his love of all things edible: from Chinese-style stews to dinners at Minetta Tavern, plus pastas, Coolhaus ice cream sandwiches and anything with salted caramel in the name, this recent upstate New York transplant has an exhaustive list of favorites on both fronts. Let's go.
Are you a New Yorker, born and raised?
No, I've lived in New York since 1999. I was born in Taipei, Taiwan but moved at a very young age to Chicago, where I grew up.
What neighborhood do you live in?
My wife, kids and I just moved from Prospect Heights, Brooklyn to a great old house in Croton On Hudson in Westchester, NY. The move was a great next step, but when we're hungry we miss Brooklyn terribly. The food scene is incredibly vibrant there. Up where we live now, there's Stone Barns of course, and a great seafood place called Ocean House in Croton but that's literally it.
What's your favorite restaurant in the city?
Hands down, Minetta Tavern, along with Momofuku — any of them — Keen's Steakhouse, Vinegar Hill House, Franny's in Brooklyn. I just tried Meatball Shop in Williamsburg, and it was fantastic.
That's quite a selection — awesome picks, too. Any recent meals that really stand out to you?
It would have to be when my wife Helen brought me to Le Bernardin right before New Years for my birthday — unbelievable seafood. I had the holiday tasting menu, and while I am not the biggest fan of tasting menus because I just feel too gluttonous at the end, this one was spot-on perfection and balanced perfectly. So different from Minetta or Momofuku, but so incredibly sophisticated and hard to forget.
Do you do a lot more homecooking in your new digs?
Yes, I love to cook. Even in Brooklyn we cooked about 80 percent of the time. Now we cook about 98 percent of the time.
What do you like to make?
I love my mom's slow-cooked Chinese beef oxtail tomato stew. There's a [Mark] Bittman recipe for Turkish-style lamb, eggplant and farfalle that's a hit in our house. I make a mean pasta primavera using a Le Cirque recipe. Rustic fish stew, Chinese-style braised pork shoulder...lately, we've been doing a lot of slow-cooking with the crock pot. We can bang out big dishes that the kids like, and they last for days. I also started making Jim Lahey's no-knead bread from his book My Bread. Nothing better than fresh bread.
Sounds like your kids have very adventurous palates.
Our kids are pretty young — our twin girls are two and our son is four — so they enjoy food that's full of flavor, but also easy to chew.
Do you pay attention to food labels?
Definitely. There are so many scary things that slip by the FDA; you really have to watch what you eat these days — even fruit. I read that if autumn fruits had a "most doused in pesticides contest," apples would win because they're individually grafted, so they're highly resistant to pesticides and sprayed more often. Moving up to where we live now, there are some great local farms and farmers markets where we get a lot of our meats and produce. We also love making the trek to Trader Joe's.
I take it your fridge is pretty full.
Whenever friends come over and open our fridge, they're amazed at how much stuff is in it. We tend to do big food runs and stock up. We always have lots of good cheese, yogurt, organic milk and eggs, fresh produce, Trader Joe's Mango Nectar, butter, jam, and sauces for cooking.
And to drink?
Beer, white wine, and bubbly.
Presumably for the big kids. What's your drink of choice?
A good full-bodied red, a crisp white or a Vodka martini, straight up. Oh yeah! And whiskey — Maker's Mark.
Any guilty pleasures?
Whiskey when I meet up with friends. Sometimes in the middle of the day, I crave Birdbath chocolate chip cookies so walk a few blocks from my office to have one. I'm crazy about salted caramel anything, Laduree macarons. And if Coolhaus's ice cream sandwich truck is anywhere in the vicinity, I will hunt it down. At home, sometimes I go a little overboard if potato chips and sour cream are anywhere near each other. I eat way too many carbs — I was raised on eating rice every day — and if you put any amount of good pasta in front of me, I will eat it all.
Man! You're lucky to be blessed with a good metabolism, especially given your job in the fashion world. How would you describe your daily uniform? Do you wear mostly J. Crew?
I sprinkle in J. Crew but I have a pretty extensive wardrobe, so I tend to wear something different almost every day. The general look is a bit "eccentric college professor," but I do like stuff that doesn't go out of fashion and is made and tailored very well. I suppose a typical look would be a donegal tweed blazer, a plaid button-down collar shirt, a vintage belt, beat-up jeans and some great boots. I also have an unhealthy obsession with collecting rare band t-shirts. I just picked up an amazing Public Image Ltd. one from eBay.
Do you have a favorite accessory or any one item that you wear every single day?
I can tell you I almost always have a pair of Alden shoes or boots on. I'm so crazy about the brand that I named our son Alden. I wear Brooks Brothers tank tops almost daily under whatever shirt I have on. They're nice and long so you can tuck them in, and they stay tucked in. At J. Crew we did this great collaboration with Tourneau on an old brand called Mougin & Piquard — Swiss-made, and very attractive. I've been rocking mine every day since I got one.
What about neckwear? Are you a scarf, tie or bow-tie guy?
I have been wearing bandanas around my neck lately, which I tie like neckties. I wear actual ties from time to time, and bow-ties only to black-tie events. With scarves, I tend to stick with either lightweight, gauzy ones or cashmere ones that I wrap by just creating a big loop in the middle and slipping the two ends through.
What's the best sartorial advice you've received?
Don't fall into the fashion trap of buying anything that will look dated in a few years. Stick to your instincts, and be yourself. Be confident and individual. It's best to try to avoid trends because they generally have expiration dates. Tailoring is essential. The right shoulders and hem on a jacket, shirt, or pants makes all the difference in the world.
That's all the advice anyone needs — you covered it all!
It's just stuff I've learned through experience and sworn by throughout the years.
---