Brady Lowe Is High On The Hog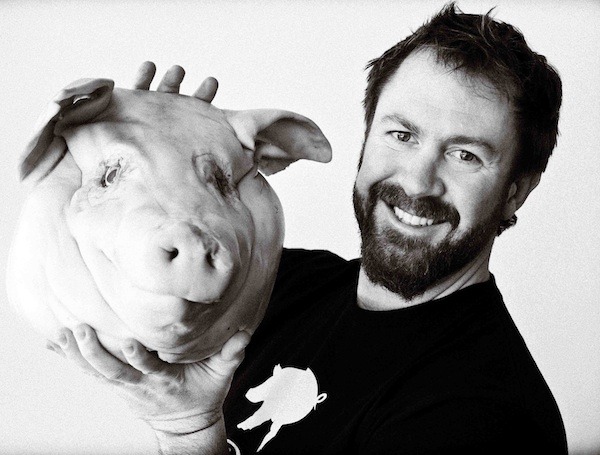 A couple years back Josh Ozersky, a great inventor of culinary vocabulary, coined the term lardcore to describe the balls-out cooking taking place in Southern kitchens — where locally raised animal fat is treasured like uni and methodically worked into something mind-bendingly creative. And delicious.
Cochon 555, the 10-city tour that kicks off in New York this Sunday, January 22, is lardcore to the core. It's a type of offal exhibition rarely seen outside of a Fergus Henderson birthday party. At each of the stops, which include Boston, Chicago and Portland this year, five local chefs compete with one goal in mind—to cook every last morsel of a particular breed of heritage hog like Red Wattle, Hampshire and Berkshire.
We checked in with Cochon founder Brady Lowe to talk about the tour. Check back with Food Republic as we share results, photos and recipes from each of the Cochon 555 events.
Why is the task of cooking with an entire pig the ultimate challenge for a chef?
First, the pig is a magical flavor beast. The canvas is the ultimate creative challenge, not only for the selfish pleasure of eating but also for the good feeling you get supporting amazing farmers raising them responsibly. You feel part of a system. As for the challenge of cooking an entire whole pig, it's more art than respect—or is that the other way around? I guess it's what side of brain you use the most.
But you have to be a pretty badass chef to be invited to this...
The mission is to take snout, ears and trotters and make the most memorable dish on the menu. It's about striking on the burden of the farmer who can't sell the undesirable cuts. The real challenge is placing the order with the farmer. Most people see this event and think, wow, how awesome: a bunch of pigs and kick-ass chefs. But what they don't realize is how much patience it takes to grow animals as a farmer. How much patience its takes as a chef to order this animal whole and wait 2-4 weeks for its arrival, and how hard it is to source over 200 pigs a year on tour while working with different farms in each market.
Clearly, this is not like a Top Chef Quick Fire. There is some planning involved...
It's about planning every inch of pig fat, skin, ear and muscle before making the first incision. It's opening the animal up and having it speak to you and tell you go a completely different direction.
Why focus on pigs, and not other whole animals like cow, lamb, goat?
The pig has a tremendous range. I also think the people who raise pigs, like [those who make] bourbon, have it in their blood.
Looking back at last year, what was the single most inventive dish you experienced?
Damn, pigs blood popsicle from Brad Farmerie [of Public in New York City] and my boy Matt Jennings [from Farmstead in Providence, Rhode Island] have a way with the pig.
Name something that SHOULD NOT be attempted with pork?
A pig smoothie. Maybe snout cereal. In the last four years and 3,000 dishes, I would have to say everything is game.
So what is your cholesterol?
I don't even know what a good score is, but I know what I am doing is pretty tasty. In all honesty, I am not pig all year long. I crave seasonal produce. And when it comes to good fats and their source, I try to stick to the "my body is a temple" school and keep to real fat. Real trusted tasty fat, in the right quantities of course.
How do you stay in shape when not running (and judging) at all the Cochon 555 events?
Who says I am in shape? It must be my beard...
Which cities are you most looking forward to this year?
I am definitely looking forward to returning to so many, like Boston and Los Angeles, which have been great cities in the past. But for now, I have Memphis on the brain. We're hitting it for the first time on February 4th. I can't believe we've never been before! We have a line-up of rockin' Southern chefs — and it will help us kick off our newest event this year, Cochon BBQ on Labor Day. There's more to come on that, but I'm sort of obsessed with Memphis these days.