Los Angeles: A Hawaiian Picnic At A-Frame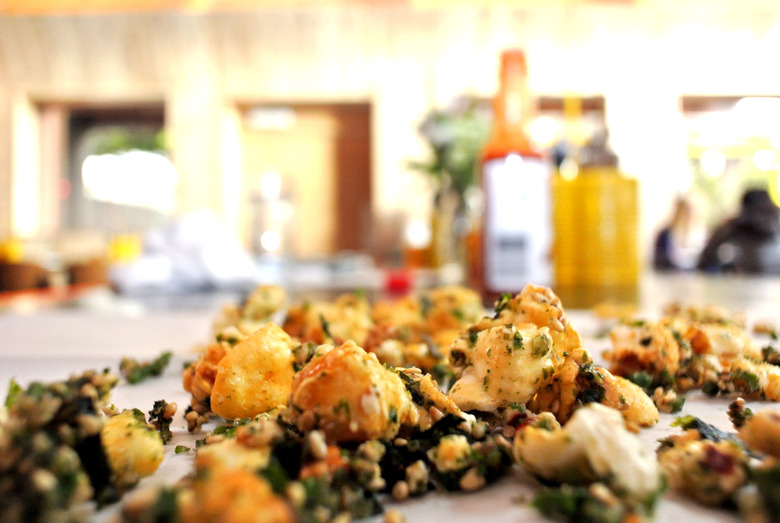 I couldn't stop eating Roy Choi's hurricane popcorn. I was over an hour into a late lunch at A-Frame in Culver City and a large mound of his corn pops, dusted with pineapple, bacon and a furikake mixture, was still in front of me, waiting to be conquered.
The dish is classic Choi—fun, inventive and well-executed food that would nicely compliment your Saturday morning wake-and-bake. (I'd just flown in from New York that morning, stopping over for the night in Los Angeles on my way to Australia, so I needed something to shake off the non-THC-induced fog.)
A-Frame is located in an old IHOP, the origins of the namesake design, and outfitted with a crazy expensive sound system that was turned up high and playing Broken Bells and The Shins basically on repeat. Choi is into James Mercer. James Mercer writes good brunching songs. Perfect.
After cracking a Ting the plates started to arrived. Choi, who I've met and interviewed a couple times, was in the house and kindly sent out some dishes for us to try. This is the A-Frame afternoon experience.
A plate of pickled vegetables (beets, carrots, radishes Asian pears) were short-cured, so still crisp. A creamy dipping sauce, with olive oil and umami-leaning spices, was a nice compliment.
The old beer can chicken is classic dude food, but rarely found on any serious restaurant menus. Choi slow cooks his bird for several hours in the kitchen's rotisserie oven before frying. The half-bird we ordered, arriving with crunchy skin and supremely tender meat, was sided with daikon radish and a salsa verde dipping sauce. It's like KFC by way of Echo Park.
Potato pancakes are done like the kimchi pancakes I cannot stay away from at Woorijip in NYC's Koreatown—silver dollar-sized and fried to a sogginess (the chef's intention). Scallop-cut potatoes are mixed with sesame seeds and scallions. A creamy kimchi dipping sauce furthers this Jewish/Korean hookup.
Pozole, a soup made with hominy, cilantro and lime, is considered a proven hangover-aid in its native Mexico. Choi's can likely get the job done. We yanked the tender oxtail meat bobbing in the broth and wrapped it in small tortillas.
A crab cake sandwich, made in a classic style with Old Bay seasoning and tomatoes, was incredibly good, especially given the crusty five grain bread and lemongrass crème fraîche.
And back to that kettle corn, made with a complex (much tested) mix of Hawaiian flavors: dried pineapple, smoked bacon, shiso, cayenne and the furikake spice mixture (fish flakes, sesame, seaweed). As Choi describes it, the mixture is stocked at the AMC theaters in Honolulu and the locals can't get enough of it. Now I can't either.