Welcome To America, Toby's Estate Coffee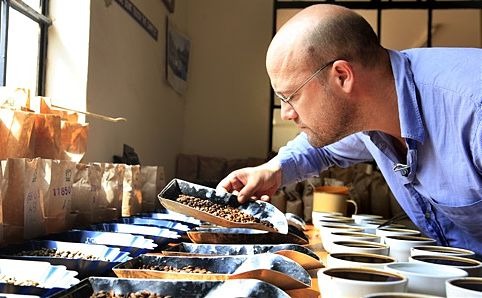 If you're a coffee geek, you may have heard that the Aussies are coming. Well, actually, they're already here in the form of Toby's Estate Coffee, which has just opened its first American outpost in the Brooklyn neighborhood of Williamsburg. For java heads, the new arrival brings promise of exclusive cuppings, outstanding direct-trade beans fine roasted on the premises, advanced latte art classes and beautifully built flat whites. For everyone else, it provokes the inevitable, what the eff is a flat white?
A mostly Australian and Kiwi contribution to coffee culture, the flat white, as prepared at Toby's, is a double shot of espresso, topped with the fine, wet foam from the bottom of a pitcher of steamed milk. Sound suspiciously like a latte? Well, here's the difference: a flat white has a little less milk and it's served in a smaller cup than its Italian cousin.
Possibly even more exciting than the espresso drinks at Toby's is its approach to filtered coffee. Like a handful of establishments around the country, it offers flights of three single-origin coffees to taste through, say, as you chat up the barista behind the bar and geek out over subtle notes and intoxicating aromas. The flights change on a weekly basis and, according to founder Toby Smith, will include some pretty choice joe. It's not the only opportunity coffee nerds will have to get their hands (and mouths) on some of the most coveted coffee available. A cupping lab will feature tastings of some of the extremely limited-edition samples sent over from select coffee farmers around the world.
"Coffee is becoming more like wine," says Smith. "Some of these small producers and their micro-lots, like garage wine producers, are in higher demand. And this is good because farmers are able to show off their best beans and get a higher price for them."
Eventually, he hopes to bring over some of the growers for onsite cuppings – again, much the way wine shops will host a winemaker. The cupping lab at Toby's Estate, a glass-walled room at the back of the 3,000-square-foot space that houses the café, roaster and a mini warehouse for the company's wholesale business, is a place where coffee enthusiasts of all levels can expand the breadth of their knowledge. Classes range from cupping basics to pulling the perfect shot of espresso and adorning it with pretty, frothy designs – and are available to beginners, baristas and everyone in between.
" We want to educate and inspire people," says Smith. "There may be people who aren't drinking coffee because they've had bad coffee. When you have good coffee it's, like, 'wow.'"
Smith, who travels the world in search of the best beans and brews (even when it's not a work trip, he says, "it always ends up being about the coffee"), first got interested in the stuff as a teenager when his mother opened a café. Over the years, whenever he traveled, he would make a point of seeking out good joe. Then, during what was supposed to be a break from his studies that turned into a year in Brazil, he had the opportunity to work on a coffee farm.
"When I came home, my father was like, 'You're a dropout. What are you going to do now?' So I started a coffee business."
Toby's Estate Coffee began 14 years ago as a small operation out of Smith's mother's garage in the Sydney suburb of Woolloomooloo (yes, it's a real place). Since then, it has grown into an acclaimed artisanal coffee company with locations in several Australian cities, as well as in Brooklyn and a recently launched outpost in Singapore.
"Years ago, we would have probably considered what we do to be [progressive], bringing something different to America. But now, with worldwide barista competitions and cuppings, everyone is competing on the same level," says Smith. "There's an international coffee scene now... in Australia, America, the U.K., Asia. People think, 'Why go to Asia? They don't drink coffee there.' But if it tastes good and it's done well, people will want it. It's the same for coffee as for anything. Except maybe vegemite."
---
If you like coffee as much as we do, make sure to check out the Food Republic Coffee Power Rankings